Earlier this week, prosecutors dropped all remaining charges against officers in connection with the April 2015 death of Baltimore man Freddie Gray, bringing the trial to a close with no convictions.
Charges were dropped Wednesday against the three remaining Baltimore police officers to be tried. The prosecutor who lost the case, Baltimore State's Attorney Marilyn J. Mosby was livid, citing the case as evidence of a crooked criminal justice system.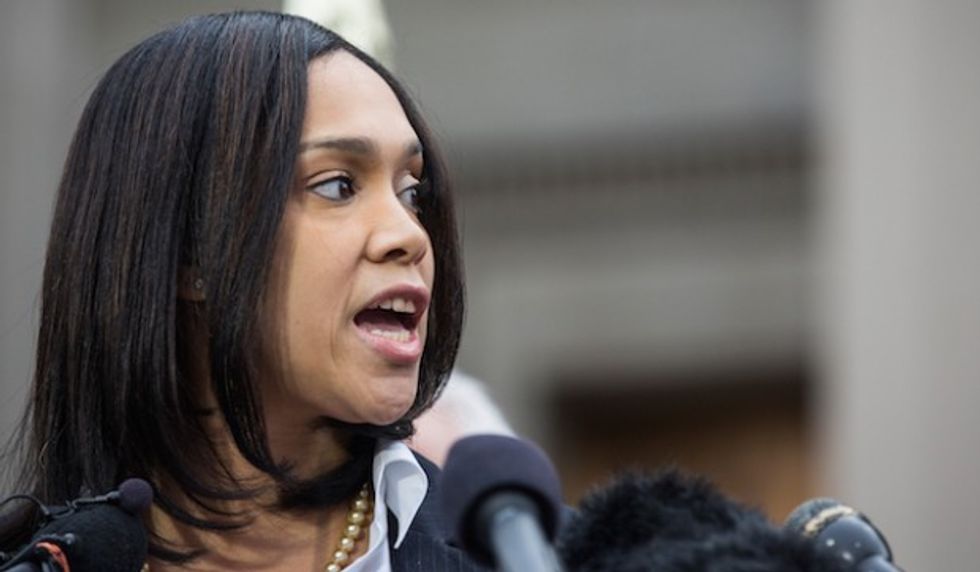 Baltimore City State's Attorney Marilyn J. Mosby. (Photo by Andrew Burton/Getty Images)

The next day, defense attorneys for officers Garrett Miller, William Porter and Sgt. Alicia White had some harsh words for Mosby.
Attorneys for Lt. Brian Rice and Officers Edward Nero and Garrett Miller told the Baltimore Sun Thursday that Mosby painted herself as a "victim," when in reality, she refused help that was offered to her by Maryland State Police and other agencies across the region.
"The fact that she's finding herself as a victim and blaming police, and blaming the court, and blaming the defendants for exercising their constitutional rights to elect a court trial, and blaming the judge for him actually holding them to their burden, is pretty shocking," Catherine Flynn, Miller's attorney, told the Sun.
"These charges were not supported by any fact or evidence. Period," said Michael Belsky, Rice's attorney. "These charges were brought based on a fictitious narrative that was never true and never proven."
Mosby defended her prosecution in a speech Wednesday in West Baltimore, saying members of the Baltimore Police Department actively worked to undermine the investigation into Gray's death and that prosecutors couldn't do their jobs, citing unspecified issues within the criminal justice system.
State police spokesman Greg Shipley told the Sun that his agency had offered assistance in the case, but Mosby never took them up on the offer.
"The Maryland State Police agreed to provide technical assistance to the state's attorney's office that would include the expertise of our Computer Crimes Unit," Shipley said. "Ultimately, we were not called upon to provide any assistance."
"For in all likelihood political reasons, this case was indicted within two weeks with basically no independent investigation done, and a very good investigation, done by the Baltimore Police Department, that Ms. Mosby just chose to ignore," Marc Zayon, Nero's attorney, told the Sun. "And now, she should be blaming herself, but instead is trying to deflect the blame and blame everyone else."
Zayon and Belsky told the paper that in the days following Gray's death, before Mosby announced the charges against the officers, Nero and Rice made themselves available to speak with prosecutors about what had occurred. But they were never given the opportunity, the attorneys said.
"If there was anything that Mr. Schatzow or Ms. Bledsoe or Ms. Mosby wanted to talk to Officer Nero about, we would have been more than happy to sit down and tell them anything that they wanted to know. But instead of talking and trying to get information from the officers, within two weeks they indict them and charge them with crimes. No one was hiding anything," Zayon said.
"They weren't interested in the truth, they were interested in charging," Zayon added.
The attorneys said neither they nor the officers they were defending ever understood why Mosby brought the charges she did.
"For police officers who have sworn their lives to upholding the rule of law and devoted their lives to the criminal justice system, to have to watch the prosecution contort the law and contort the process is extremely frightening," Belsky said.
"Ms. Mosby said she's anti-police brutality. We're all anti-police brutality. Nobody condones police brutality. Nobody thinks for one second that police brutality is acceptable. But this is not a case of police brutality," he added. "It was never charged as such and it was never alleged to be such. So to mix that into the equation now is unfair to these officers and to the people of Baltimore City, who have very real issues that they have to deal with in terms of their interactions with the police."