Donald Trump's former campaign manager, Corey Lewandowski, snapped, "Don't touch me," at Christine Quinn, the vice chair of the New York Democratic Party, when she brushed his arm during a heated segment on CNN Monday.
Quinn and Lewandowski, who earlier this year was accused of assaulting a female journalist by grabbing her arm, were debating the Republican presidential nominee's ongoing feud with Khizr and Ghazala Khan, the parents of the late Capt. Humayun Khan, a Purple Heart recipient who was killed in Iraq in 2004. Khizr Khan criticized Trump during a speech at the Democratic National Convention last week.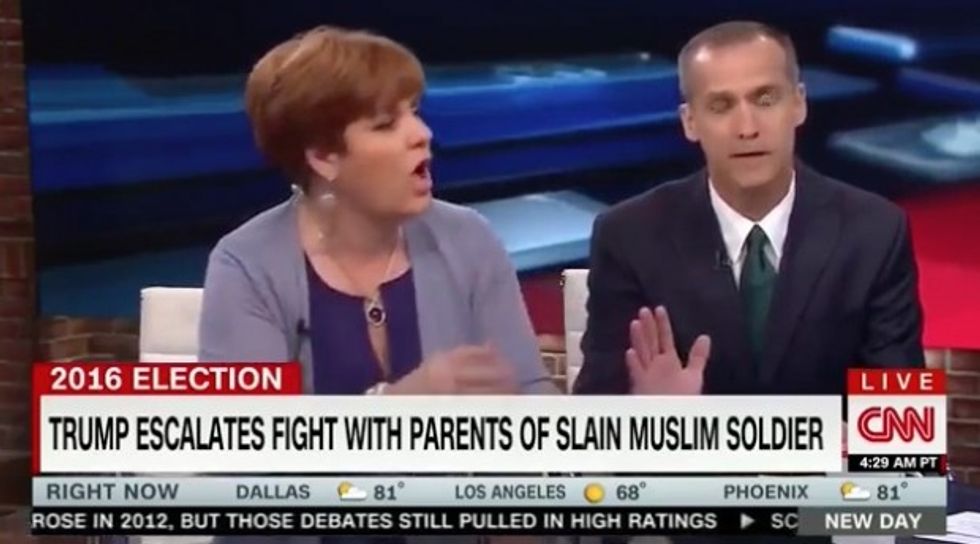 Image source: YouTube
Trump insinuated that Ghazala Khan, a Muslim, stood silently during Khizr Khan's speech because she was forbidden by her husband to speak. Ghazala Khan fired back in a piece published in the Washington Post.
"My husband asked me if I wanted to speak, but I told him I could not," she wrote, adding that years after his death, she struggles to compose herself around pictures of her son.
While discussing Trump's war of words with the Khans, an emotional Quinn described the pain of losing her mother and said that she can sympathize with Ghazala Khan's decision to remain silent during her husband's speech.
"You've gotta relax a little bit," Lewandowski interjected.
"I do not have to relax!" Quinn replied as she gestured with her arm. The two talked over each other, and Quinn appeared to gently touch Lewandowski.
"Excuse me, don't touch me! Don't touch me," Lewandowski said.
"Oh, calm down with your … she chose to stand there," Quinn said, adding, "This isn't about politics. This isn't about presidential campaigns. This is not even about me nicely touching your arm. It is about decency and Gold Star parents."
In March, Lewandowski was accused of assaulting then-Breitbart reporter Michelle Fields by grabbing her arm and pulling her away from Trump after a press conference in Florida. Lewandowski was charged with simple battery, but was not prosecuted.
On Twitter, Fields responded to the segment by quoting Mediaite's report on the incident.
"Presented without comment" https://t.co/Mc06jLDGE6

— Michelle Fields (@MichelleFields) August 1, 2016
Telling a woman to relax goes over so well. https://t.co/rfVPk6CZHj

— Alyssa Canobbio (@AlyssaEinDC) August 1, 2016
Lewandowski tells a woman "don't touch me!" when she lightly touches his hand. How rich https://t.co/xZJekEfYnW

— Almaqah (@_Almaqah) August 1, 2016
Fireworks on @CNN right now. Rightfully so. Cory Lewandowski is acting very childish. "Don't touch me!" She bumped u on accidnent #NewDay

— Courtney Alexander (@courtalex21_) August 1, 2016
OMG the man who manhandled a journalist said "Excuse me! Don't touch me!" @CNN needs to fire Corey Lewandowski now. Why did they hire him?

— Annalea (@citizengatsby) August 1, 2016
Watch below (the relevant portion occurs around the the 4:00 mark):
—
Follow the author of this story on Twitter and Facebook: