The Washington Post fact-checked Democratic presidential nominee Hillary Clinton's interview with "Fox News Sunday" this weekend and granted a statement she made "Four Pinocchios" — a score they reserve for "whoppers."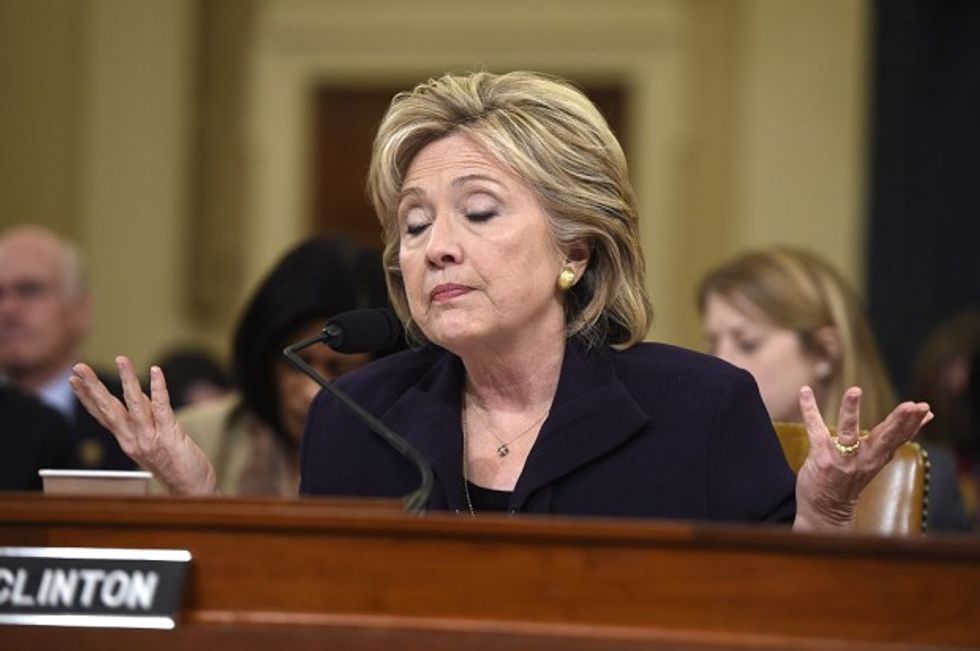 Former Secretary of State and Democratic Presidential nominee Hillary Clinton testifies before the House Select Committee on Benghazi on Capitol Hill in Washington, DC, October 22, 2015. (SAUL LOEB/AFP/Getty Images)
When host Chris Wallace asked her about FBI Director James Comey's testimony before the House Oversight Committee regarding the agency's decision not recommend indictment of the former secretary of state, Clinton said, "Director Comey said my answers were truthful, and what I've said is consistent with what I have told the American people, that there were decisions discussed and made to classify retroactively certain of the emails."
.@HillaryClinton on the email investigation: Director Comey said my answers were truthful. @FoxNewsSunday

— FoxNewsSunday (@FoxNewsSunday) July 31, 2016
The Post's Glenn Kessler wrote that Clinton is "cherry-picking statements by Comey to preserve her narrative about the unusual setup of a private email server."
"This allows her to skate past the more disturbing findings of the FBI investigation," Kessler added.
According to Kessler, Clinton "relies on excessively technical and legalistic answers to explain her actions."
"While Comey did say there was no evidence she lied to the FBI, that is not the same as saying she told the truth to the American public — which was the point of Wallace's question. Comey has repeatedly not taken a stand on her public statements," he wrote.
Kessler concluded, "And although Comey did say many emails were retroactively classified, he also said that there were some emails that were already classified that should not have been sent on an unclassified, private server. That's the uncomfortable truth that Clinton has trouble admitting."
Watch below:
—
Follow the author of this story on Twitter and Facebook: