A San Diego councilwoman received calls to resign her post amid comments she made on the topic of racial profiling, the San Diego Union-Tribune reported. At a July 26 meeting, Councilwoman Myrtle Cole explained that racial profiling of minorities exists "because blacks are shooting blacks."
The comments came after a community meeting Cole hosted the week before that focused on the national discussion surrounding race relations and law enforcement. An audience of 200 people showed up to share their fears and concerns.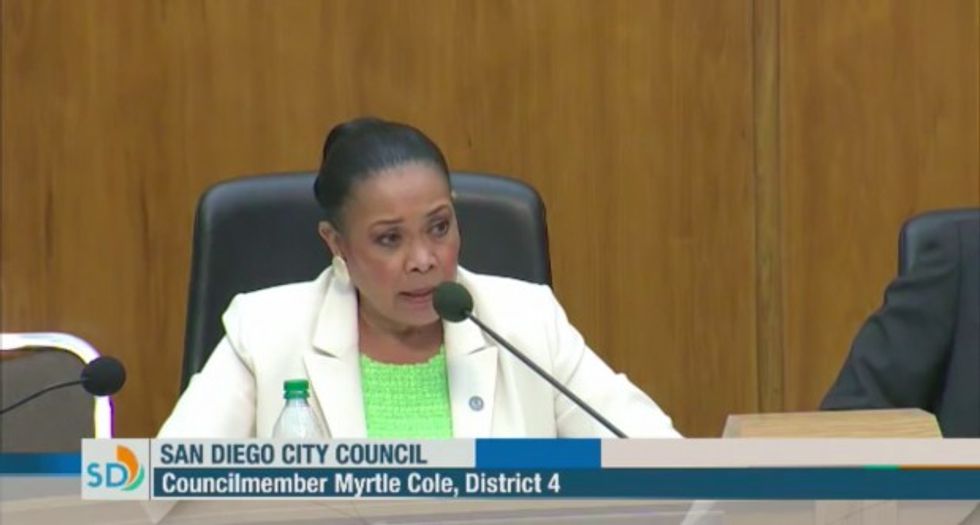 Image source: YouTube
In describing the July 19 event, Cole, who is black, shared her thoughts on racial profiling:
San Diego City Council Member Myrtle Cole Justifies Police Racial Profiling: https://t.co/UMyICGxkzK via @YouTube

— UAPTSD (@UAPTSD) July 28, 2016
One of the things that they brought up was the racial profiling issue. That was something that when asked, when asked, I said I support my community, but let me just tell you what I want to do is make sure we know that there is more black on black shootings in our nation than ever before -- 340 shootings and murders in Chicago the first six months, 120 shootings and murders in Memphis the first six months, 28 homicides here in San Diego. Black on black crime is an issue, and that was never addressed. That's why when someone says, "Do you think there is racial profiling?" Yeah, because blacks are shooting blacks. They're not going to stop a white male. They're not going to stop an Hispanic male or an Asian. They're going to stop an African-American. That's what they're going to stop because those are the ones that are shooting.
Many community members disagreed with Cole's assessment, and some demanded that she step down from her position.
"She is clearly out of touch with the community she represents and needs not another day in that council seat," Facebook user Tau Baraka wrote of the councilwoman's comments.
One user wrote in the comments section of Baraka's post, "Stop complaining and call her office +1 (619) 236-6644 that what I did voice your complaint directly to her."
National Action Network, a civil rights group, also demanded that Cole reign.
"It's a slap in the face to her district. These are her constituents. You are supposed to be hearing the voices of your people," Rev. Shane Harris, president of the National Action Network San Diego Chapter, told KNSD-TV.
But Cole told KNSD that she has no plans to step down.
"Did I make a mistake? Absolutely, I did," she said. "Do I apologize for it? Absolutely, I do. But I am not going anywhere."
The councilwoman issued a formal apology on July 28, which she shared on Twitter:
I sincerely apologize for the misunderstanding I may have caused. I'm open and willing to listen to the community. pic.twitter.com/dCsaUf9A9f

— Myrtle Cole (@CD4MyrtleCole) July 28, 2016
"I do not condone racial discrimination by the police or any institution," she wrote.
Cole noted that "tackling racial inequality has always been a priority" and apologized for failing to properly communicate her views at the council meeting.