Armed robbers stormed a Texas movie theater Tuesday evening. The investigation remains active, but authorities have suggested it may have been an inside operation.
#BREAKING: @Lancaster_TX police responding to reports of three armed men in the Cinemark theater on I-35 at Pleasant Run.

— CBSDFW (@CBSDFW) August 3, 2016
The incident occurred at a Cinemark movie theater in Lancaster at around 11:30 p.m. According to KTVT-TV, three male suspects beat up the theater's young male manager before robbing the business.
Police are calling the event an aggravated robbery. Some have proposed that it was an inside job, carried out by individuals who had ties to the theater or at least knew the location very well.
Though the suspects were armed with guns, no shots were fired, according to KTVT. The manager assaulted during the robbery did not suffer any serious injuries.
Further details seems to confirm the speculation that the three men had some connection to the 14-screen cinema. For instance, they managed to get through the theater doors, which lock at 11:00 p.m., the same time ticket sales end.
Once inside the business, the suspects immediately located the surveillance camera and blacked it out with some type of spray. That, combined with the fact that the armed robbers wore masks, made it impossible for authorities to provide a good description of the suspects.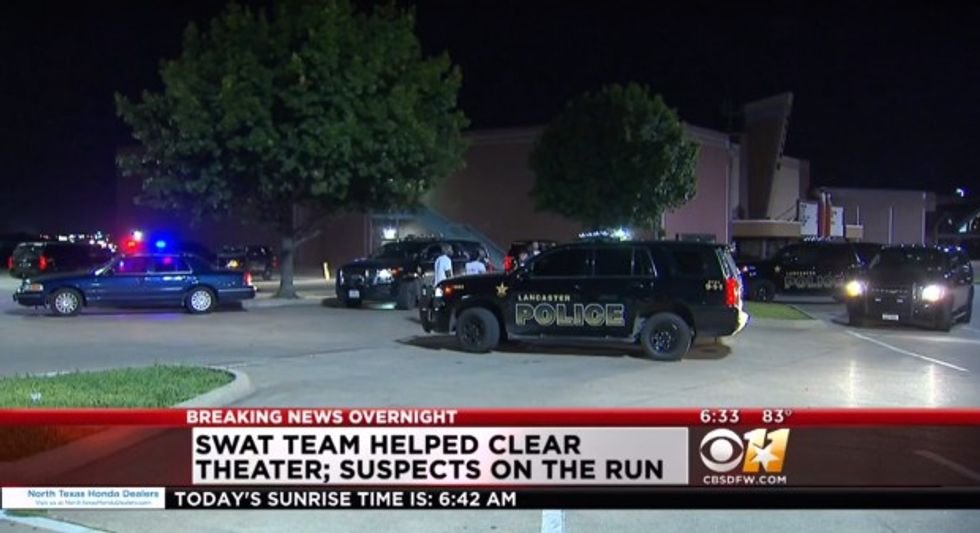 Image source: KTVT-TV
According to KTVT, a police SWAT team responded to the location and put the theater on lockdown while late-night patrons were still watching their films. This was reportedly due to fears that the suspects may have still been inside the theater, blending in with moviegoers after committing their crime.
Police later determined that the suspects took off on foot after leaving the Cinemark's main office. They reportedly disappeared into a neighborhood located directly behind the movie theater property.
As of Wednesday morning, the three men were still on the loose. Police have warned that they are armed and dangerous.