MSNBC's Joe Scarborough said Wednesday on "Morning Joe" that earlier this year Republican presidential candidate Donald Trump asked a foreign policy expert adviser three times during a one-hour briefing why the United States can't use nuclear weapons.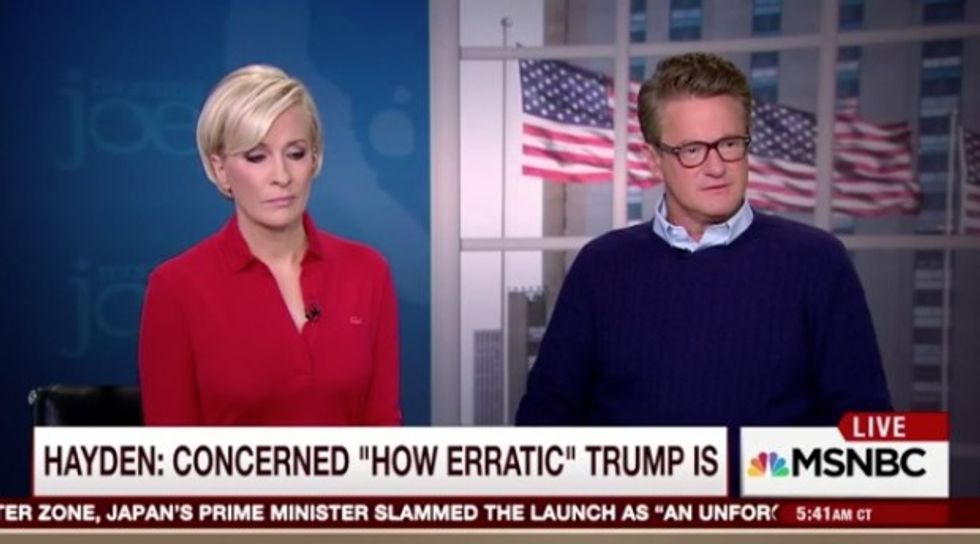 Image source: Twitter
"Several months ago, a foreign policy expert on the international level went to advise Donald Trump, and three times he asked about the use of nuclear weapons," Scarborough said. "Three times, he asked, at one point, 'If we have them, we can't we use them?' That's one of the reasons why he, he just doesn't have foreign policy experts around him."
"Three times, in an hour briefing, 'Why can't we use nuclear weapons?'" Scarborough added.
Trump made comments similar to those Scarborough described during a town hall hosted by MSNBC's Chris Matthews earlier this year.
Matthews said foreign leaders are "hearing a guy running for president of the United States talking of maybe using nuclear weapons."
"Nobody wants to hear that about an American president," Matthews continued.
Trump replied, "Then why are we making them? Why do we make them?"
During Wednesday's "Morning Joe," Scarborough asked former National Security Agency Director Michael Hayden what the "timeframe" would be if a President Trump decided to launch a nuclear weapon.
Hayden said the time between a president's decision and the launch of a nuclear weapon is "scenario dependent."
"But the system is designed for speed and decisiveness," Hayden said. "It's not designed to debate the decision."
Trump campaign spokeswoman Hope Hicks did not immediately return TheBlaze's request for comment.
Watch below:
Watch: What are some major concerns about Trump's handling of national security? Hayden and #morningjoe weigh in. https://t.co/FyFoSmJlJI

— Morning Joe (@Morning_Joe) August 3, 2016
—
Follow the author of this story on Twitter and Facebook: