The New York Times published an in-depth interview Wednesday with comedian and "Saturday Night Live" star Kate McKinnon, who has gained fame for her on-screen portrayal of Hillary Clinton.
The interview predominantly focused on McKinnon's rise to professional success on "SNL" and her latest role in the new all-female "Ghostbusters" film. But the conversation took a political turn when she began discussing the off-screen inspiration behind her on-screen depiction of the Democratic nominee.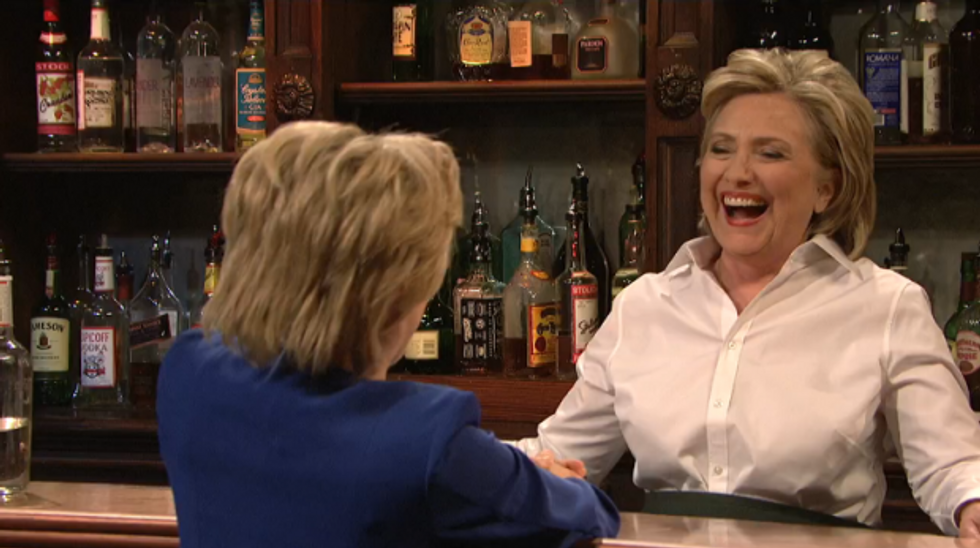 Kate McKinnon's "Hillary Clinton" (in blue) meets the real Hillary Clinton during a sketch on "Saturday Night Live" (Image source: NBC/"SNL")
From the New York Times:
Are you paying close attention to the presidential election to gather more material on Hillary Clinton?

I'm following it because we're at a real moment right now. But also because I feel very connected to her, in a strange way. I spend so many hours studying her and imagining her inner life that I feel like we're very close. Even though I don't have her phone number.

Did you feel that when you appeared in an "S.N.L." sketch with her last season?

She was very warm and charming and sincere. And I liked being around her, and I felt a similarity to her, in that I am a very accomplished legal scholar and have spent my life crusading for the middle class.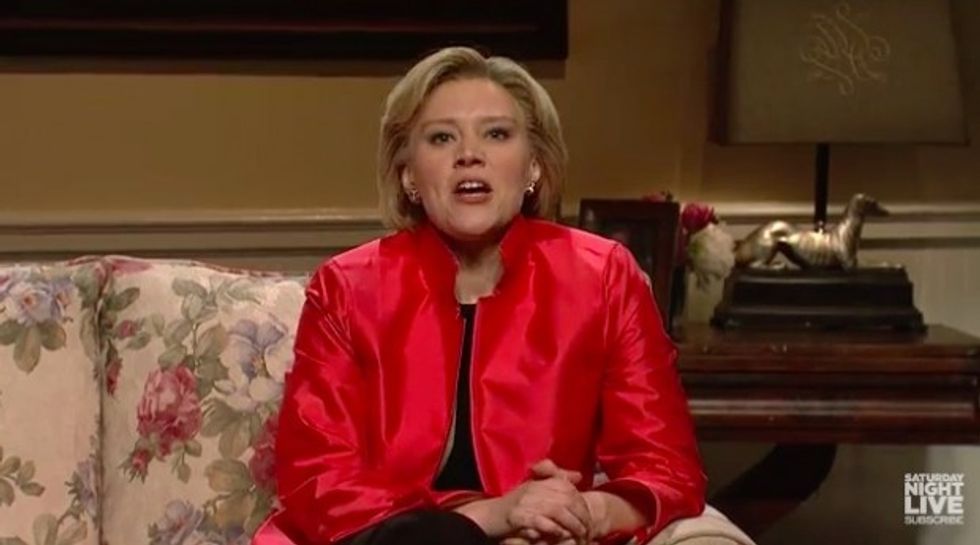 Kate McKinnon as Hillary Clinton on "Saturday Night Live" (Image source: YouTube/"SNL")
During her five seasons on "SNL," the Emmy-winning comedian has impersonated Clinton, Angela Merkel and Ruth Bader Ginsburg. McKinnon told the Times that though she has never met the liberal Supreme Court justice, she'd jump at the chance.
Have you ever met Justice Ginsburg?

No, ay yi yi. What I wouldn't do. I'd crawl in that robe and never leave.
McKinnon also shared why she believes "it's a good time to be a comedian."
Some people look at movies and think, oh my gosh, that's so amazing. But to me, I look at a politician or a scientist and think, they're creating the content of humanity. I can't believe I get to even comment on this in some small way. This whole year, with Larry [David] as Bernie [Sanders] and me getting to play Hillary was, like, the closest I'll ever come to being involved in something that's as important as politics or science. Comedy has become, I think, a very important branch of public intellectualism.
At one point, the star was asked to comment on "Ghostbusters" co-star Leslie Jones' Twitter feud with the recently banned conservative provocateur, Milo Yiannopoulos.
McKinnon said that she spoke with Jones during that period, noting that the actress texted her and was "deeply, deeply disturbed and upset. As anyone would be."
"I said that I love her and she's gorgeous. And she should get off Twitter," she recalled. "But that's not a solution. 'Just don't read it' is not a solution."