Fox News host Megyn Kelly was visibly astounded Wednesday night by the frequency Republican presidential nominee Donald Trump has been reengaging past controversies — as well as the arguments he poses for them.
"What is he doing relitigating every controversy from the primary season?" the giggling host of the "The Kelly File" asked panelist Ben Domenech, publisher of the Federalist, after a clip montage of Trump revisiting old controversies at a Daytona, Fla., speech Wednesday.
Domenech said it's "amazing" that Trump is spending so much time focused on his past controversies instead of digging into Democratic presidential nominee Hillary Clinton's numerous issues.
Kelly pointed out to her other panelist, attorney and Trump supporter David Wohl, that Trump shouldn't be boasting about installing ramps for the disabled in his buildings since they're required by law. Wahl quipped that Trump's ramps are "very expensive."
At that point Kelly's head fell into her hands as she groaned, "Oh, good God."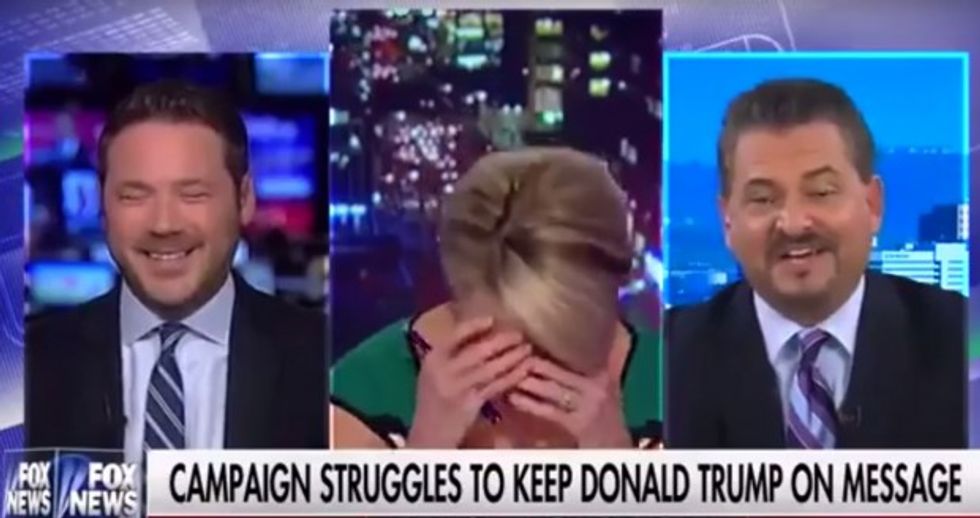 Image source: YouTube
Kelly added that while the media is biased against Trump he shouldn't be fanning their critical flames.
"Must he help them?" she asked, on the verge of exasperation. "Must he help them so generously every day?"
(H/T: Mediaite)