Hillary Clinton's policy agenda would add approximately $2.2 trillion to the national deficit over the next decade and would include about $1.3 trillion in tax hikes. That's according to a new report out by the conservative-leaning American Action Forum.
"Former Secretary of State Hillary Clinton's policy proposals as a candidate for president would have a dramatic effect on the federal budget," Gordon Gray, the forum's director of fiscal policy, wrote in an piece posted Thursday.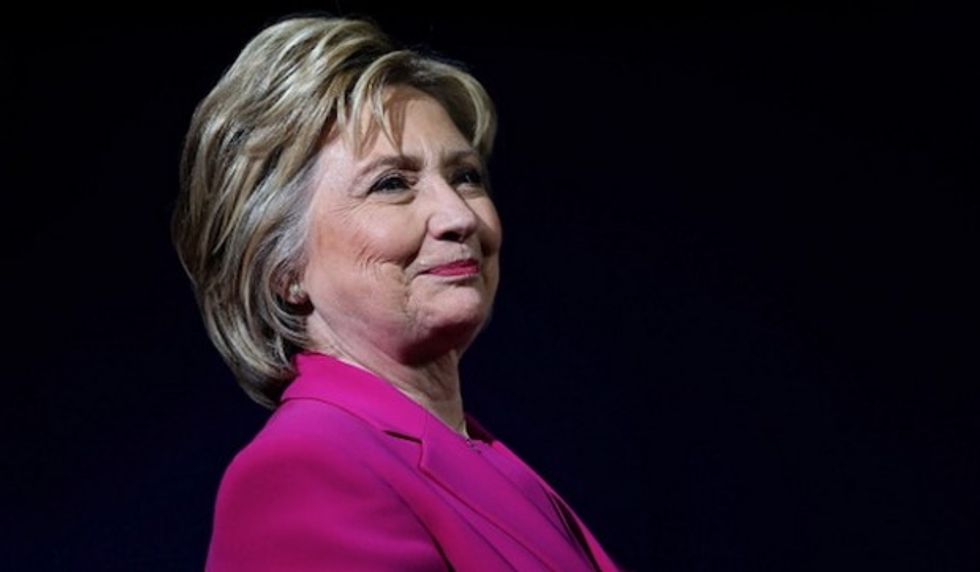 Justin Sullivan/Getty Images
"Secretary Clinton's proposals would, on net and over a ten-year period (2017-2026), increase revenues by $1.3 trillion, increase outlays by $3.5 trillion, for a combined deficit effect of nearly $2.2 trillion over the next decade," the post reads.
The conservative group's estimates are based on public statements made by the Clinton campaign, news reports and third-party estimates, including the Tax Policy Center and the Committee for a Responsible Federal Budget.
The estimate means that the amount of overall debt held by the U.S. would rise to roughly 93 percent of the country's total Gross Domestic Product, nearly 8 percent more than what experts currently predict. The national debt is currently $19.4 trillion.
Among the items on Clinton's agenda are at least 12 weeks of paid family and medical leave, limiting childcare costs to no more than 10 percent of a family's income, a debt-free college education for future students and preschool for every 4-year-old in the country.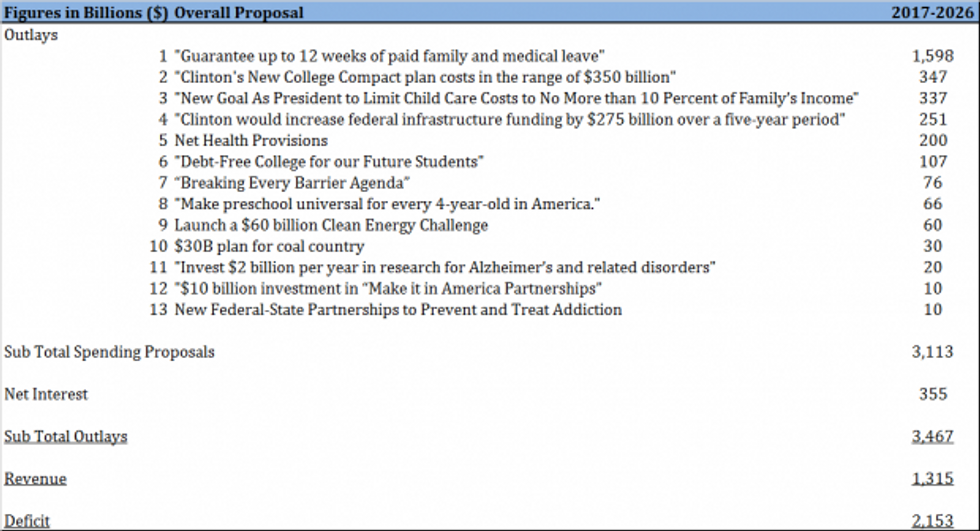 Image source: American Action Forum
It's not clear who exactly would pick up most of the tab for Clinton's ambitious agenda. However, the Democratic nominee is on record as saying that the richest Americans are not currently paying their "fair share" in taxes, a line her Democratic primary rival Bernie Sanders often repeated.
A representative for the Clinton campaign did not immediately respond to a request for comment from TheBlaze.
(H/T: Fox News)
—
Follow the author of this story on Twitter and Facebook: