An 11-year-old Donald Trump supporter called out an MSNBC anchor on Friday over her description of a question the boy had asked of Trump's running mate, Indiana Gov. Mike Pence.
Anchor Chris Jansing suggested had suggested that 11-year-old Matthew Schricker "challenged his loyalty" when he asked Pence at at rally on Thursday night if it would be his job in a Trump administration to "soften up" Trump's policies and rhetoric.
Schricker took issue with the way his question was portrayed by the left-leaning network, and didn't shy away from setting the record straight.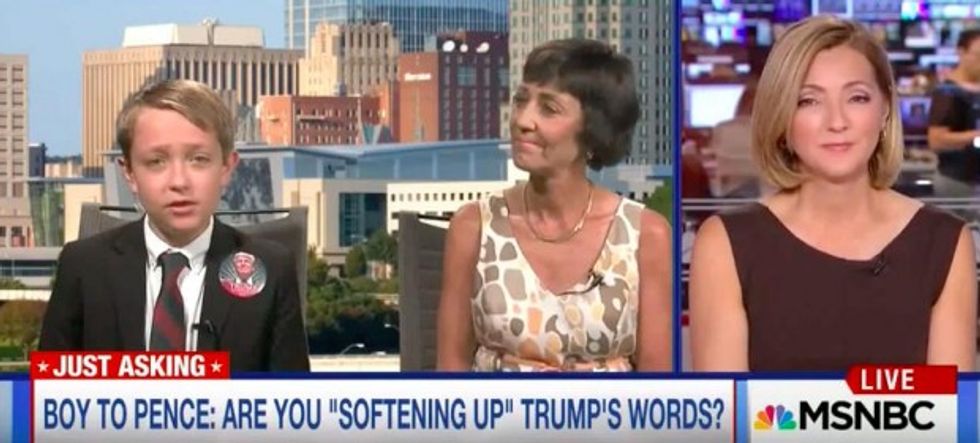 Image source: YouTube
"I was not meaning for it to be hostile. As you said before, I was challenging him. No, I was not," Schricker said. "I was totally just asking him to see if Mr. Trump was approving. I was not trying to be mean to him or challenging him or trying to bait him, like many websites who are saying I was grilling him."
"I was not doing anything to offend him or the Trump campaign, Schricker added.
Jansen then clarified that she meant the characterization "as a compliment," noting that the 11-year-old had asked a "tough question" of the Republican vice presidential nominee.
At the conclusion of the interview, Jensen said: "I hope you don't feel we misrepresented you in any way, Matthew."
(H/T: Mediaite)
—
Follow the author of this story on Twitter and Facebook: