BRUSSELS (AP) — The Islamic State group has claimed responsibility for Saturday's machete attack in Belgium.
Two female officers were attacked and wounded by a man wielding a machete and shouting "Allahu Akhbar" outside a police station in the Belgian city of Charleroi on Saturday, police said.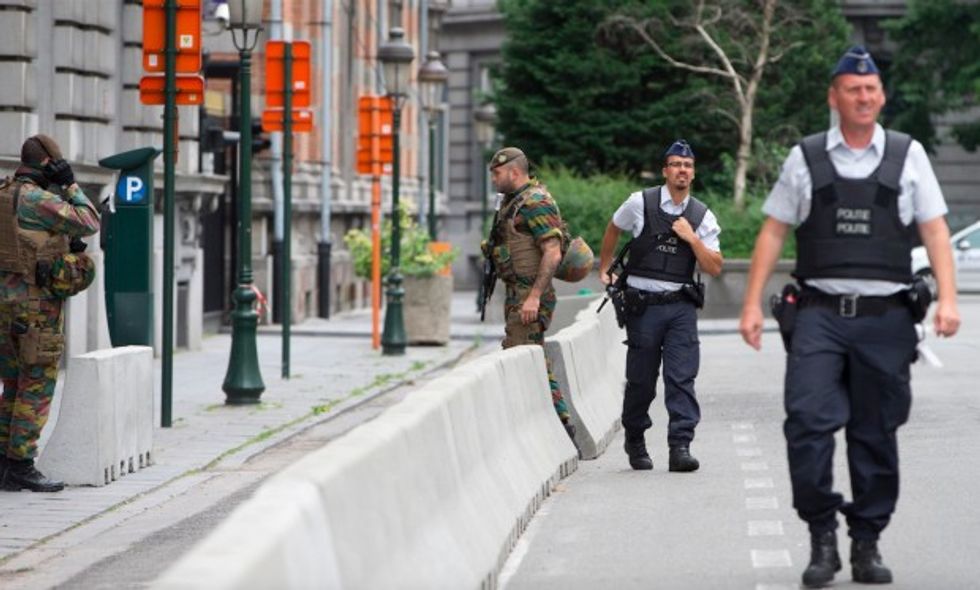 Police and soldiers from the Belgian Army secure an area in front of the Belgian Prime Minister's office, prior to a media conference in Brussels. A man attacked two police officers with a machete near the police headquarters in Charleroi, Belgium on Saturday before being apprehended. (AP Photo/Virginia Mayo)
A statement by the IS-affiliated Aamaq News Agency, posted Sunday on an IS-linked Twitter account, says the attack was carried out by one of the Islamic State group's "soldiers."
The statement says the attack on two policewomen in the city of Charleroi was in response to the "Crusader coalition's" campaign against IS and its self-declared caliphate in Iraq and Syria.
According to RTBF state broadcasting, one officer suffered severe injuries to her face while her colleague was slightly injured. It said a third officer shot the assailant.
Both officers are "out of danger," Charleroi police said Saturday evening on Twitter.
Prime Minister Charles Michel condemned the attack which happened as police in Belgium remain on high alert in the wake of the Brussels suicide bombings claimed by the Islamic State group that killed 32 people in March.
—