Last week, a Queens woman and fitness enthusiast was brutally murdered while out for an early evening jog. The body of Karina Vetrano, 30, was discovered Aug. 2 deep in the marshes of Spring Creek Park, where police believe a stranger abandoned the woman after sexually assaulting her and then strangling her to death, the New York Daily News reported.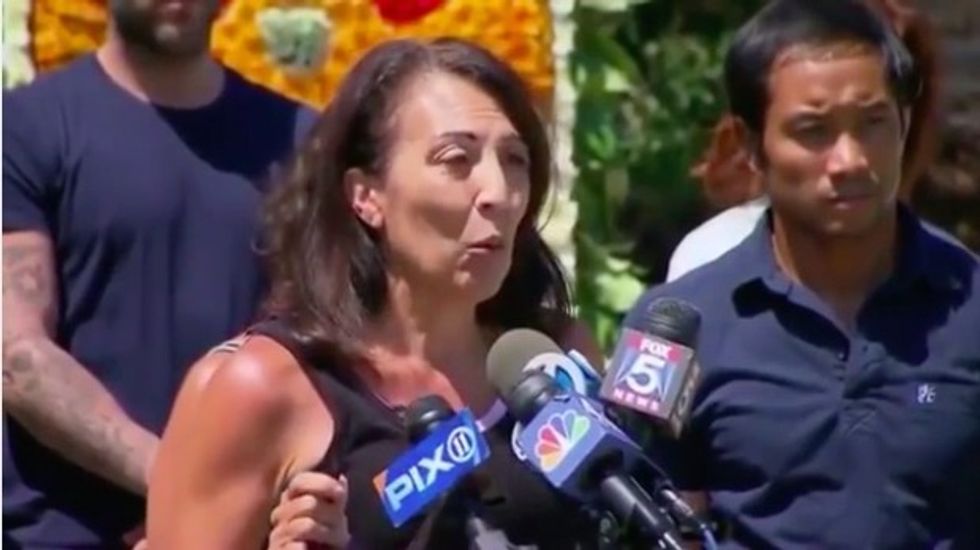 Cathy Vetrano (Image source: YouTube)
A funeral was held Saturday for Vetrano, who lived with her parents in Queens when she wasn't traveling the world on various fitness excursions. On Sunday, the slain jogger's mother, Cathy Vetrano, shared a profanity-laced message to Karina's killer at a press conference.
"My daughter was a force to be reckoned with," she said. "And I guarantee you, you motherf***er, that you will be reckoning with that force, not only for the rest of your pathetic life, but for the rest of eternity as you f***ing burn in hell."
'Justice will be served': parents of strangled #HowardBeach jogger Karina Vetrano deliver message to her killer: https://t.co/6vt58vL2Dx

— NY1 News (@NY1) August 7, 2016
The grieving mother vowed to bring the "coward" who killed her daughter to justice.
"I'm here to remind you, in case you don't already know, that now it's the whole entire world against you," she continued. "The whole world knows what a pathetic, puny, weak piece of filth that you are. The whole world knows that and soon they're all gonna know your face."
Watch:
Karina's father, Philip Vetrano, discovered her body in a marshy area near a jogging path as he aided police in their search last Tuesday evening. He added to his wife's speech Sunday, saying that "justice will be served."
"That's why we have the PD. That's why we have God. Justice will be served," Mr. Vetrano said, according to NY1.
Any info may help @NYPDDetectives. Call #800577TIPS anonymously & help find the person who murdered #KarinaVetrano. pic.twitter.com/L0YYUdIjvj

— NYPD NEWS (@NYPDnews) August 9, 2016
Police were still searching through DNA databases Tuesday, looking looking for a match to the sample found on Karina Vetrano at the crime scene. They are offering a $10,000 reward for information that could lead to an arrest.