A new radio ad in Wisconsin is attacking a Democrat for not "standing up" to Gov. Scott Walker, a Republican. Normally, that wouldn't be anything to write about, but the candidate the ad is targeting is paralyzed from the chest down.
Jimmy Anderson, a 29-year-old Wisconsinite battling two other Democratic candidates for an open seat in the state's 47th district, has been paralyzed since 2010, when a drunk driver hit the car he was in. The crash killed his parents, his brother and left Anderson unable to move most of his body.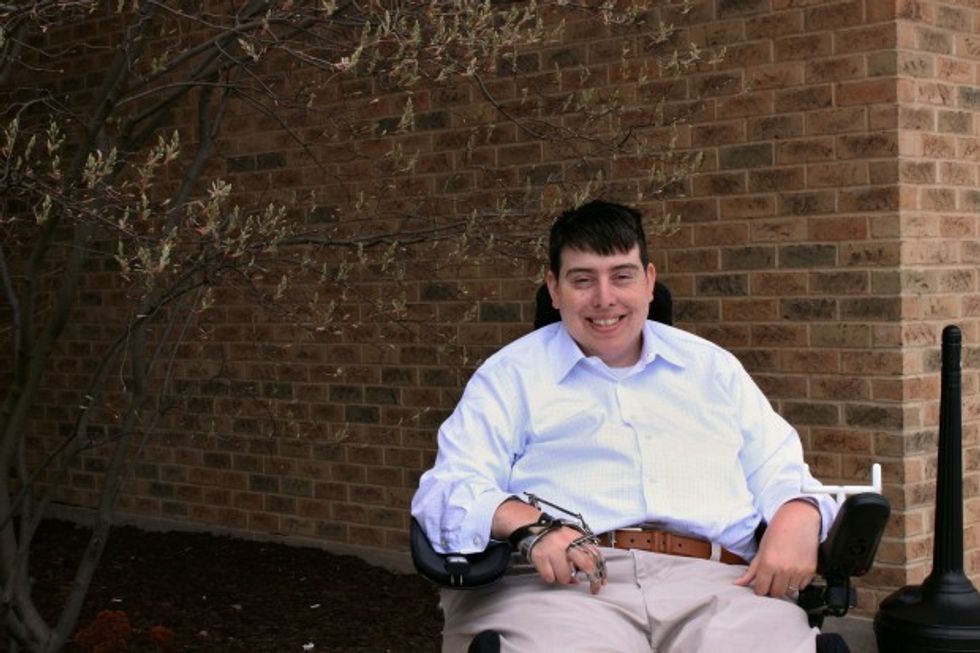 Jimmy Anderson is photographed on Tuesday, April 19, 2016 in Fitchburg, Wis. Anderson lost his parents, his brother and his ability to move from the chest down when a drunken driver hit their car in California in 2010. His subsequent insurance battle and his work to help victims of drunken driving are now spurring the 29-year-old to run for Wisconsin Assembly in the 47th District, an area Democrat Robb Kahl currently represents. (AP Photo/Bryna Godar)
Milwaukee Journal Sentinel columnist Daniel Bice called the radio spot "the worst political ad this year — by far." The writer also noted that, ironically, it appears the Operating Engineers Local 139, a union representing 9,000 of Wisconsin's heavy equipment operators, is behind the Construction Trades Coalition, which sponsored the ad. The union supported Walker in 2010 and 2014, but has since turned away from the conservative governor.
Here is the full text to the Coalition's embarrassing ad, which also knocks Anderson's strength:
When it comes to Scott Walker, Jimmy Anderson likes to talk tough. But to take on the governor, we need more than talk. When it came time to sign the recall petition, Jimmy Anderson didn't sign, refusing to give Walker his walking papers.

Just last month, he accepted a maxed-out campaign contribution from Walker's personal defense attorney.

He may claim to be the strongest progressive in the race, but voters can't trust Jimmy Anderson to stand up to Scott Walker.
Adding insult to injury, Anderson, who called the ad "offensive," told The Capital Times, a publication based in Madison, the reason he failed to sign the petition to recall Walker in 2012 was because he had not yet regained the ability to write.
"Whenever [organizers] would approach me, I would tell them that of course I would love to sign it but I just physically can't," he told the outlet. "And I know that you can't sign it for me because that'd be against the law. I had to decline at the time."
But Michael Ervin, the treasurer for the Construction Trades Coalition, stood by the advertisement, telling The Capital Times the Democrat is just using his severe injuries as an "excuse," a move he says should offend other disabled Americans.
"Anderson's use of his disability as an excuse for not signing the recall petition should be offensive to everyone with a disability and the voters of the 47th Assembly district," he charged.
Anderson uses an electric wheelchair to make his way through his campaign rallies, where his supporters say, "I sit with Jimmy."
The wheelchair-bound politician is competing with Fitchburg City Council members Julia Arata-Fratta and H. Tony Hartmann, both Democrats, in Tuesday's primary. There are no Republicans running to fill the vacant seat.
Listen to the ad below:
(H/T: HuffPo)
—
Follow the author of this story on Twitter: