CNN's Don Lemon hosted a panel discussion Tuesday evening following Republican nominee Donald Trump's controversial comment about a "Second Amendment" solution to rival Hillary Clinton's potential Supreme Court picks.
Republican congressional candidate and former Secret Service agent Dan Bongino insisted that Trump's statement was in no way a call to violence, adding that it was "clear" the candidate was simply presenting himself as a champion of the Second Amendment and campaigning on the importance of Supreme Court nominations. He called it "utter absurdity" to interpret Trump's "Second Amendment people" comment as a "call to an open revolution and to start firing your weapons at public officials."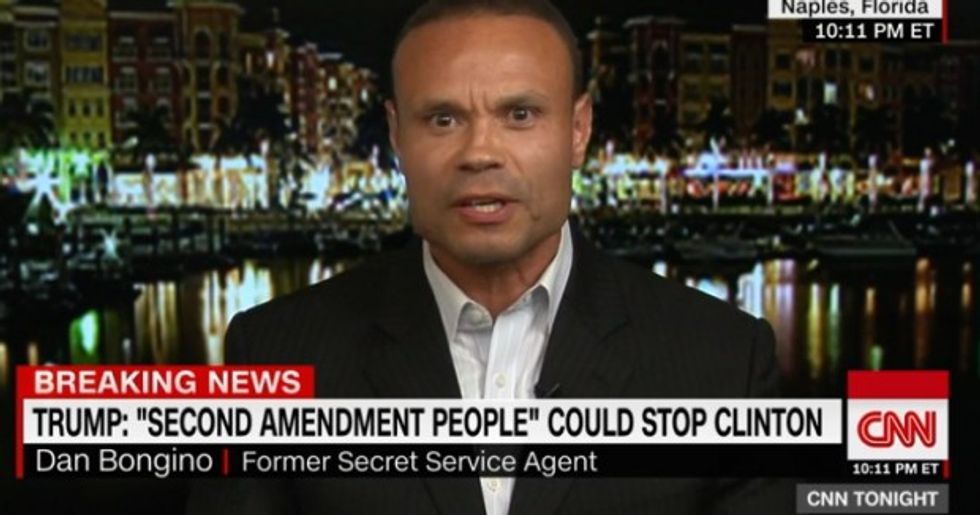 Image source: CNN
"Nobody said that," Lemon interjected, immediately dismissing Bongino's defense of Trump and saying that the candidate has a responsibility to use clear language.
Bongino agreed that Trump was "imprudent" in his wording but suggested that it's irresponsible interpret the GOP nominee's comment as a call to violence.
"You didn't come into this with a clear and open mind!" Bongino asserted.
"Dan, what you're saying right now makes no sense!" Lemon shot back. "I'm sitting at home, I'm watching Donald Trump. I have two ears and I have two eyes, and I can see the reactions of the people behind me — we're not stupid!"
Bongino tried to interrupt, but Lemon shouted over him, telling the former agent, "You should be ashamed of yourself!"
"I'm ashamed that you're talking to me as if I'm a child, when for 12 years of my life I was a Secret Service agent," Bongino retorted.
The CNN host accused his guest of "lying to the American people," to which Bongino angrily responded, "You don't know crap about this, Don! You're a TV guy! I was a Secret Service Agent! Now cut off my mic! Do what you wanna do!"
Watch: