WikiLeaks founder Julian Assange seemed to vaguely suggest Tuesday that a murdered Democratic National Committee staffer was an informant for his famous watchdog outlet.
"Whistleblowers often take very significant efforts to bring us material and often at very significant risks," Assange said on the Dutch television program "Nieuwsuur." "There's a 27-year-old who works for the DNC and who was shot in the back, murdered, just a few weeks ago, for unknown reasons as he was walking down the streets in Washington."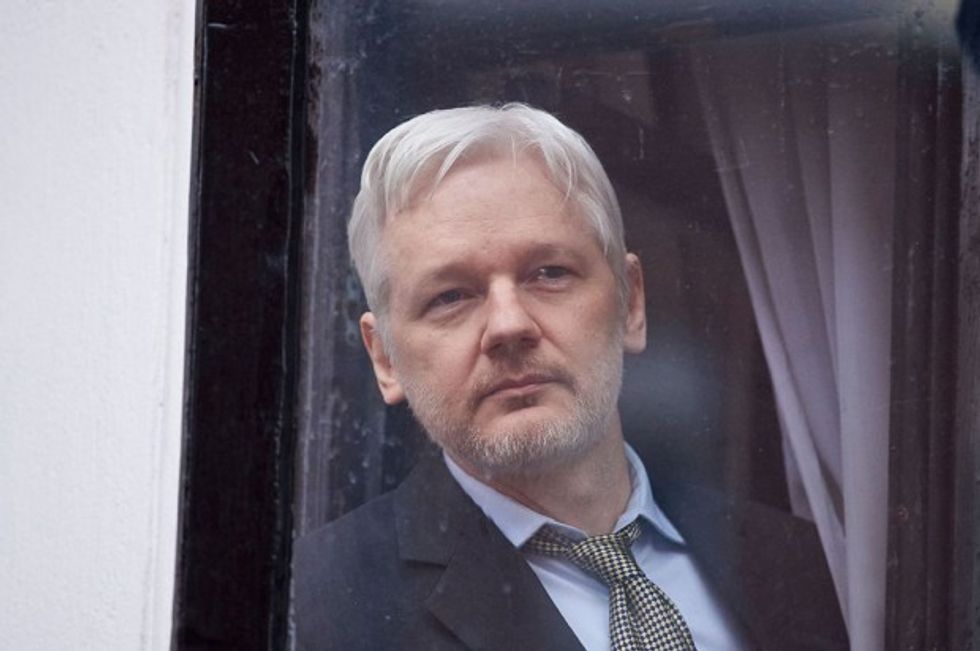 WikiLeaks founder Julian Assange is seen through the window of the door leading to the balcony of the Ecuadorian embassy in central London on February 5, 2016 from where he addressed the media. During a press conference on February 5 Julian Assange, speaking via video-link, called for Britain and Sweden to 'implement' a UN panel finding saying that he should be able to walk free from Ecuador's embassy, where he has lived in self-imposed confinement since 2012. (Photo by BEN STANSALL/AFP/Getty Images)
Seth Rich was staffer for the DNC who worked in voter outreach until he was fatally shot last month early in the morning in Washington, D.C. The case has so far remained unsolved by law enforcement, though police have said it may have been a robbery gone bad.
Though Assange offered no evidence that Rich could be an informant and didn't actually confirm anything, it piqued the interest of interviewer Eelco Bosch van Rosenthal, who asked the publisher what he might be suggesting with the apparent hint.
"I am suggesting that our sources take risks and they become concerned to see things occurring like that," Assange replied. "We don't comment on who our sources are."
Many on the social media platform Reddit have suggested Rich's death may be linked to the release of thousands of unflattering DNC emails last month. While intelligence officials have suggested the hack was committed by Russians, there has been no formal conclusion stating so.
Florida Rep. Debbie Wasserman Schultz was ousted from her role as chair of the DNC in the wake of the embarrassing email leak.
As to why he was floating different motivations behind Rich's shooting, Assange told Rosenthal he was making the point that WikiLeak's "sources face serious risks" in getting information for the publication.
"We have to understand how high the stakes are in the U.S., and that our sources face serious risks," he told the show host. "That's why they come to us, so we can protect their anonymity."
He told Rosenthal he was just speculating on one possibility that could have led to Rich's demise.
"We are investigating what happened with Seth Rich. We think it is a concerning situation," Assange said. "There is not a conclusion yet; we are not willing to state a conclusion, but we are concerned about it. And more importantly, a variety of WikiLeaks sources are concerned when that kind of thing happens."
The computer programmer's comments come the same day WikiLeaks announced a $20,000 reward for information leading to a conviction in Rich's murder.
Watch Assange's remarks below:
–
Follow the author of this story on Twitter: