Philippine President Rodrigo Duterte has been called the "Trump of the East" — and his latest unfiltered remark about the U.S. ambassador to his country might help you understand why.
During a recent speech, Duterte called Ambassador Philip Goldberg a "gay son of a bitch," prompting reactions from around the world — and even a response from the press briefing podium at the U.S. State Department.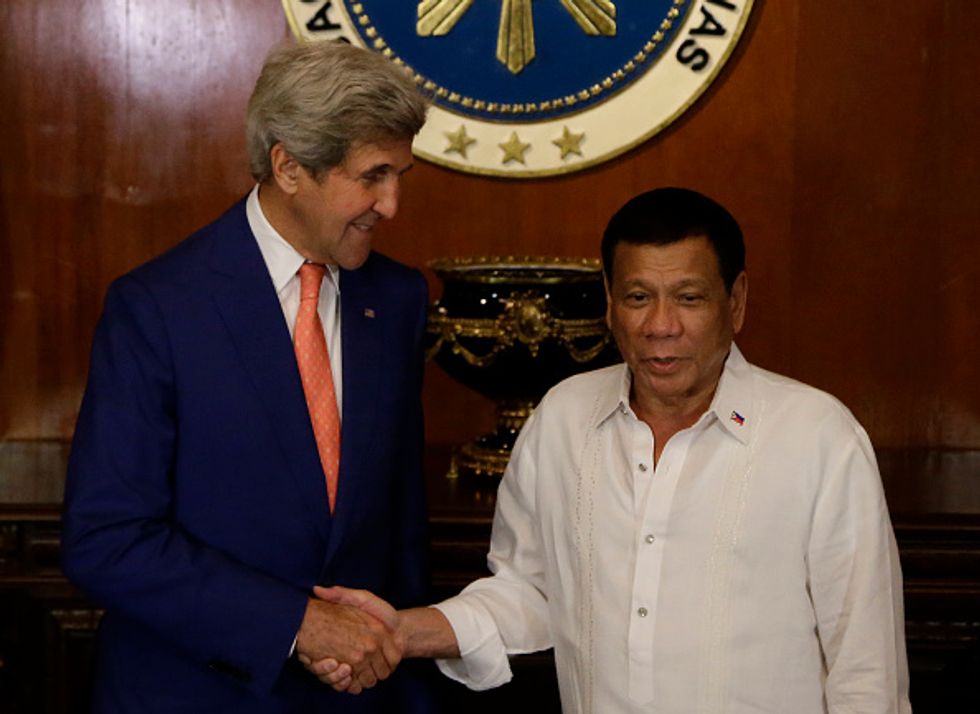 Philippine President Rodrigo Duterte shakes hands with U.S. Secretary of State John Kerry at the Malacanang presidential palace in Manila. (Aaron Favila/AFP/Getty Images)
"I was with [Filipino Major Gen.] Delfin Lorenzana. We talked to Kerry, he was actually OK because I had a fight with his ambassador. I told him: 'Your ambassador is a gay son of a bitch,'" Duterte said, according to CNN.
"I was annoyed at him, for interfering in the elections, giving statements here and there," Duterte added. "He wasn't supposed to do that."
Several users took to Twitter Wednesday to share the news of the Filipino head of state's shocking remark:
Just watched the speech of Phillipine's President calling the U.S ambassador Names the New Trump of the East

— Zwena Bachoo. M (@ZwenaBachoo) August 11, 2016
The Philippines President is something else Trump of the East indeed

— Samuel Moyo (@sambam_04) August 11, 2016
Philippine president got zero chills. " Trump of the East"

— Ronald Okoth (@RonaldOkoth_) August 11, 2016
Now we have an ignorant, uncouth "Trump of the East" in the Phillippines

— Janice Luscher (@leeleslan) August 10, 2016
State Department spokeswoman Elizabeth Trudeau was asked about the comment during a press briefing Monday.
"Given the remarks being so insulting to the U.S. envoy, how should we expect a cordial cooperation between the two?" a reporter asked.
Trudeau responded, "I would say two things on that. The first, specifically on the remarks, we've seen those inappropriate comments made about Ambassador Goldberg. He's a multi-time ambassador, one of our most senior U.S. diplomats. We have asked the Philippines charge to come into the State Department to clarify those remarks."
It's not the first time, however, that Duterte has waded into global controversy.
Before becoming president in June, Duterte was asked at a campaign stop about comments he made in 1989 about the rape and murder of an Australian missionary that took place in the town where he was then mayor.
"I was angry she was raped. Yes, that was one thing. She was so beautiful, I think the mayor should have been first. What a waste," Duterte said.
And in December, while Pope Francis was visiting the country, Duterte cursed the pontiff for holding up traffic.
"It took us five hours to get from the hotel to the airport. I asked who was coming. They said it was the pope. I wanted to call him. 'Pope, son of a whore, go home. Don't visit anymore,'" Duterte said, according to ABC News in Australia.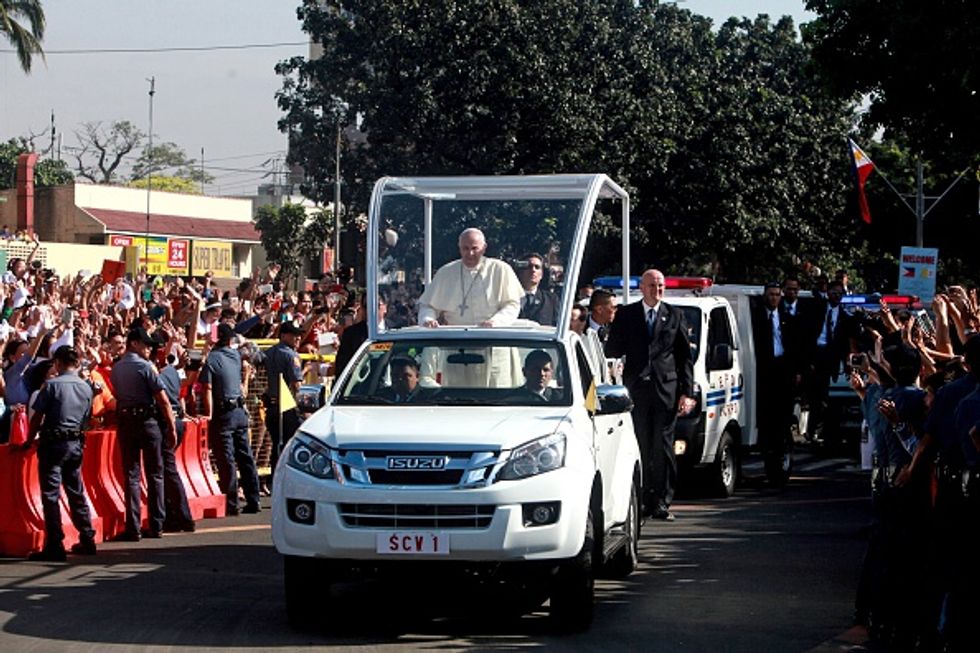 Pope Francis passes Catholic devotees on his way to Villamor Airbase in Manila on Jan. 19, 2015. (STR/AFP/Getty Images)
The comment about the head of the Catholic Church came just months before Duterte would make a similarly offensive comment to a group of Catholic bishops.
"You sons of whores, aren't you ashamed? You ask so many favours, even from me," Duterte told the clergymen, according to the Guardian.
The Guardian reported following the leader's comments that about 80 percent of the Filipino population is Catholic. It was just days later, however, that Duterte was elected president.
—
Follow the author of this story on Twitter and Facebook: