Of the $10.6 million Hillary and Bill Clinton earned last year, they gave more than $1 million to charity, according to a tax filing released by the Democratic presidential nominee's campaign Friday.
As it turns out, 96 percent of the Clintons' 2015 charitable donations went to the Clinton Family Foundation, a tax-exempt charity owned by the Clintons but separate from the well-known Clinton Foundation. According to the tax release, the Clintons donated $42,000 to Desert Classic Charities and $1 million to the Clinton Family Foundation.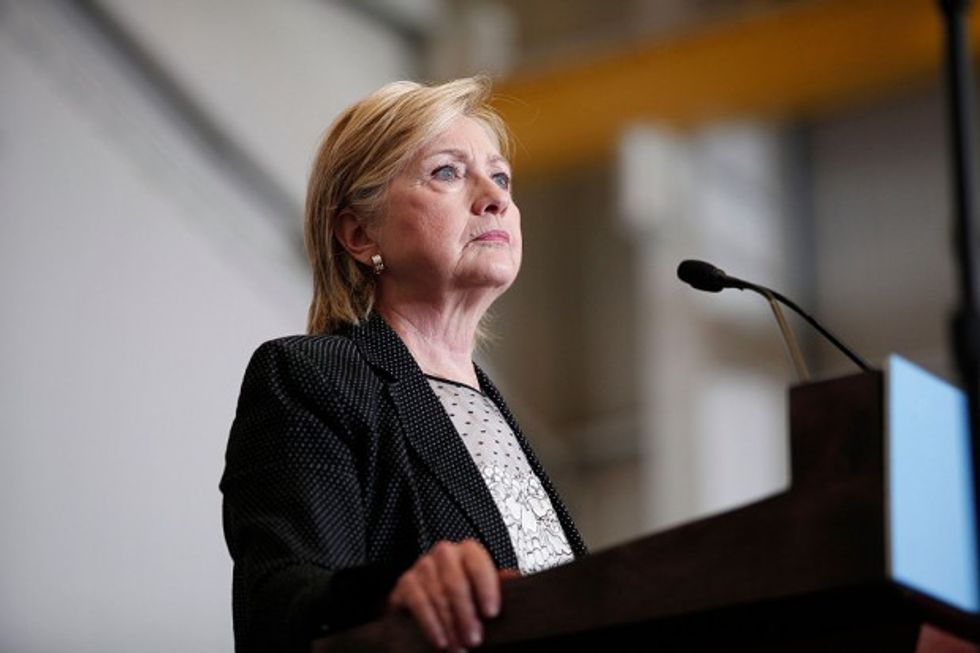 Democratic presidential nominee Hillary Clinton delivers a speech on the U.S economy at Futuramic Tool & Engineering August 11, 2016 in Warren, Michigan. In her speech, Clinton contrasted her economic plan to that of Republican presidential nominee Donald Trump's. (Photo by Bill Pugliano/Getty Images)
Interestingly, as the Daily Caller pointed out, the money donated to Desert Classic soon funneled back to the Clintons as the charity donated $700,000 to the Hillary, Bill and Chelsea Clinton Foundation. The money was donated for work on obesity programs.
In 2012, Republican presidential nominee Mitt Romney became the subject of much scrutiny for his charitable donations. The former Massachusetts governor earned $14 million and gave $4 million to charity. Many progressive pundits hit Romney because a majority of his charitable giving went to the Mormon church and part of it was gifted to a foundation controlled by his family.
The Clintons' charity work has been criticized ever since the release of Peter Schweitzer's 2015 book "Clinton Cash." The author asserts that many of the embattled Clinton Foundation's donations from foreign and domestic people occurred alongside favorable treatment from Clinton's State Department.
This comes amid a new release of Clinton emails seemingly showing a tangled relationship between the State Department and the Clinton Foundation during Clinton's tenure as secretary of state.
The FBI pushed the Department of Justice to launch an integrity probe into the Clinton Foundation, but the agency denied, claiming there was not enough evidence of wrongdoing to justify such an investigation.
(H/T: Mediaite)
–
Follow the author of this story on Twitter: