Democratic vice presidential hopeful Tim Kaine attended the Progressive National Baptist Convention, Inc. annual meeting this week in New Orleans. Addressing the group of Africn-American Baptist leaders Thursday, Kaine explained how Hillary Clinton's Methodist Christian background has shaped the way she leads.
"Some of you know this story. She was a Midwestern Methodist church kid. Now, I know a lot of those Midwestern Methodist church kids growing up. And there is a beautiful sense of duty," Kaine said, according to a transcript provided to the Christian Post by the Clinton campaign.
.@timkaine and .@DrJCPerkins during @PNBCINC Annual Session #PNBC55th #NOLA #RestoreTheVRA https://t.co/jOD9LwixKs pic.twitter.com/TQR1aSB46O

— PNBC (@PNBCINC) August 12, 2016
"I think a lot of you know Hillary very well, either from her time in Arkansas, her time as first lady, her time as senator, time as secretary of state. That Methodist connection, that beautiful sense of duty, the obligation to others — that is the root of everything she does," he continued.
Kaine, who is a professed Catholic, shared about the time when Clinton's youth pastor took her to Chicago to see Dr. Martin Luther King, Jr., "who talked to her about migrant worker issues beyond what she had experienced."
"And then that opened her up to the fact that there were issues out there that she needed to grapple with. So as a law student, she went to work for Marian Wright Edelman at the Children's Defense Fund," he explained.
She went to Dothan, Alabama to expose and investigate school segregation after she graduated. She went to Yale. She could have gone to Wall Street. She could have gone anywhere, but she went to work for the Children's Defense Fund to defend the right of young people in South Carolina's juvenile justice system.
The Democratic presidential candidate has also invoked her own faith along the campaign trail. Back in January, at a rally in Knoxville, Iowa, Clinton shared how her Methodist background has influenced her political ideology.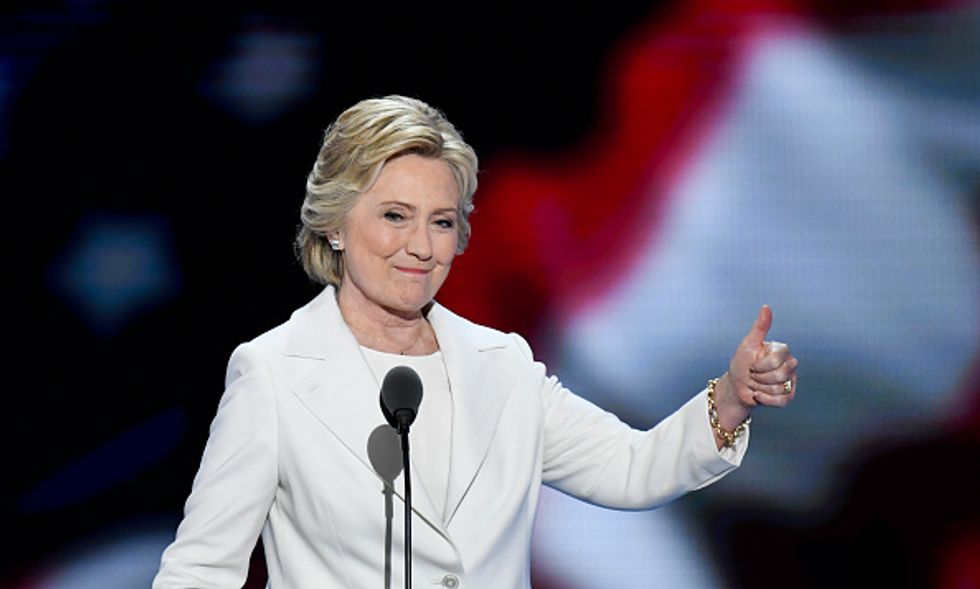 Image source: Bill Clark/CQ Roll Call

"My study of the Bible, my many conversations with people of faith, has led me to believe the most important commandment is to love the Lord with all your might and to love your neighbor as yourself, and that is what I think we are commanded by Christ to do," Clinton said, according to the New York Times. "There is so much more in the Bible about taking care of the poor, visiting the prisoners, taking in the stranger, creating opportunities for others to be lifted up, to find faith themselves that I think there are many different ways of exercising your faith."
"But I do believe that in many areas judgment should be left to God, that being more open, tolerant and respectful is part of what makes me humble about my faith," Clinton added. "I am in awe of people who truly turn the other cheek all the time, who can go that extra mile that we are called to go, who keep finding ways to forgive and move on."