Spain's Severo Jurado Lopez and his horse, Lorenzo are setting the internet on fire following a surprising performance in Monday afternoon's individual dressage competition at the Rio Olympics.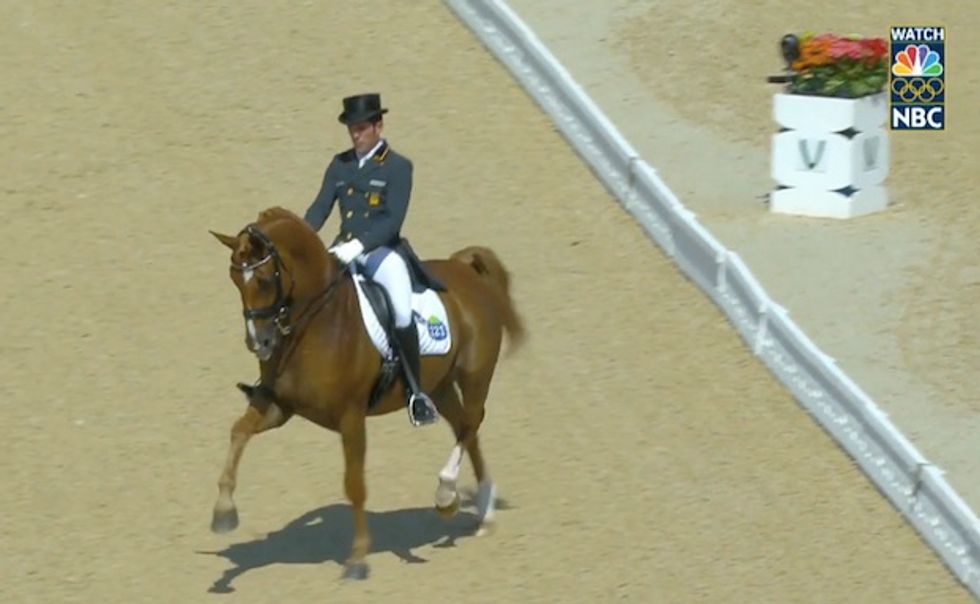 Image source: YouTube
Despite the fact that Lopez and Lorenzo finished in fifth place, a video of the team is quickly approaching viral status.
The pair's popularity might have something to do with Lopez's choice of music for the event.
Instead of what some might call the "stodgy" music typically heard during dressage performances, Lopez's montage mixed in a pair of pop classics from Carlos Santana and Bon Jovi.
SB Nation reported the 27-year-old Spaniard was pleased with his musical selections, "I choose the music I like -- I feel good, I like the music," he said.
The six and a half minute performance opens with parts of "Smooth," 1999's smash hit from Carlos Santana weaving in and out of the orchestral music.
At the close of the routine, Lopez and Lorenzo "dance" to Bon Jovi's 'It's My Life."
In case you were wondering, the
UK's Charlotte Dujardin 
won the gold medal.
--
Follow the author of this story on Twitter and Facebook: