For weeks, conservative outlets have been pushing unsubstantiated reports about Hillary Clinton's health, and the Democratic presidential nominee has had enough.
Rumors of an ailing Clinton have been circulating on sites like The Drudge Report for several weeks, but they began picking up steam when Fox News show host Sean Hannity began airing segments questioning the former secretary of state's health. On Monday, Donald Trump even said Clinton lacks the "mental and physical stamina" to fight the Islamic State as commander in chief.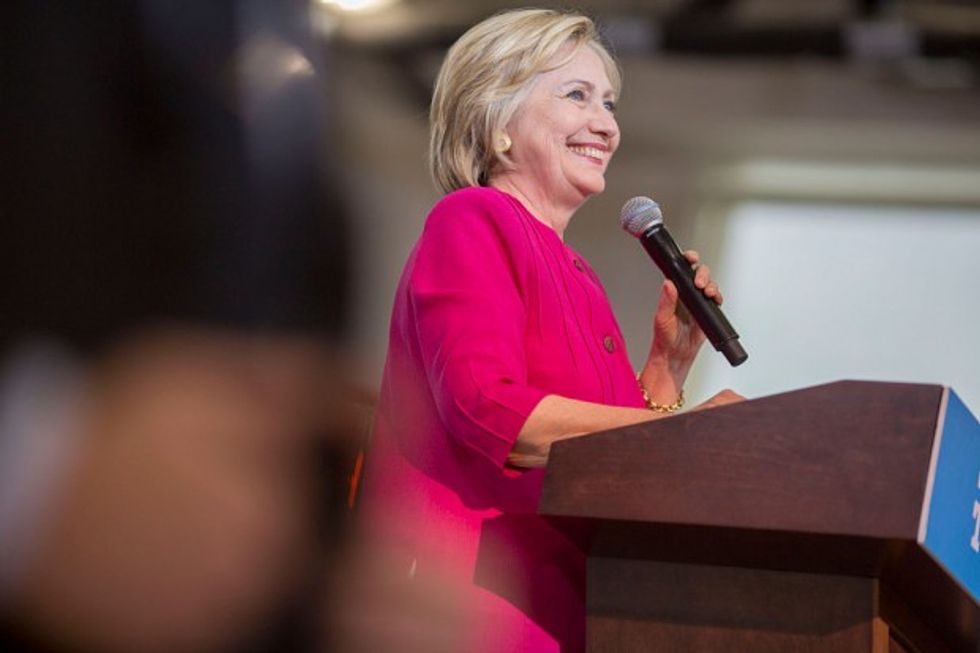 Democratic presidential nominee Hillary Clinton attends a voter registration event on August 16, 2016 at West Philadelphia High School in Philadelphia, Pennsylvania. Clinton warned voters not to be complacent and to work to get out the vote and maintain her lead. (Photo by Jessica Kourkounis/Getty Images)
In response, the Clinton campaign is condemning Trump for "peddling deranged conspiracy theories." In a statement issued Tuesday night by the Democrat's team, Clinton's physician says she is in "excellent health." The campaign also called "Trump surrogate" Hannity a "conspiracy peddler," according to a CNN report.
Team Clinton went after Trump confidant Roger Stone, calling him out for "pushing fake medical documents supposedly leaked from Hillary Clinton's physician that purport to show grave health problems."
Dr. Lisa Bardack, chair of CareMount Medical's department of medicine and Clinton's actual doctor, said the candidate is healthy, noting that reports suggesting otherwise "are false, were not written by me and are not based on any medical facts."
The reports about Clinton's health, which first began after a 2012 fainting incident that led to a concussion, were mostly found on fringe political sites, but after Trump commented on his political opponent's "stamina," the rumors made their way onto national television and Hannity's Fox News program, where he claimed to be just "asking questions."
Clinton campaign communications director Jennifer Palmieri issued a full statement on the matter Tuesday night.
"Donald Trump is simply parroting lies based on fabricated documents promoted by Roger Stone and his right wing allies," she said. "Hillary Clinton has released a detailed medical record showing her to be in excellent health plus her personal tax returns since 1977, while Trump has failed to provide the public with the most basic financial information disclosed by every major candidate in the last 40 years. It's time for him to stop using shameful distractions to hide his own record."
However, while Clinton's team rebuked Trump for calling her health into question, Palmieri did ponder the legitimacy of the GOP nominee's wellness. The statement quoted Newsweek writer Kurt Eichenwald, who on CNN Tuesday morning claimed Trump's health disclosure was not a "real letter."
"It's from a doctor who treats digestive problems," the writer said. "[It] says such things as, 'Donald Trump will be the healthiest president in the history of the United States.' That sounds a lot like Donald Trump."
See Eichenwald's comments below:
"This is not a real letter…it's from a doctor who treats digestive problems" @kurteichenwald https://t.co/lpvg5Wpz6q

— Carol Costello (@Carol Costello) 1471356549.0
–
Follow the author of this story on Twitter: