Virginia Sen. Tim Kaine is now on board with Hillary Clinton, but in the early 2000s, he said former President Bill Clinton should have resigned following his affair with then-White House intern Monica Lewinsky.
According to The Daily Beast, which first broke the story, the Democratic vice presidential nominee was speaking to a similar scandal surrounding former Virginia state congressman Vance Wilkins when he commented on the infamous Clinton impropriety.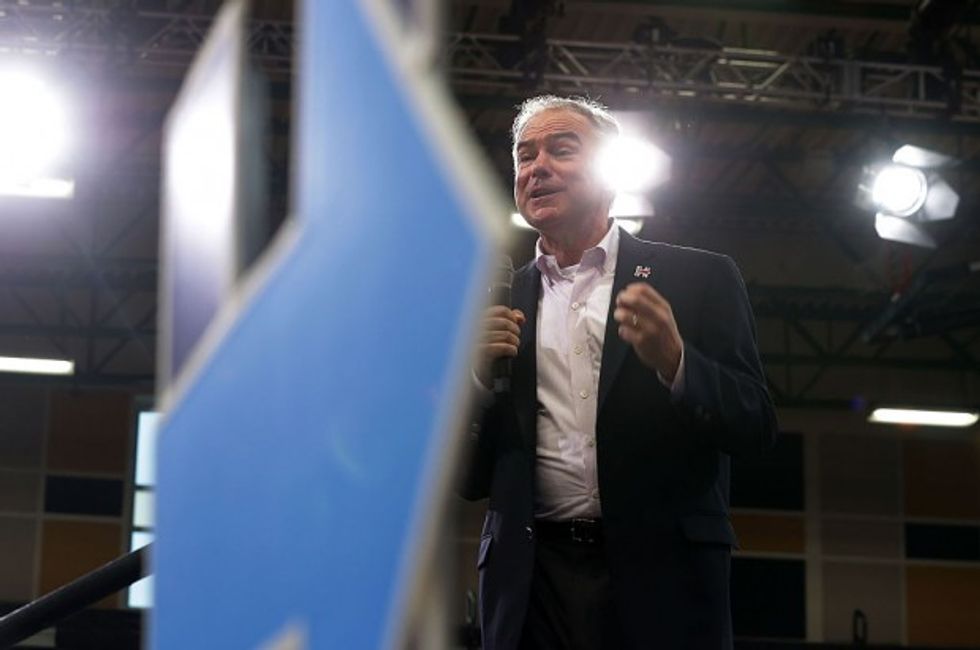 Democratic vice presidential candidate Sen. Tim Kaine (D-VA) speaks to voters during a campaign event August 1, 2016 in Richmond, Virginia. Kaine returns to campaign in a homecoming rally after he was picked to be the running mate of Hillary Clinton. (Photo by Alex Wong/Getty Images)
"If the allegations are true, he should definitely resign," Kaine said of Vance in 2002, according to the Richmond-Times Dispatch archive, noting he believed the same about Clinton during the Lewinsky scandal.
In a separate interview with the Associated Press, Kaine said, "My reaction was the same I had when I read about the Clinton-Lewinsky affair: this is not appropriate conduct. It's beneath the dignity of the office."
Kaine confirmed the legitimacy of his comments Wednesday, telling local Iowa news station KWWL-TV the reports about his past comments are "not inaccurate." He told reporter Kristin Rogers, though he "was disappointed," there is "no reason to re-litigate problems of 20 years ago."
"So as I'm campaigning all across the country people are saying, 'What do we do to get an economy growing again with prosperity that's shared?' 'How do we make sure we are strong in the nation we're strong alliances in the world?' 'How do we make sure we build up a community of respect?'" Kaine said.
"Past controversies aren't really important to the voters. They want to know what we are going to do tomorrow," he added.
See Kaine's comments to Rogers below:
(H/T: New York Post)
—
Follow the author of this story on Twitter: