Baton Rouge's newspaper, the Advocate, called for President Barack Obama to take a break from his vacation and visit the devastation in Louisiana following intense flooding.
"Sometimes, presidential visits can get in the way of emergency response, doing more harm than good. But we don't see that as a factor now that flood waters are subsiding, even if at an agonizing pace," the editorial said. "It's past time for the president to pay a personal visit, showing his solidarity with suffering Americans."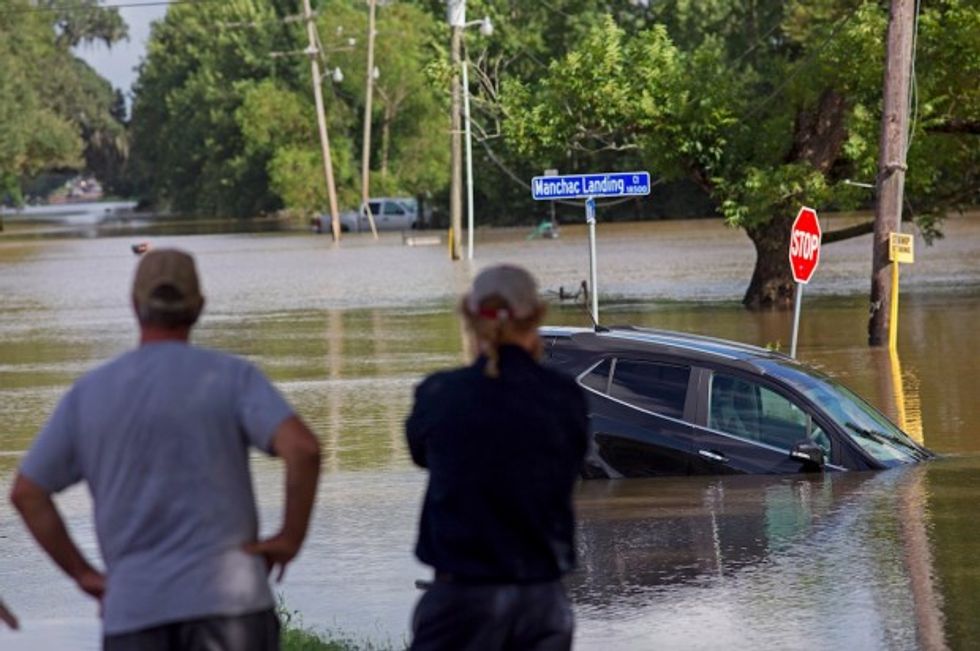 Residents survey the flood water on Old Jefferson Highway in Prairieville, Louisiana, Tuesday. Rivers and creeks were still dangerously bloated in areas south of Baton Rouge as people filled sandbags there to protect their houses, bracing for the worst as the water worked its way south. (AP Photo/Max Becherer)
The editorial, "Vacation or Not, a Hurting Louisiana Needs You Now, President Obama," urged the president not to make the same mistake as former President George W. Bush, who simply flew over the destruction in Louisiana in the wake of Hurricane Katrina as he cut his own vacation short to head back to Washington, D.C.
"Like his predecessors, Obama has no doubt discovered that crises keep their own calendar, even when commanders-in-chief are trying to take some time off the clock. It's an inconvenience of the presidency, but it's what chief executives sign up for when they take the oath of office," the Advocate argued. "And if the president can interrupt his vacation for a swanky fundraiser for fellow Democrat Hillary Clinton, as he did on Monday, then surely he can make time to show up for a catastrophe that's displaced thousands."
At least 13 people have been killed and tens of thousands have been displaced thus far due to the flooding. And the National Weather Service said Thursday that continuing rains could produce even more flooding, according to NBC News.
The newspaper continued:
The optics of Obama golfing while Louisiana residents languished in flood waters was striking. It evoked the precedent of the passive federal response to the state's agony in 2005, a chapter of history no one should ever repeat.

The president acted prudently in officially declaring a disaster for the flooded part of the state, a key step in advancing federal aid. We've been heartened so far by the active involvement of Craig Fugate, head of Federal Emergency Management Agency, a far cry from FEMA's hapless Michael Brown in the days after hurricanes Katrina and Rita. U.S. Homeland Security Secretary Jeh Johnson was slated to visit Louisiana today to assess the damage.

But a disaster this big begs for the personal presence of the president at ground zero. In coming here, the president can decisively demonstrate that Louisiana's recovery is a priority for his administration — and the United States of America.

The president's vacation is scheduled to wrap up on Sunday. But he should pack his bags now, and pay a call on communities who need to know that in a national catastrophe, they are not alone.
"The president's presence is already late to this crisis, but it's better later than never," the editorial concluded.
President Barack Obama did sign a major disaster declaration Sunday. Homeland Security Secretary Jeh Johnson is expected to travel to Louisiana Thursday.
Read the full editorial here.
—
Follow Kaitlyn Schallhorn (@K_Schallhorn) on Twitter