Fox News show host Bill O'Reilly clashed with Glenn Beck Wednesday night after the "Liars" author compared the tactics Donald Trump's campaign is using to those employed by the Black Lives Matter movement.
On his radio show earlier this week, Beck, who vehemently opposes Trump, said the Republican presidential nominee is "making a new group of Black Lives Matter" by propping up a class of people who "so distrust and hate the system that they will buy anything."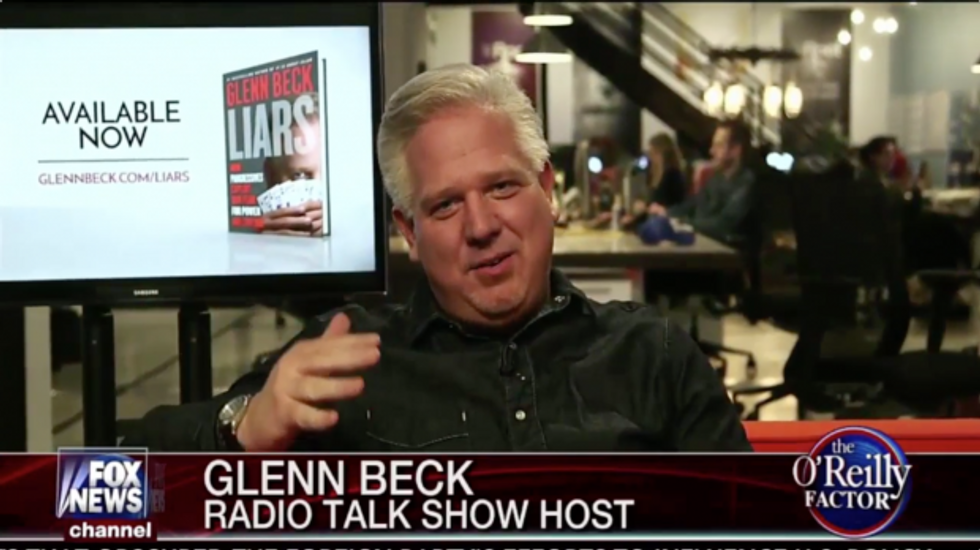 Fox News
O'Reilly conceded that Trump's tactics might "create cynicism," but argued it is just a "minor part" of the billionaire businessman's campaign for the presidency. The Fox News anchor asked Beck if he is just "nitpicking" Trump.
"No," Beck replied, noting the fact that Trump just hired as his campaign CEO Breitbart's Stephen Bannon, "one of the dirtiest, nastiest human beings alive."
The two men then went back and forth about progressive business magnate George Soros, who has donated millions to liberal movements and campaigns, and the stiff competition Trump is facing with Democratic rival Hillary Clinton. Beck said Trump "doesn't seem to know" Soros is "a bad guy."
At that, the conservative radio host told O'Reilly that Trump campaign chairman Paul Manafort "may end up in jail" for "funneling foreign money into lobbying firms." The Fox News host told Beck he doesn't know any of that is true.
"Come on, Beck," O'Reilly interjected. "You're throwing stuff against the wall, you don't have any evidence to put the man in jail — and you know you don't. ... If you keep saying this stuff, you might end up in jail."
"That's my point," Beck replied. "When is it a problem for somebody to have an opinion in this country? Barack Obama, I thought, was bad. Donald Trump has people chanting, 'Put them in jail, put them in jail,' about the press. When is someone's opinion on a public figure something that is jail-worthy and not First Amendment protected?"
Beck told O'Reilly that Trump is "a nightmare." In retaliation, O'Reilly asked his former Fox News colleague if his radio listeners get frustrated with him because he's "so anti-Trump." Beck claimed his ratings "have grown by 25 percent."
In conclusion, Beck called on voters to support conservatives running for Congress because neither Trump nor Clinton "care about the Constitution one iota."
Watch the exchange below:
Boom! O'Reilly GOES OFF on Glenn Beck's Can of Crazy: 'YOU Might End Up in Jail if You Keep Saying this Stuff!'https://t.co/Pmvma84nXl

— The Patriot (@ThePatriot143) August 18, 2016
—
Follow the author of this story on Twitter: