Richard Cross, a lifelong Republican, wrote the scathing anti-Hillary Clinton speech delivered by the mother of one of the Benghazi victims at the Republican National Convention, but now he's saying he might vote for the former secretary of state in November.
In a Baltimore Sun editorial, Cross said he wrote the powerful message Patricia Smith, whose son Sean was killed during the 2012 Benghazi attacks, delivered in Cleveland last month. During the speech, Smith said she blames Clinton "personally" for the death of her son, asking the crowd, "If Hillary Clinton can't give us the truth, why should we give her the presidency?"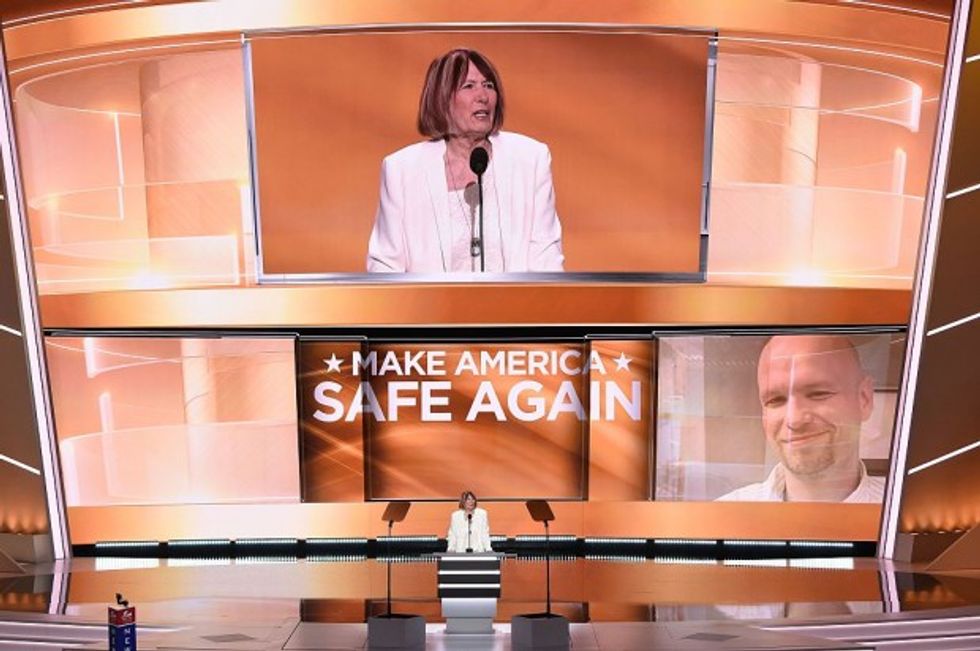 Patricia Smith, mother of Benghazi victim Sean Smith, addresses the Republican National Convention on July 18, 2016 at Quicken Loans Arena in Cleveland, Ohio. The Republican Party opened its national convention, kicking off a four-day political jamboree that will anoint billionaire Donald Trump as its presidential nominee. (Photo by ROBYN BECK/AFP/Getty Images)
But it seems the allegations against Clinton — even ones he penned himself — are not enough to sway Cross to vote for Donald Trump in the fall. In the editorial, the Republican speechwriter asserted he "may yet have to vote for her because of the epic deficiencies of my own party's nominee."
Cross, a former staff member for Maryland Republicans like Gov. Bob Ehrlich and former Rep. Helen Bentley, said the final straw was Trump's proposed ban on Muslim immigration into the United States, a bold policy proposal the billionaire businessman has since reformed to be specific to countries where terrorism flourishes.
"President Eisenhower would have never proposed banning Muslims from America. Nor would President Nixon. Nor would President Reagan," Cross wrote. "Donald Trump has betrayed and perverted their legacies. Consequently, I no longer recognize my party."
In Cross' view, the November election is "a citizenship election," equating it to the civil rights movement, when supporters were called to "stand up and be counted." It seems, though, Cross feels boxed in to vote for a candidate he doesn't appear to support.
"I am confronted by two painful choices: Vote for the most divisive political figure in the past 25 years or throw away my vote on a kooky Libertarian ticket," he lamented, later suggesting Clinton is "the only choice" in 2016.
In this election, Cross argued there is no "political hero" waiting in the wings to "rescue us from ourselves," claiming instead that the American electorate is faced with an "awful spectacle of a 'Mothra versus Godzilla' election."
"And, just like in the movies," he wrote, "no matters who wins, Tokyo suffers."
Watch Smith's powerful RNC speech below:
—
Follow the author of this story on Twitter: