Conservative Christian author and radio host Eric Metaxas highlighted the impact that a famous Christian book had on Olympic swimmer Michael Phelps' life in a new op-ed published on LifeSiteNews.
"Michael Phelps' story is a reminder that no matter how big a mess your life may be, and no matter how dim the last embers of hope may glow, God is still there," Metaxas wrote.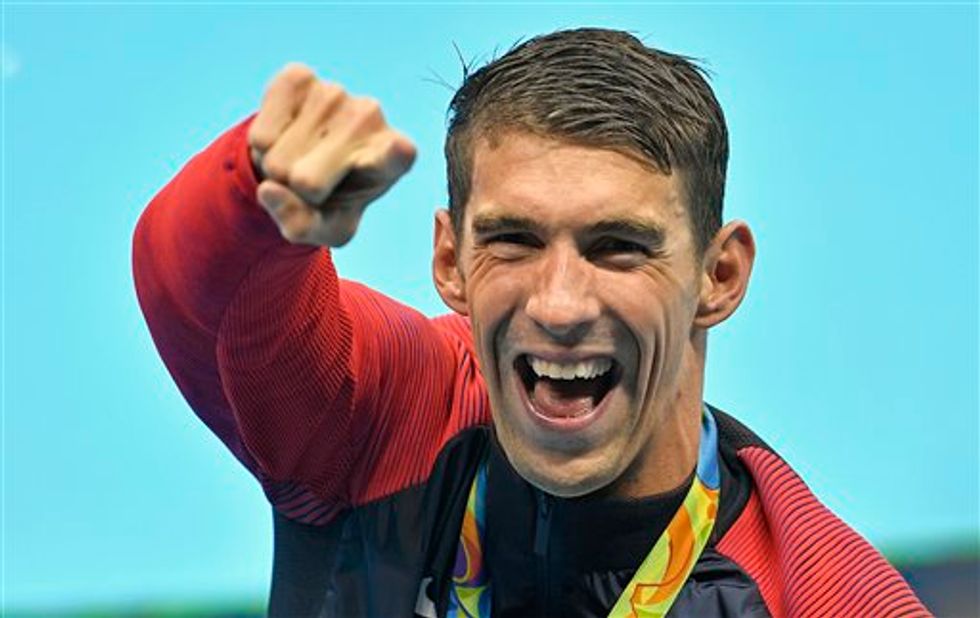 United States' Michael Phelps celebrates after winning the gold medal in the men's 4x100-meter relay at the 2016 Summer Olympics in Rio de Janeiro, Brazil, Aug. 8. (AP Photo/Martin Meissner)
According to NBC, Phelps, the most decorated Olympian of all time, was arrested for driving under the influence in 2014.
"I sent myself down a downward spiral. I think it was more of, of a sign than anything else," he told NBC. "That I had to get something under control, whatever it was. I look back at that night, and everything happened for a reason."
He checked himself into rehab soon after the arrest.
"I was at the lowest place I've ever been. Honestly, I sort of at one point, I just, I felt like I didn't wanna see another day — felt like it should be over," he said, adding, "I think I was at a point in my life where something needed to change. And I needed to figure things out."
According to an ESPN profile of Phelps:
In treatment, Phelps earned the nickname Preacher Mike because each day began with a chapter of "The Purpose Driven Life," a book given to him by former Baltimore Ravens linebacker and good friend Ray Lewis. Phelps shared the lessons of each day's reading with other patients.
According to ESPN, Phelps called Lewis and said, "Man this book is crazy! The thing that's going on … oh my gosh … my brain! I can't thank you freaking enough, man. You saved my life."
Rick Warren recently tweeted an encouraging message to Phelps.
Proud of @MichaelPhelps for his personal victories and excited he'll carry the USA flag at Olympics https://t.co/1yZnlLTjhj

— Rick Warren (@RickWarren) August 4, 2016
Metaxas wrote that Phelps' story is "a reminder of the role that God's people are called to play as bringers of hope and agents of restoration."
"The results may not be as dramatic as Phelps' story, but they will matter every bit as much," he wrote.
—
Follow the author of this story on Twitter and Facebook: