Donald Trump predicted he will win the votes of "95 percent" of the black community after four years as president, should he win the election in November.
"At the end of four years, I guarantee you that I will get 95 percent of the African-American vote, I promise you, because I will produce for the inner cities and I will produce for the African-Americans," he predicted during a rally in Dimondale, Michigan, Friday.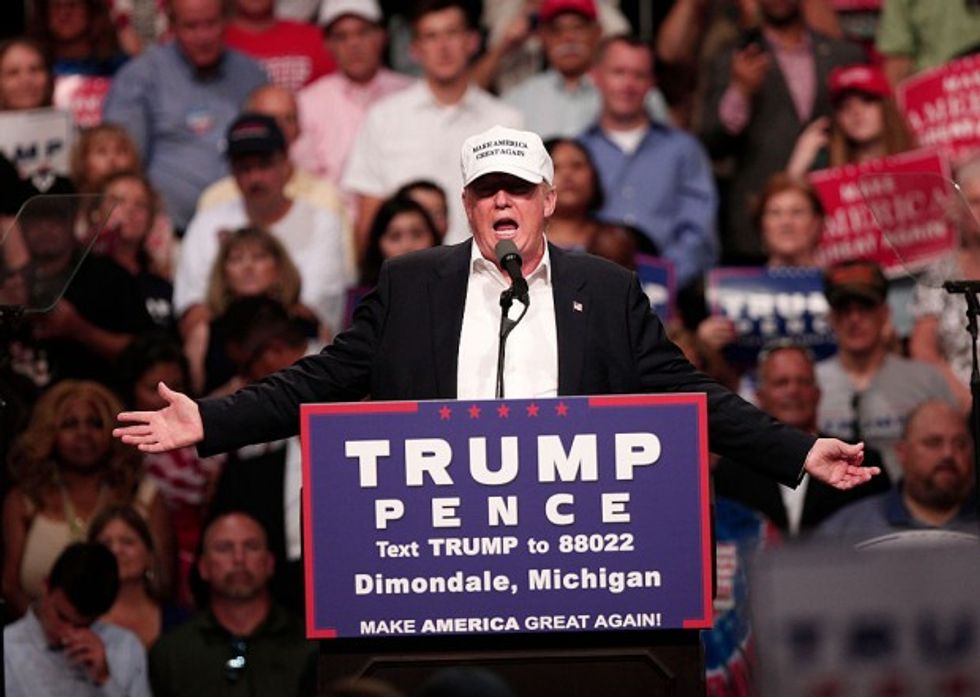 Republican presidential nominee Donald Trump speaks at a campaign rally August 19, 2016 in Dimondale, Michigan. Earlier in the day, Trump toured flood-ravaged Louisiana. (Photo by Bill Pugliano/Getty Images)
Continuing his latest push for African-American votes, Trump asserted Hillary Clinton and the Democratic Party will not further the causes of the black community, telling the crowd the only thing they've done is "take advantage" of the African-American electorate.
"Once the election is over, they go back to their palaces in Washington and they do nothing for you, remember it," the GOP presidential nominee charged. "So you have nothing to lose. One thing we know for sure is that if you keep voting for the same people, you'll keep getting the same result. My administration will go to work for you as no administration has done before."
"What the hell do you have to lose?" he reiterated.
Trump went on to say no demographic "has been more harmed by Hillary Clinton's policies than African-Americans," adding that if Clinton's desire was to "inflict pain" on black America, "she could not have done a better job." He told the gathering of supporters that Democratic policies in America's inner cities "have produced only poverty, joblessness, failing schools and broken homes."
Trump also accused Clinton of prioritizing Syrian refugees above American minorities. At one point, he titled the Democratic presidential nominee a woman who "wants to be America's Angela Merkel," the German chancellor who has taken fire for allowing thousands of refugees into her country before a rash of terrorist attacks swept Europe.
"Hillary Clinton would rather provide a job to a refugee from overseas than to give that job to unemployed African-American youth in cities like Detroit, who have become refugees in their own country," Trump said.
Trump, who issued an apology of sorts Thursday for his abrasive rhetoric, has struggled to earn support in the black community, but has prioritized minorities in a campaign shift following the recent appointment of campaign manager Kellyanne Conway and CEO Steve Bannon, a former executive at Breitbart News.
See a portion of Trump's comments below:
—
Follow the author of this story on Twitter: