Anthony Brian Logan — a "young black male conservative" who "talks about politics" — posted a video on his YouTube channel a few days back that's starting to get attention.
The title says it all: "Where Are Black Lives Matter and the Black Panthers During the Baton Rouge Louisiana Flood Crisis?"
Logan began by saying he refers to Black Lives Matter as "Black Lies Matter" since the organization is "not telling the truth, not telling you what's really going on, giving you a false narrative" regarding the black community. Then he jumped into the flooding in Louisiana.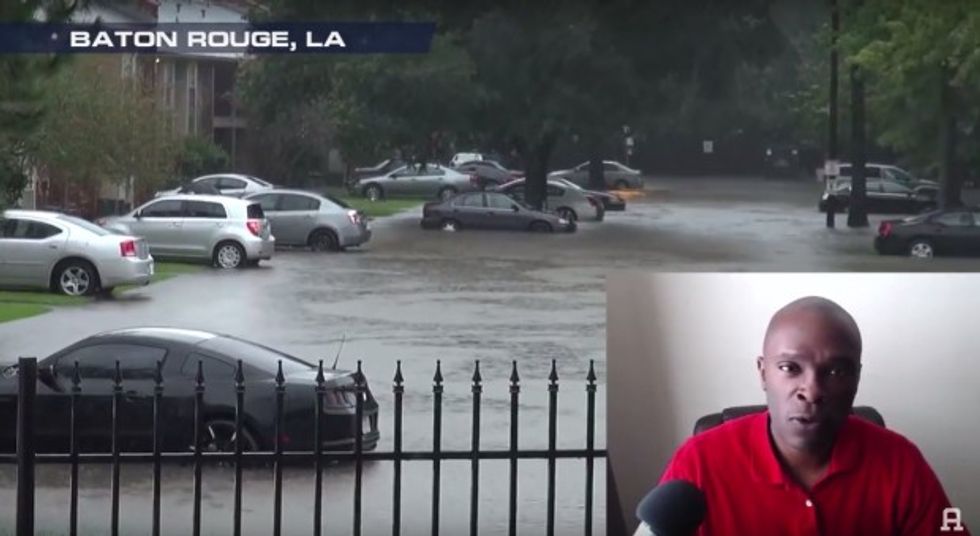 Image source: YouTube
His point was that Black Lives Matter activists and the New Black Panthers showed up en masse to protest in Baton Rouge after the Alton Sterling shooting — but with thousands of black people suffering amid the flood, neither organization appears to be helping.
Logan then turned to a clip of him speaking to a black man from the flood-ravaged region who was wondering the same thing.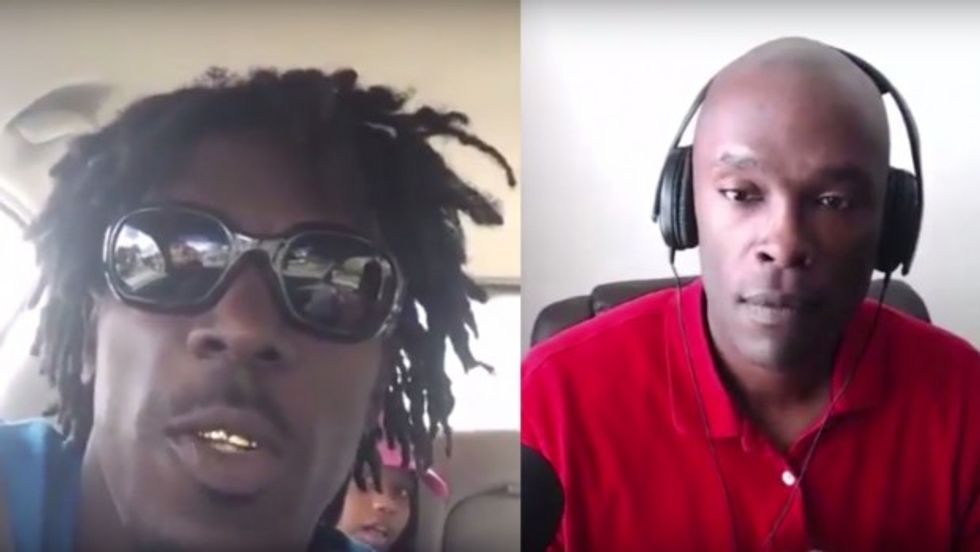 Image source: YouTube
The man, who wasn't identified, told Logan he's seen "not one Black Panther boat, not one Black Lives Matter boat, truck or nothing else. So with all the drama that was going on with the Alton Sterling killing — they came out with guns ... ready to go to war — but here we go, all these people flooded out and truly in need of some help, and you can't find not one of 'em."
The man added, "If y'all out there, where ya at? Where ya boats? Where ya money? Where ya food? Where ya services at? ... Black Lives Matter: Obviously we must [not] matter too much, because I ain't seen y'all yet, when we really need ya."
"If black lives really matter, shouldn't they matter all of the time?" Logan asked in his video description, adding:
That's the trillion dollar question. And it's a question more and more black folks are asking. It's becoming quite clear that these groups aren't really for the betterment of black America, or America in general. They are funded by George Soros and his ilk to essentially engage in social engineering on a deeper level than the participants of those groups really understand. The people involved with Black Lives (LIES) Matter, like the prominent face of the organization DeRay McKesson, may just be in it for a payday and to become famous. Not realizing that they are being used as a pawn in a bigger game. Either way you slice it, those people are not in it for the reasons that they purport themselves to be, which is for the overall betterment of black people.