State Department spokesman John Kirby attempted to define the word "ransom" while discussing the Obama administration's controversial $400 million cash payment to Iran during an interview Thursday on CNN.
TheBlaze previously reported that the U.S. State Department admitted that the payment to Iran earlier this year was contingent upon the release of American prisoners.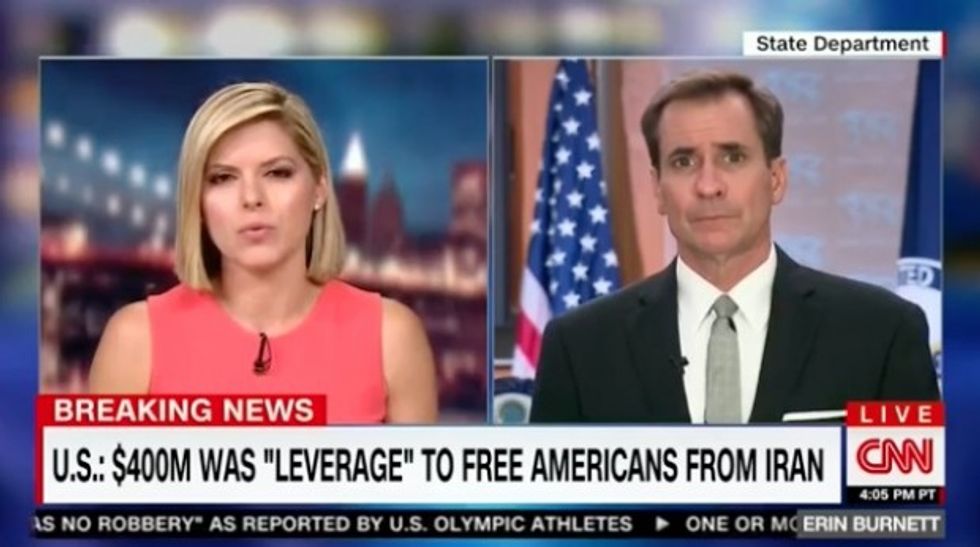 Image source: YouTube/CNN
CNN's Kate Bolduan asked Kirby, "Today you described it as leverage. The question also to you today was you wouldn't give Iran the money until they released the prisoners and you said 'correct.' That seems pretty close to the definition of ransom. How is it not?"
Kirby denied that the payment was ransom.
"First of all, this is Iran's money and it was money that was awarded to them by the Hague tribunal. It was a process that had been working independently for many months prior to that," Kirby said.
"Number two, the way I think ransom works is you — you have to pay first and then you get your hostages back and that's not what happened here," he continued. "We got our American citizens out first … and then the $400 million that was Iran's was released to them."
Bolduan pressed Kirby on the definition of ransom, arguing that the order of payment and exchange doesn't really matter if one is contingent upon the other.
"I can understand why people might think that," Kirby said, reiterating his claim that the money belonged to Iran as a result of the Hague tribunal.
Watch below:
—
Follow the author of this story on Twitter and Facebook: