Fox News host Megyn Kelly asked Donald Trump's campaign manager Kellyanne Conway Monday how she can square supporting a candidate who earlier in the day called MSNBC's Mika Brzezinski "neurotic" when she says she can't stand name-calling.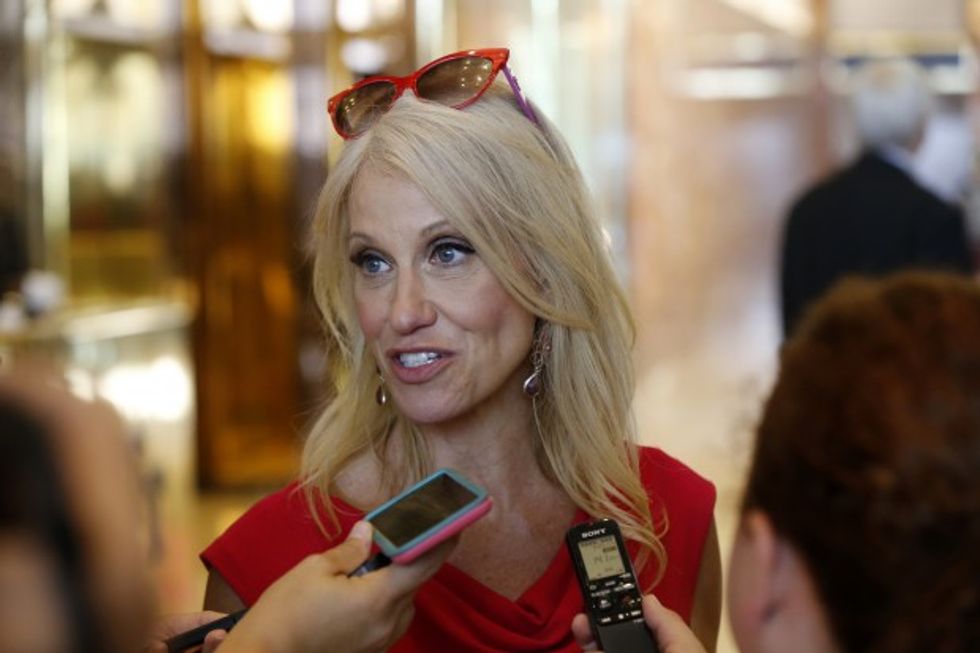 AP Photo/Gerald Herbert
For much of the Republican primary season, Conway was a supporter of Texas Sen. Ted Cruz, arguably Trump's most steadfast competitor. Conway often spoke out against name-calling, which has been a central tenet of Trump's presidential bid — "Lyin' Ted," "Little Marco," "Crooked Hillary," "Crazy Bernie."
Conway told Kelly that Trump does not invoke name-calling unless he is attacked first, to which the Fox News anchor asked, "Does that excuse it?"
"I don't like personal insults, let me be clear," the veteran pollster admitted, "only because I'm a mother of four young children, I'd be a hypocrite if I liked them, and I actually think he can win on the issues and on the substance."
Conway defended Trump's decision to lash out at Brzezinski, co-host of MSNBC's "Morning Joe," telling Kelly the billionaire businessman felt like he was "being attacked."
"With all due respect to my friends over at MSNBC, that show has, like, two viewers," Kelly pressed. "Why does he let himself get worked up over what — so she doesn't like him. Too bad. Who cares?"
Conway replied, "If it's up to me, he's in a tennis match with Hillary Clinton. He's lobbing and shooting aces at her all day long. We don't pick a fight with the ref, we don't boo the crowd, because we're absolutely back in Hillary Clinton's head.
"He's occupying serious real estate in her head," she added.
Watch the full interview below:
–
Follow the author of this story on Twitter: