TheBlaze's Tomi Lahren blasted President Barack Obama Monday night during her "Final Thoughts," reprimanding the commander in chief for his response to the deadly flooding plaguing Louisiana.
"Ten rounds of golf, eight dinners, four beach outings, four social gatherings, three long strolls and one pricey Democratic fundraising dinner. Add all that up and what do you get?" Lahren said at the start of the segment. "You get the Obama family vacationing for more than two weeks in Martha's Vineyard at taxpayers' expense. What you don't get is a president that gives a hoot about Louisiana."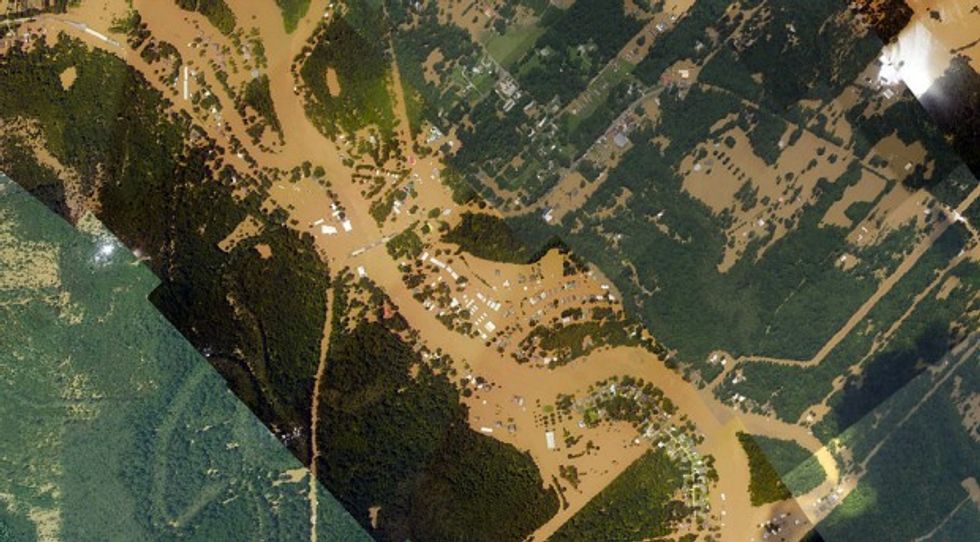 In this handout from the National Oceanic and Atmospheric Administration (NOAA), severe storms that caused significant flooding is seen on August 14, 2016 in Port Vincent, Louisiana.Starting last week Louisiana was overwhelmed with flood water causing at least seven deaths and thousands of homes damaged by the flood waters. (NOAA via Getty Images)
Lahren hit the president for showing up to see the wreckage and relief efforts following superstorm Sandy, but claimed he did so because he "had to" since he was running for re-election. Obama has since announced he will visit Baton Rouge Tuesday, but for Lahren, the visit just isn't soon enough.
"This is President Obama and his cocky self prioritizing his taxpayer-funded golf outing over the American people," she said. "[B]ut maybe if Barry would have taken the time to visit the state, you would have seen the incredible unity displayed there — how blacks and whites are working together to rebuild."
"I guess he'll see it Tuesday when he gets around to it," Lahren added.
See her full comments below: –
Follow the author of this story on Twitter: