When an elementary school girl brought home the student code of conduct booklet from Leon County Schools in Tallahassee, Florida, for parents to review last week, one page in particular stuck out to her mom.
It was a Pledge of Allegiance opt-out form parents could fill out and return to the school.
"I understand my rights as a parent and I request that my child, noted above, be excused from reciting the Pledge of Allegiance," the form read. "This request includes standing and placing his/her right hand over his/her heart."
The mom filled out the form — in a manner of speaking — and returned it to the school with a handwritten message over the center of the paper: "This is the dumbest thing I have ever read and I am so ashamed of this."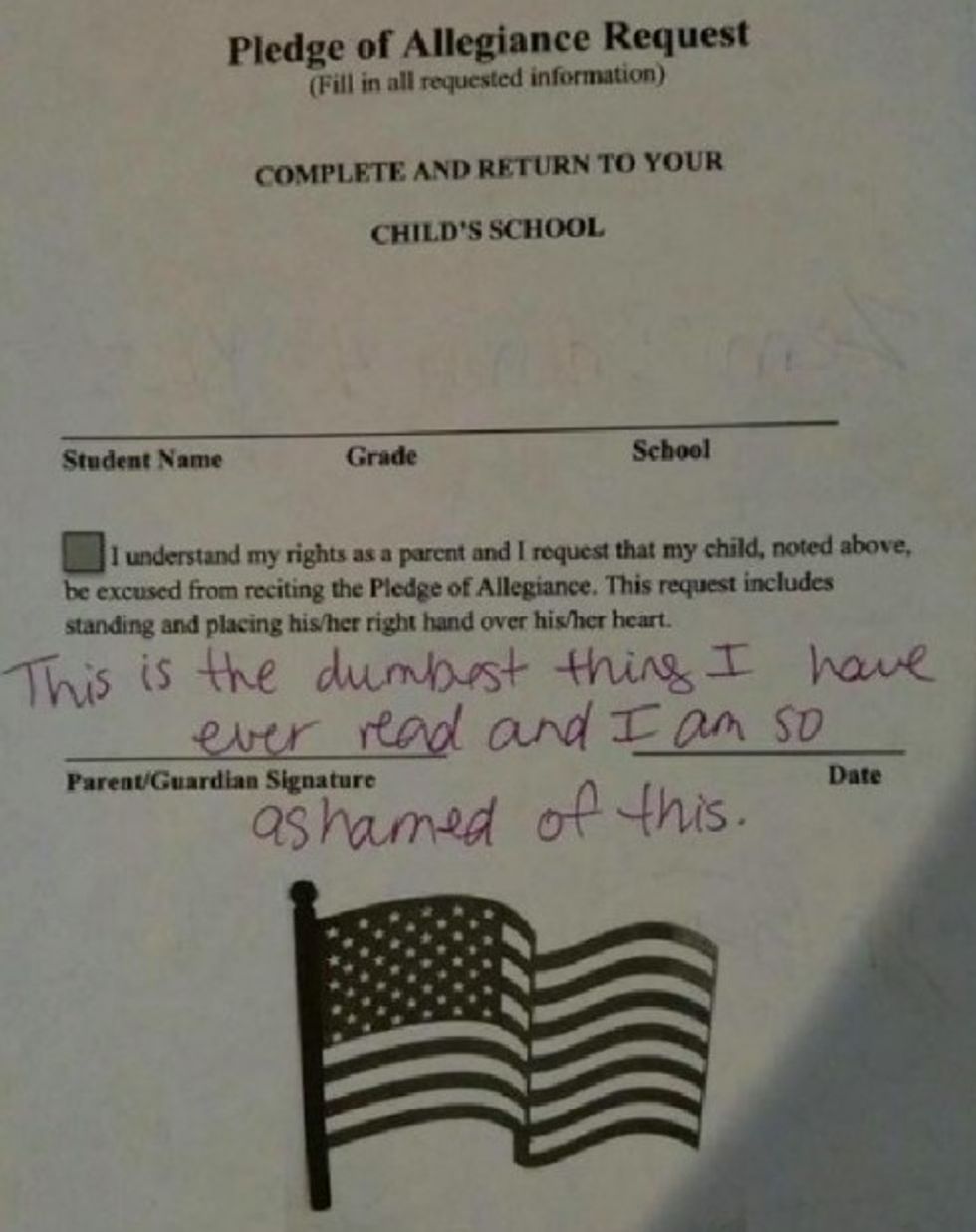 Image source: Facebook
But when the mom's brother-in-law found out about the Pledge opt-out form, he hopped on Facebook, posted the photo of it with his sister-in-law's handwritten response and added the following message: "My niece brought this home from school today...What is happening to our country?!?"
Since last Thursday, Micah Brienen's post has been shared over 23,000 times.
"I just personally feel it is respectful to stand for the Pledge of Allegiance in schools, even if you do so in silence," Brienen — a optometrist — wrote in a separate comment Tuesday morning. "I was shocked when I saw the waiver because it comes across as if schools are now promoting the opt out in some sense. Just because it's a law, doesn't make it right. Laws are passed all the time where people are unaware. My hope is that this post brings attention to people so that maybe the same policy to send out the waivers doesn't pass in another state."
He continued: "Sadly, our American values and traditions are whittling away...What's next? No American flags in schools?? Will future Presidents (Republican or Democrat) be forced to quit saying 'God Bless America' at the end of his/her speeches? And for those few ignorants that believe wars are fought for the right to protest the pledge, I'd like to see those people go to a VFW or American Legion meeting and when the pledge is started, stand up and tell them that...good luck with that."
Leon County Schools on Tuesday afternoon told TheBlaze in a statement that a change to Florida law this year requires all school districts to publish in the student code of conduct booklet the students' right to not participate in reciting the Pledge of Allegiance.
"In complying with the change in law, our staff developed a form for parents to use to exercise that right," the statement continued.
"Superintendent [Jackie] Pons received several messages from the community in regards to this process and — upon further inspection — made the decision to remove the form and revise the code of conduct booklet," the statement said.
A school official added to TheBlaze that language about the students' right to not participate in the Pledge was placed on another page of the booklet to keep in line with the law.
"We apologize for any confusion the form may have caused," the statement concluded. "We understand that approximately 400 paper copies [of the booklet] were distributed before the superintendent stopped the process."
As you might expect, Brienen seemed pleased from the looks of his latest Facebook comment: "We can make a difference! Let's save America together!!"
This story has been updated.
(H/T: Todd Starnes)