The Anne Arundel County Public School District in Maryland has instructed teachers and faculty to let transgender students bunk with other students of the gender with which they identify — and not tell parents.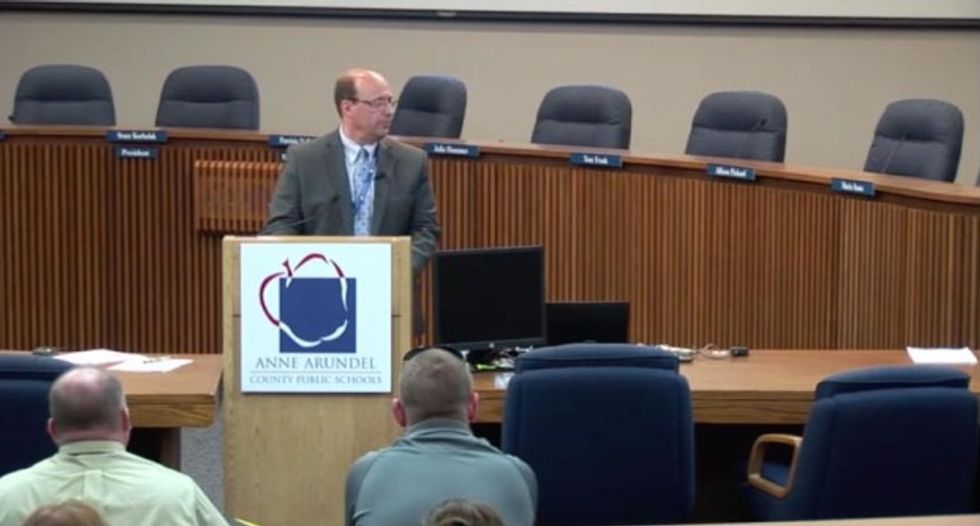 Image source: YouTube
In a video of a June meeting titled "Supporting Transgender Students in School," Bob Mosier, the district's chief communications officer, told teachers and administrators how to handle transgender issues at overnight school-related events:
Many of you might be asking yourselves, "So I'm at an overnight field trip, and I have student who's biologically a male, identifies as a female and we've worked with that student and her family, and that student wants to sleep in the dorms, or whatever sleeping arrangements are, with the females. They don't want to sleep in a room by themselves; they want to sleep with the rest of the females. So what do we do?"

And the answer is, they sleep with the females. That's not the easy answer; it's the right answer. And in some cases, it's going to cause issues, because … the private information piece doesn't allow you to share that with parents of all of the other campers. Right? So that's difficult.
Another school official had just explained how such issues relating to a student's personal information, including identity, are "private" and not to be discussed with other parents.
The policy comes on the heels of a heated national debate over which restrooms and other facilities transgender individuals should be allowed to use. The Obama administration in May issued a directive to public schools across the country regarding the controversy.
"A school may provide separate facilities on the basis of sex, but must allow transgender students access to such facilities consistent with their gender identity. A school may not require transgender students to use facilities inconsistent with their gender identity or to use individual-user facilities when other students are not required to do so," the letter, which was sent to every school, read.
On Sunday, a federal judge in Texas blocked the president's order, saying that the law about the biological and anatomical differences between male and female students "is not ambiguous."
At least 11 states — Texas, Oklahoma, Alabama, Wisconsin, West Virginia, Tennessee, Maine, Louisiana, Utah, Arizona and Georgia — sued the Obama administration in May over its transgender directive.
"Our local schools are now in the crosshairs of the Obama Administration, which maintains it will punish those schools who do not comply with its orders," Texas Attorney General Paxton said at the time the lawsuit.
"This represents just the latest example of the current administration's attempts to accomplish by executive fiat what they couldn't accomplish through the democratic process in Congress. By forcing through his policies by executive action, President Obama excluded the voice of the people," Paxton added.
North Carolina is currently the only state to ban transgender individuals from using the restroom corresponding with their gender identity, rather than their biological gender. The Justice Department in May sued the Tar Heel State over what it called a "discriminatory law."
(H/T: Washington Times)
—
Follow the author of this story on Twitter and Facebook: