A surprise, colorful guest has swooped down on New Hampshire Democratic Gov. Maggie Hassan's latest events. 
A red, yellow, green and blue parrot is squawking around Hassan's events in order to call attention to her "record of parroting Democrat talking points, refusing to answer questions and blindly supporting" Democratic presidential nominee Hillary Clinton, according to a handout from the New Hampshire Republican Party.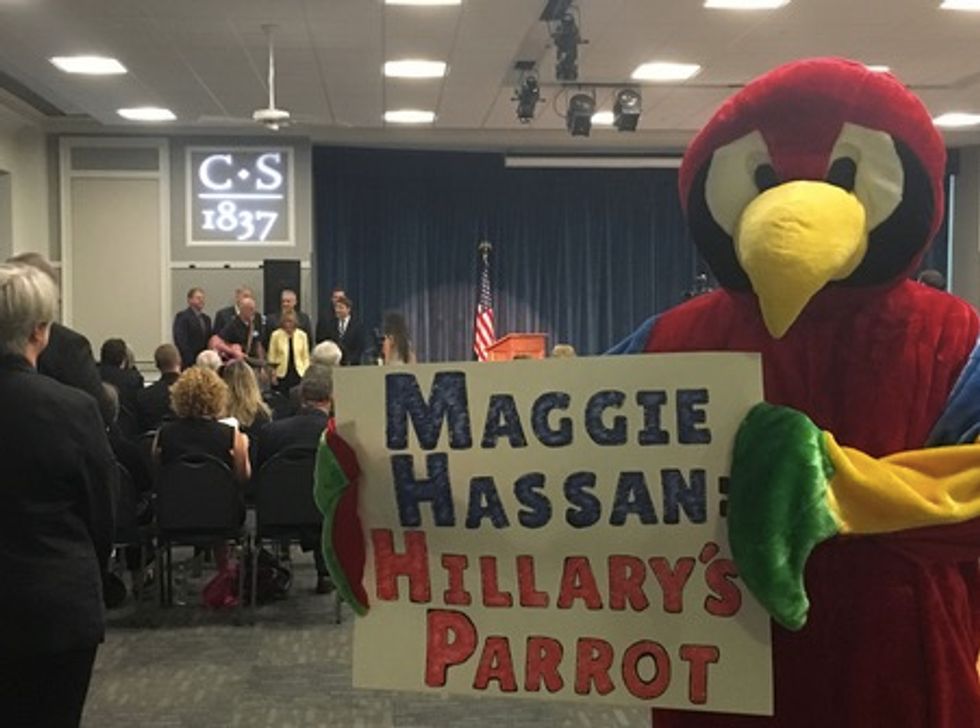 Image provided to TheBlaze
"As Hillary's parrot, Hassan will do what Hillary Clinton and the Washington Democrats who are funding her campaign tell her to do, instead of doing what's best for the people of New Hampshire," the handout, provided to TheBlaze, reads.
The parrot debuted at Colby Sawyer College in New London, New Hampshire — the site of the governor's executive council meeting — Wednesday morning
Hassan, one of Clinton's top supporters in the Granite State, is challenging Republican Sen. Kelly Ayotte for her seat. The governor has a one-point lead over Ayotte, according to Real Clear Politics' aggregated polling data.
It's worth noting that the last time the New Hampshire GOP had a staffer dress up in a bird costume and follow Hassan didn't end so well.
Michael Zona, 23, was arrested in 2014 and charged with disorderly conduct after he reportedly harassed Hassan and Sen. Jeanne Shaheen (D) along a parade route. Dressed as a chicken, Zona flapped his wings and yelled at the two elected officials along a parade route even after being asked to "cease and desist his activities," police officers said.
Zona was apparently dressed as a chicken in order to draw attention to the lack of town halls both Hassan and Sheheen held that year. The charges against him were eventually dropped.
And in 2008, a New Hampshire Republican staffer wearing a duck costume was arrested prior to a senatorial debate, WMUR-TV reported.
But as far as the parrot is concerned, New Hampshire GOP spokesman Ross Berry told TheBlaze that "this is not the last you will see" of it.
—
Follow Kaitlyn Schallhorn (@K_Schallhorn) on Twitter