Democratic presidential nominee Hillary Clinton didn't hold back Thursday afternoon as she slammed her Republican opponent for his allegedly racist rhetoric throughout the campaign and blamed him for the rise of the so-called "alt-right" takeover of his party.
Clinton said her "original plan" for her visit to Reno, Nevada, was to discuss her proposals to uplift small businesses as well as other economic plans, but instead, she chose to address the "divisive rhetoric" of GOP presidential nominee Donald Trump.
"Trump's lack of knowledge or experience or solutions would be bad enough, but what he's doing here is more sinister. Trump is reinforcing harmful stereotypes and offering a dog whistle to his most hateful supporters," Clinton said. "It's a disturbing preview of what kind of president he'd be."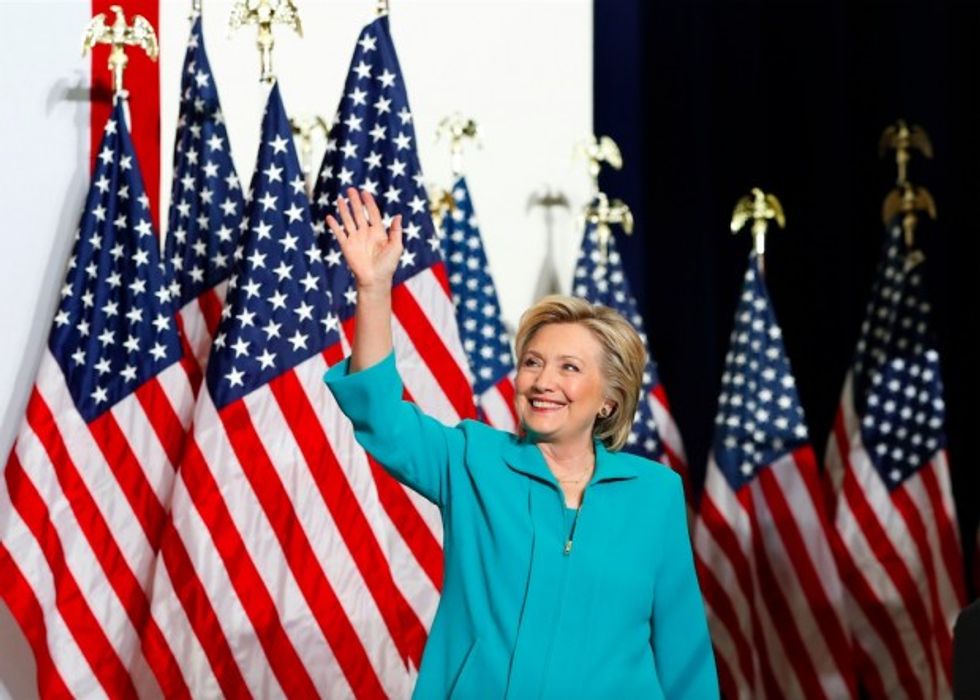 Democratic presidential candidate Hillary Clinton arrives at a campaign event at Truckee Meadows Community College, in Reno, Nevada, Thursday. (AP Photo/Carolyn Kaster)
"A man with a long history of racial discrimination, who traffics in dark conspiracy theories drawn from the pages of supermarket tabloids and the far reaches of the internet, should never run our government or command our military," she added.
Speaking to supporters gathered at Truckee Meadows Community College Thursday afternoon, Clinton asserted that Trump was "temperamentally unfit to be president of the United States" and should not be trusted to handle crises in the Situation Room.
She also equated Trump's proposed religious litmus test on potential immigrants to something the Islamic State would do.
"Under Donald Trump, America would distinguish itself as the only country in the world to impose a religious test at the border," the former secretary of state said. "Come to think of it, there actually may be one place that does that.  It's the so-called Islamic State.  The territory ISIS controls.  It would be a cruel irony if America followed its lead."
Clinton continued to rattle off a list of controversial statements and activities that have plagued the Trump campaign since it's beginning: Trump's refusal to disavow former Ku Klux Klan member David Duke; his attempt to discredit an Indiana judge because of the jurist's Mexican heritage; his promotion of a rumor that former GOP rival Ted Cruz's father was involved with former President John F. Kennedy's assassination; and his assertion that President Barack Obama founded the Islamic State.
Clinton drew large cheers when she said Trump's "latest fever dream" was about her health — something the Trump campaign and surrogates have repeatedly questioned, especially in recent months.
"Everywhere I go, people tell me how concerned they are by the divisive rhetoric coming from my opponent in this election. It's like nothing we've heard before from a nominee for president of the United States," she said. "From the start, Donald Trump has built his campaign on prejudice and paranoia. He's taking hate groups mainstream and helping a radical fringe take over one of America's two major political parties."
She added, "His disregard for the values that make our country great is profoundly dangerous."
Clinton released an ad earlier Thursday that unequivocally equated Trump with white supremacists and the KKK. The ad also called out Trump's newly appointed campaign chief executive, Steve Bannon, who took the job after running the pro-Trump website Breitbart.
Why do so many Ku Klux Klan members support Trump?

"A lot of what he believes, we believe in." https://t.co/AqB3DLKL9f

— Hillary Clinton (@HillaryClinton) August 25, 2016
She continued to criticize Bannon in Reno Thursday as she identified him as the "head of a right-wing website called Breitbart.com" and read off some of the more "offensive" headlines from the website such as, "Birth Control Makes Women Unattractive and Crazy" and "Would You Rather Your Child Had Feminism or Cancer?"
Of the alt-right movement, Clinton contended that it "is not the conservatism as we have known it" nor is it "Republicanism as we have known it."
"These are racist ideas, race-baiting ideas, anti-Muslim, anti-immigrant, anti-woman," she said. "All key tenants making up the emerging racist ideology known as the alt-right," adding that it is a fringe element that has effectively taken over the Republican Party."
"My friends, this is a moment of reckoning for every Republican dismayed that the party of Lincoln has become the party of Trump.  It's a moment of reckoning for all of us who love our country and believe that America is better than this," Clinton said, as she praised 1996 Republican nominee Bob Dole for telling racists to leave the party, former President George W. Bush for visiting a mosque after the 9/11 attacks and Arizona Sen. John McCain for calling Obama a "decent person."
"We need that kind of leadership again," she said. "Every day, more Americans are standing up and saying "enough is enough" — including a lot of Republicans. I'm honored to have their support."
Trump addressed some of Clinton's accusations during his own rally earlier Thursday on the other side of the country in New Hampshire.
"The news reports are that Hillary Clinton is going to try to accuse this campaign, and the millions of decent Americans who support this campaign, of being racists — which we're not," Trump said. "It's the oldest play in the Democratic playbook."
"Hillary Clinton isn't just attacking me, she is attacking all of the decent people of all backgrounds who support this incredible, once-in-a-lifetime movement," he added. "We can't let that stand."
Duke, too, criticized Clinton Thursday in a statement to Buzzfeed's Andrew Kaczynski:
David Duke gave me this comment on being in Clinton's ad and her alt-right speech: pic.twitter.com/FFKBbTg49j

— andrew kaczynski (@BuzzFeedAndrew) August 25, 2016
But still, Clinton painted herself as the candidate for Democrats as well as Republicans Thursday as she put herself up as a president who could unify the country.
"And I promise you this: with your help, I will be a president for Democrats, Republicans and independents — for those who vote for me and those who don't," she said.
—
Follow Kaitlyn Schallhorn (@K_Schallhorn) on Twitter