The Rev. Jesse Jackson in 1999 praised Donald Trump for being someone who pushed for diversity and inclusivity.
In video uncovered by the Daily Caller, Jackson is seen introducing Trump at the Wall Street Project Conference in Lower Manhattan.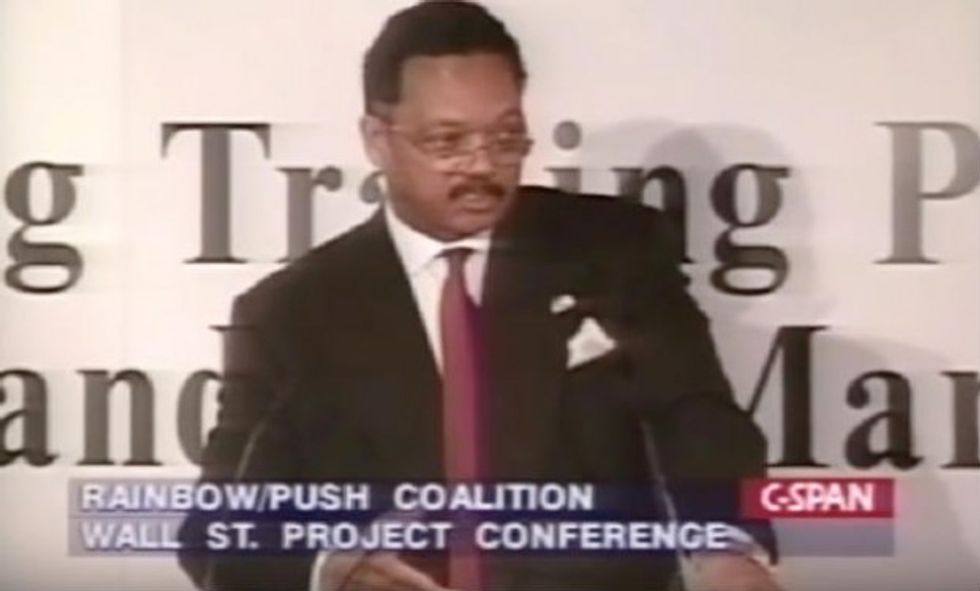 The Rev. Jesse Jackson (Image source: YouTube)
The project, founded by Jackson in 1996, bills itself as an organization that "challenges corporate America to end the multi-billion dollar trade deficit with minority vendors and consumers, while working to ensure equal opportunities for culturally diverse employees, entrepreneurs and consumers," according to its website.
Trump made an appearance at the group's 1999 annual conference, where Jackson thanked the now-Republican nominee for president and praised his efforts to achieve "diversity" and for being "inclusive."
"I do want to thank you, Donald Trump, for being with us tonight," Jackson said in the speech. "We need your building skills, your gusto for people on Wall Street to represent diversity."
Jackson went on to state that Trump's success is "beyond argument," although, he noted, "one can miss his seriousness and his commitment."
"When we opened this Wall Street project ... he gave us space at 40 Wall Street, which was to make a statement about our having a presence there," Jackson said.
"Beyond that, in terms of being inclusive, he's done that too," he added.
—
Follow the author of this story on Twitter and Facebook: