The Los Angeles Times editorial board Wednesday declared a bill before the California Legislature designed to shield Planned Parenthood to be "bad for whistleblowers."
According to the Times editorial, the bill, AB 1671, would criminalize the recording or distribution of a private conversation with a health care provider.
Allies of Planned Parenthood drafted the legislation in response to undercover videos released by the Center for Medical Progress that showed employees of the organization appearing to negotiate the price of aborted fetal body parts. Planned Parenthood has actively supported the bill.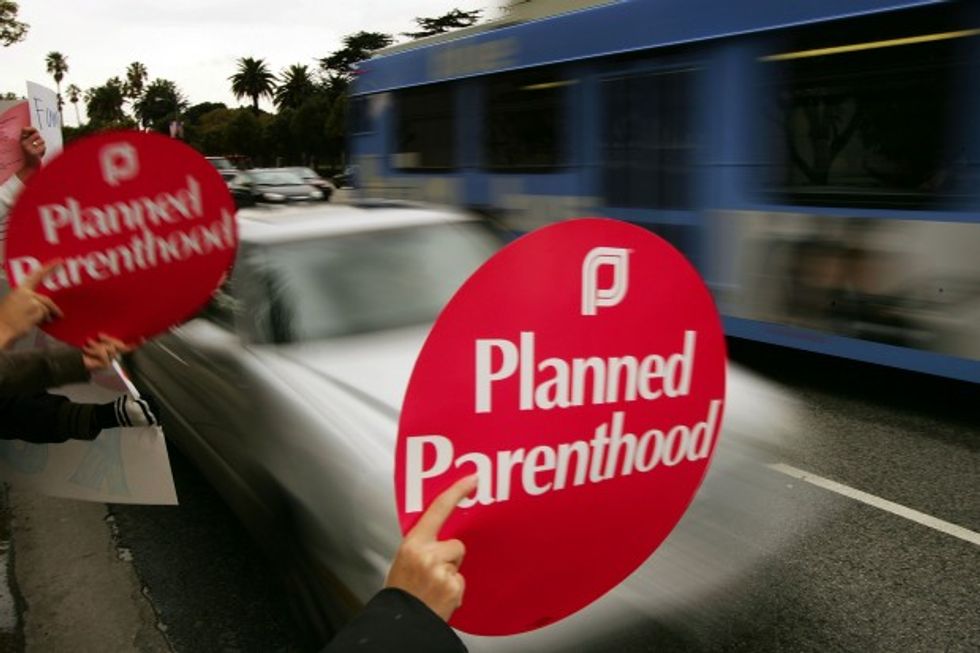 Members of Planned Parenthood in California mark the anniversary of the Roe v. Wade.(David McNew/Getty Images)
After criticizing the Center for Medical Progress, the editorial board argued that the legislation could have serious ramifications for journalists:
Why a healthcare provider merits special protection even when discussing things that don't involve patient privacy is mystifying. Worse, the original version of the bill pushed by Planned Parenthood would have allowed prosecutors to target not just those who made the recordings, but those who shared them online, reported on them or published the transcripts.
"The proposal had civil libertarians, news organizations and filmmakers in an uproar, and rightly so," the paper said. "Even if you decry the Center for Medical Progress' work, the version of AB 1671 that reached the Senate floor could have criminalized sharing or reporting on legitimate, valuable and even potentially life-saving undercover video work."
The editorial board noted that the bill's proponents "finally agreed Tuesday to amend it to clarify that only those who actively participated in making the illegal recording could be prosecuted or sued for helping distribute it," adding:
But make no mistake, this measure would heap more criminal and civil penalties on making a secret recording — an act that's already prohibited by state law, even when done in the public interest — simply to satisfy an interest group popular among Sacramento Democrats. In fact, it would further disincentivize potential whistleblowers from recording malfeasance when they witness it — for example, a patient who sees her doctor handing out opioid prescriptions like candy, or a farm worker who catches a veterinarian approving a sick cow for the slaughterhouse.
"The potential for unanticipated and unwelcome consequences is huge," they concluded.
The editorial also claimed that the CMP videos were "deceptively edited" and "didn't actually demonstrate that Planned Parenthood violated the federal law against fetal tissue sales." However, an independent forensic analysis found the videos to be "authentic."
Planned Parenthood has denied illegal conduct. The allegations it profited from the sale of aborted fetal body parts are still under congressional investigation.
—
Follow the author of this story on Twitter and Facebook: