Fox News' Megyn Kelly took time during her primetime show Tuesday evening to react to a false story about her being fired from the cable network that had been trending on Facebook and joked that she might take legal action against the social media website.
"Earlier this week, Facebook started pushing a false story about yours truly," Kelly said on "The Kelly File."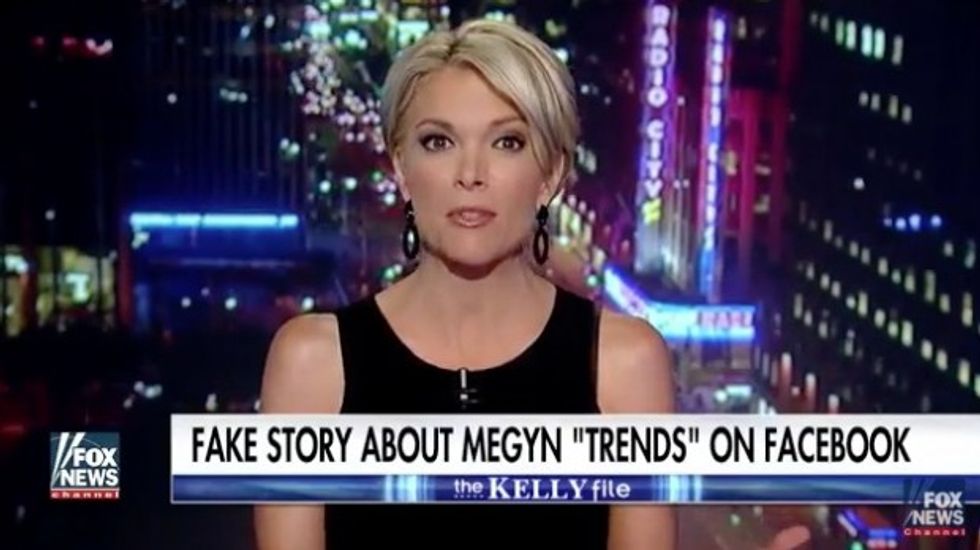 Fox News host Megyn Kelly (Image source: YouTube)
The fake news story, titled "BREAKING: Fox News Exposes Traitor Megyn Kelly, Kicks Her Out for Backing Hillary," claimed Kelly — a "closet liberal" — was fired by Fox News for critical coverage of Republican presidential nominee Donald Trump and actively seeking to help elect Democratic presidential nominee Hillary Clinton. The erroneous story was riddled with other factual and grammatical errors.
.@facebook still has a totally fake story about Megyn Kelly in its trending list. Niiceee pic.twitter.com/n2egP2d92h

— Justin Green (@JGreenDC) August 29, 2016
Kelly noted that the error occurred shortly after Facebook replaced its human news curators with an algorithm. Facebook made the change in an effort to combat allegations they were suppressing conservative news topics in it's trending section.
"So, should I sue them?" Kelly asked before bringing on two lawyers to discuss the topic.
Kelly, a former lawyer, and her panelists concurred that as a public figure, Kelly would have to prove "actual malice" against the algorithm to have a case. She added that she has "no desire to sue Facebook."
"I really don't like lawsuits, which is ironic since I was a lawyer for nine years," she said.
Kelly reiterated that she doesn't support either candidate "because I am a reporter covering the race."
Justin Osofsky, Facebook's vice president of global operations, said in a statement to CBS News, "This was a mistake for which we apologize, and it has been corrected":
We also want to share a bit more context on how it happened. A topic is eligible for Trending if it meets the criteria for being a real-world news event and there are a sufficient number of relevant articles and posts about that topic. Over the weekend, this topic met those conditions and the Trending review team accepted it thinking it was a real-world topic. We then re-reviewed the topic based on the likelihood that there were inaccuracies in the articles. We determined it was a hoax​ and it is no longer being shown in Trending. We're working to make our detection of hoax and satirical stories quicker and more accurate.
Watch below:
—
Follow the author of this story on Twitter and Facebook: