SACRAMENTO, Calif. (AP) — California delivered on its reputation as a testing ground for liberal ideas as state lawmakers wrapped up a legislative session that extended the nation's most ambitious climate change programs, raised the minimum wage to $15 and toughened gun laws.
While they failed to address some of the maddening challenges afflicting Californians' daily lives — most notably, skyrocketing housing costs and crumbling roads — lawmakers advanced top priorities for the labor, environmental, gun-control and anti-tobacco movements.
Democrats, who have strong majorities in both the Assembly and the Senate, celebrated their victories and said the nation's largest state should be the model that others emulate.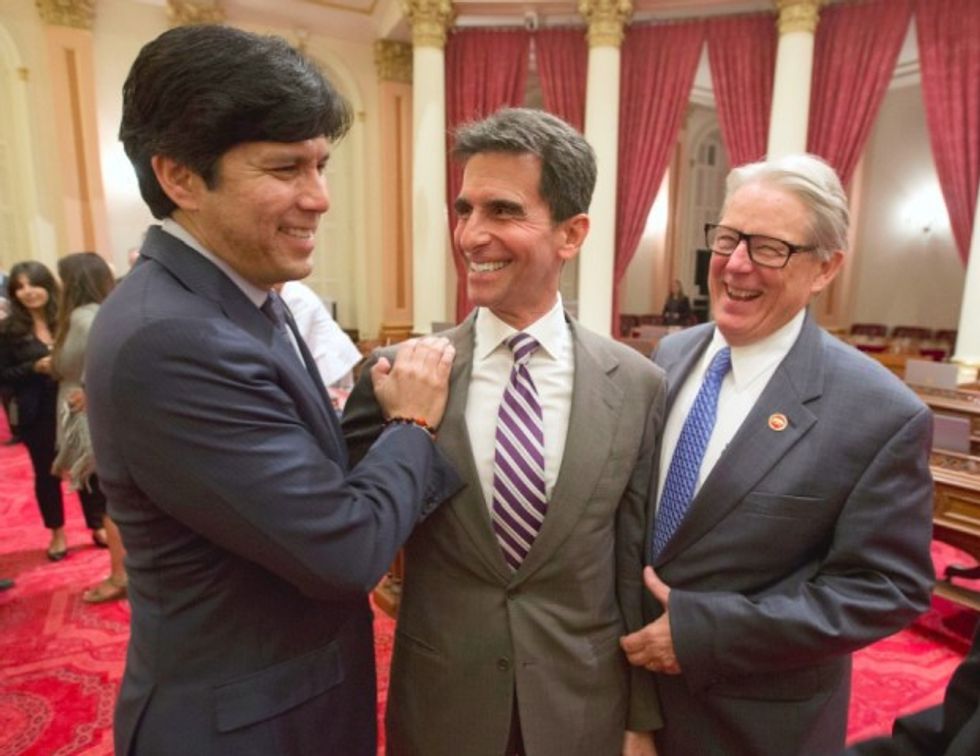 State Sen. Mark Leno, D-San Francisco, center, is congratulated by Senate President pro tempore Kevin de Leon, D-Los Angeles, left, and Sen. William Monning, D-Carmel, after the end of the two-year legislative session, Thursday, Sept. 1, 2016, in Sacramento, Calif. Leno is leaving the Senate due to term limits. (AP Photo/Rich Pedroncelli)
"I am very proud to say that the California dream is the new American dream," Senate President Pro Tem Kevin de Leon, D-Los Angeles, said before formally adjourning the session early Thursday.
The advances for Democrats' liberal base left conservatives dejected and concerned that the crushing weight of new business mandates will take a toll on important sectors ranging from agriculture to retail and restaurants — hurting California's massive economy.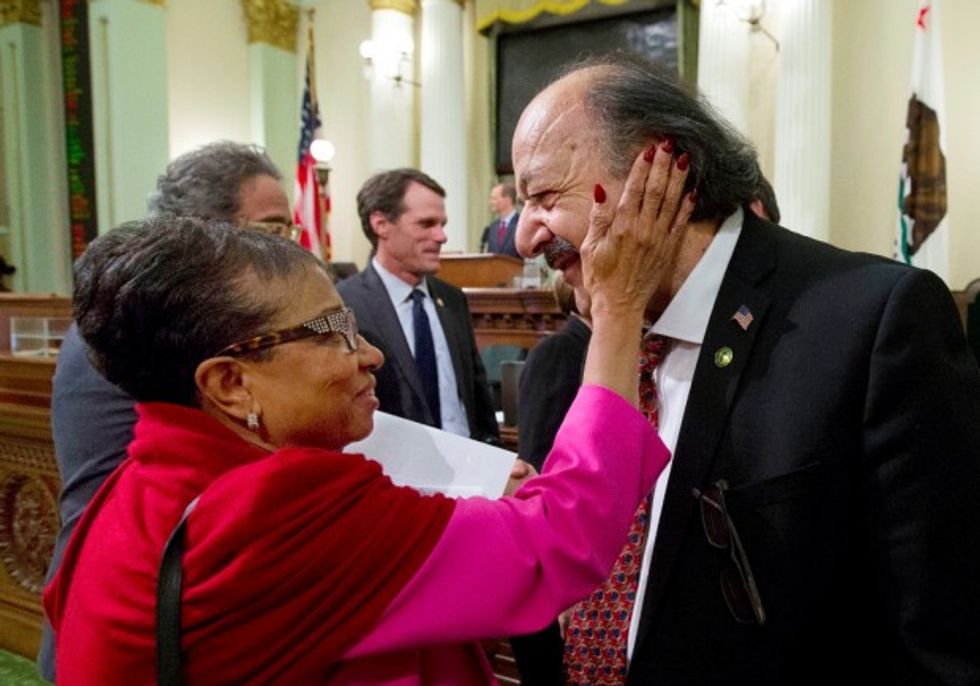 Assemblywoman Cheryl Brown, D-San Bernardino, and Assemblyman Katcho Achadjian, R-San Luis Obispo, say goodbye after the assembly adjourned at the end of their two-year legislative session in the early morning hours of Thursday, Sept. 1, 2016, in Sacramento, Calif. Brown is running for reelection in November, and Achadjian is leaving the Assembly due to term limits. (AP Photo/Rich Pedroncelli)
"Can't they pace themselves?" said Tim Scott, California director for the National Federation of Independent Business. "It seems like they were literally trying to go through their whole agenda in one year. We have time. Let's have a thoughtful discussion."
With the U.S. Congress controlled by Republicans, U.S. liberals are extremely limited in how far they can advance their vision for the country. In California, they have found a willing partner.
California was the first state to increase the minimum wage to $15 per hour following years of lobbying and public demonstrations staged by unions. The new target will phase in through 2022, more than doubling the federal wage floor of $7.25 and providing a real-world test for whether employers can absorb such a large increase in labor costs.
Democratic lawmakers also sent Gov. Jerry Brown legislation that would make California the first state to require that farmworkers be paid overtime under the same rules as workers in other industries, which would end an eight-decade exemption for agricultural workers. Brown has not yet said whether he will sign it.
Legislators also asked Brown to expand a state-funded paid family leave program that allows workers to take up to six weeks off to bond with a new child or care for sick family members and receive a portion of their salary.
On the environmental front, the Legislature extended California's landmark climate change law, which will now seek to vastly reduce carbon emissions through 2030, once Brown signs it as he has indicated he will do. The state's wide-ranging programs include a cap on carbon pollution, electric vehicle incentives and restrictions on the carbon content of gasoline.
For the first time, lawmakers voted to expand the climate-change initiatives beyond carbon pollutants to include a category of gases known as short-lived climate pollutants. The rules would require regulations of methane emissions from dairy farms and landfills.
Among other victories for liberals, Democratic lawmakers approved a series of anti-smoking measures — including raising the age for buying tobacco and e-cigarettes from 18 to 21 and enacting gun control measures that limit the size of magazines and require background checks for ammunition sales.
Liberals repealed a decades-old welfare payment cap that critics called racist, created a state-run retirement plan that will automatically enroll nearly 7 million workers without access to retirement savings from their employer, and won tougher background checks for Uber and Lyft drivers.
"We had an especially good run this year," said Sen. Mark Leno, a D-San Francisco, a champion of liberal ideas in the Legislature for 14 years.
Leno is one of a handful of long-serving liberal icons in the Senate barred by term limits from seeking another term. Their departure could remake the ideological balance of the legislative Democrats, depending on the November election outcome.
But for all they delivered to their liberal base and progressives around the country, the Democrats failed to advance some key priorities.
No consensus was reached for the second year in a row on funding for a backlog of road and bridge repairs that have left motorists inching their way through California's notoriously miserable traffic.
Democrats want to raise taxes to pay the $57 billion cost, but Republicans have balked and tax hikes require a super-majority with GOP support for passage.
"Everybody agrees that our transportation infrastructure deficit issues have to be addressed, but the political will and leadership to act on this issue has been lacking," Chris McKenzie, director of the League of California Cities that lobbies for local governments, said in a statement.
They also were unable to push forward measures to alleviate the state's housing crisis.
Legislative leaders and the governor agreed to spend $400 million to build subsidized housing, but only if the Legislature approved a proposal by Brown to speed up construction of housing projects with subsidized units that also include apartments sold at free market prices.
Liberal lawmakers balked at eliminating avenues for their constituents to delay or block new construction.