During Republican presidential nominee Donald Trump's visit Friday with black leaders in Philadelphia, as you might expect there were protests in the streets.
Bobby Farms of North Philadelphia told Philly.com that "men of color must be out of their minds" to back the billionaire businessman's White House bid since "a tiger can't change his stripes."
Others didn't bother using words.
Black Lives Matter activist Asa Khalif was caught on video grabbing a pro-Trump sign from the hands of a 71-year-old, tearing it and tossing it to the asphalt on North Broad Street, PhillyVoice reported.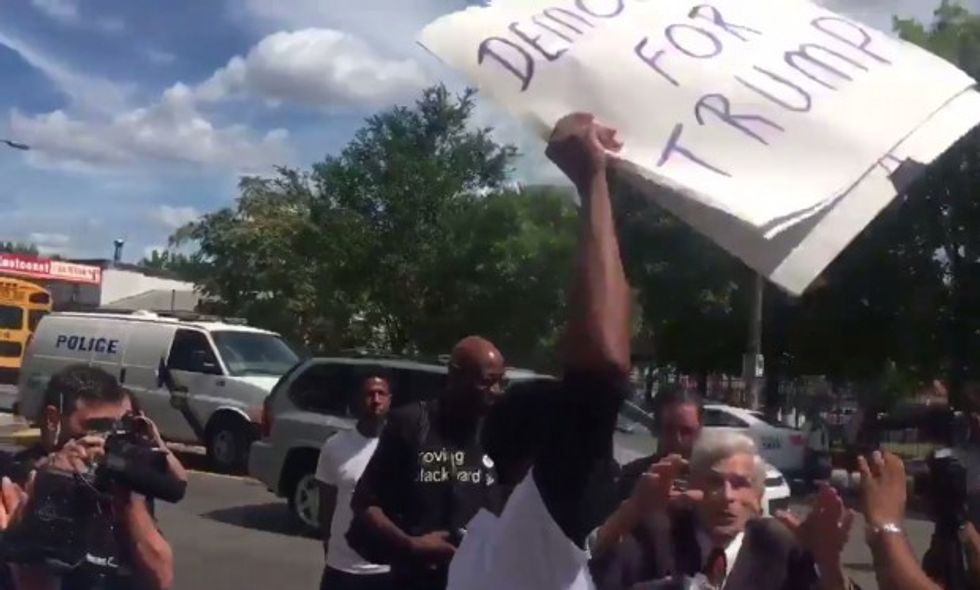 Image source: Twitter
One side of Jerry Lambert's sign read "Democrat for Trump" and the other read "I Love Walls."
Jerry Lambert brought a pro-Trump sign to rally, just ripped out of his hands, scuffle ensues. pic.twitter.com/XYSgos4ELi

— Brian P. Hickey (@BrianPHickey) September 2, 2016
Khalif's act didn't sit well with the older man dressed in a dark suit and tie, and things got a little rough.
SHOCK VIDEO: Hillary Supporters ATTACK Elderly Democrat for Trump in Philadelphia pic.twitter.com/9YSgwkrvx1

— Jack Posobiec (@JackPosobiec) September 2, 2016
"I did not touch him!" Khalif told police who broke things up, according to a PhillyVoice reporter on the scene. "I touched the sign!"
The scuffle aftermath pic.twitter.com/xceUgySOXg

— Brian P. Hickey (@BrianPHickey) September 2, 2016
PhillyVoice said Lambert wanted Khalif arrested: "He assaulted me. He knocked me on the head. I have a First Amendment right to picket peacefully. He's not peaceful. … I'm a peaceful protestor."
Police escorted Lambert to the other side of the street where he hoisted up another sign — and told PhillyVoice that Trump "tells the truth."
"He's he only candidate who has the nerve to tell the truth about what's happening in this country," Lambert added. "Unemployment is 20 percent, not 5 percent that the people in Washington tell ya. Israel has a wall. There was the great Chinese wall of China."
Police lieutenant John Stanford said officers "broke it up and didn't see anything that warranted an arrest," PhillyVoice reported.
Later Lambert told PhillyVoice that he chalked up the incident as what can occur when "someone gets overheated. It's no big deal. I'm alright."
"If I was in any other country, they'd hang me from a tree," he told PhillyVoice. "God Bless America. We can't do this in other countries. They have a right to protest, but when someone grabs your property, that's going over the line, and it almost got there. They have a right to scream and yell, but I do, too. That's what makes our country so great."
This story has been updated.