ESPN radio host Paul Finebaum was on the air Monday with analyst Marcus Spears discussing the Colin Kaepernick National Anthem controversy when Finebaum uttered what became a controversial phrase.
"The genesis of this flag goes back to the War of 1812," Finebaum said to Spears, who is black. "I just really don't understand … this country has issues, but this country is not oppressing black people."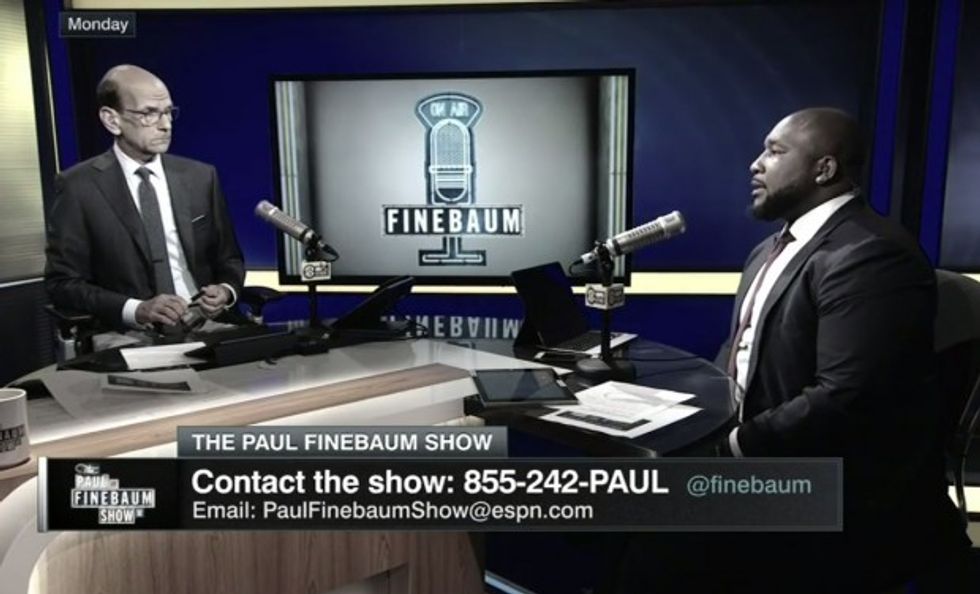 Image source: YouTube
The following day Finebaum appeared on a heated "College Football Live" panel and expressed a similar sentiment: "Usually people protest when they've been oppressed, when they have a legitimate stake in the action. I don't know where Colin is coming from. What's his beef with society, other than he's upset about the way people, in his mind, are being oppressed in this country?"
But by Thursday, Finebaum was back on ESPN and walking it all back with "SportsCenter" anchor Cari Champion, who asked him about the reaction to his statements.
"I could spend the rest of my life trying to talk my way out of it, but I can't. I blew it," Finebaum said. "I simply did not have a good grasp of the situation. I know better. I've lived in this country, I see what is going on all across the country from North to South, East to West, and I have no excuse."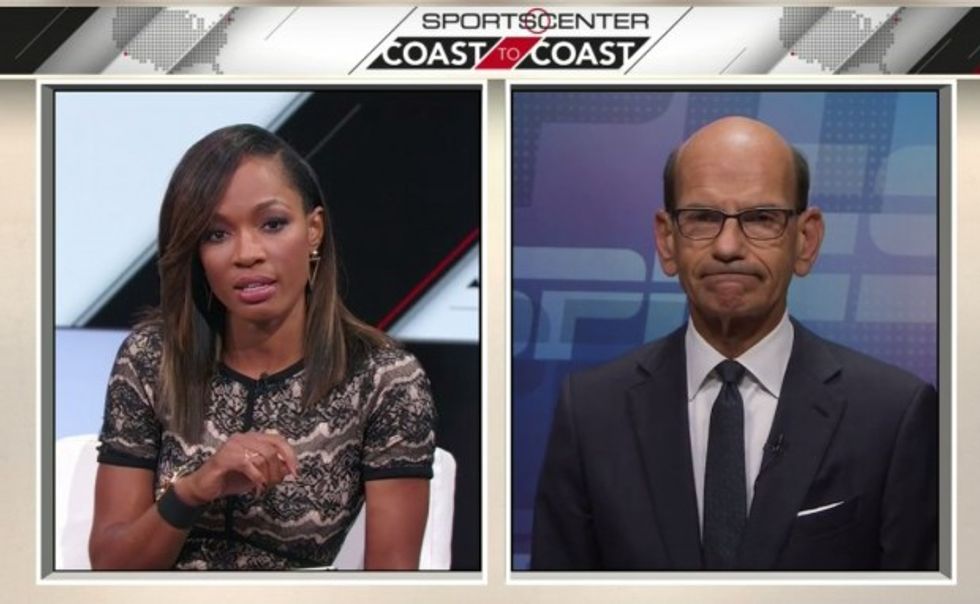 Image source: YouTube
He continued:
"I can't explain why I articulated the words the way they did, but I did and there is a public record of it and there's a natural reaction and I respect that. And all I can say is that I made a terrible mistake in trying to express a feeling that I probably — not probably — I had no right to express. I don't know whether this will mean anything to anyone, but I feel compelled to answer your question that way — that it was a terrible mistake on my part and my eyes are wider-open today than they have ever been as a result."
Spears seemed to agree with Finebaum right after the host made his controversial statement Monday: "I don't think it's oppressing black people," Spears replied, "but it's the under-service of the community is basically what it boils down to." He also acknowledged that "it's a different issue."
However, Finebaum told Champion he later had a long talk with Spears, who indicated that Finebaum can't know what he's gone through as a black man:
"He made a very clear point to me that as much as he loves me and I love him — we're like brothers — his point to me was that I can't understand what he's been through, and I can't. And I'm not gonna try to push what I've been through on anyone else, because it doesn't work. Cari, I've lived a long time. I've lived in the south. I've seen the bigotry. I've seen the racism. When I went to Birmingham, Alabama, 35 years ago, it sickened me to walk on the streets there that a couple years earlier police dogs were let loose on young African-Americans. So, I know better, and that's what so disappointing as a broadcaster that I didn't do a better job of making a point."
Champion replied, "I appreciate you for saying that because the first thing I said was, 'We have to have him on, we must have him answer that question.' 'I blew it,' simply is what you said. I appreciate that, Paul Finebaum. Thank you for joining us here on SportsCenter."
Here's the "SportsCenter" clip: