ATLANTIC CITY, N.J. (TheBlaze/AP) — New Jersey police said a suspect was fatally shot in an exchange of gunfire outside an Atlantic City casino early Saturday and one police officer was seriously wounded.
Atlantic City police Chief Henry White said the shooting happened around 4 a.m. after officers stopped a car with three men near a parking garage of Caesars casino.
White said at least one of the men in the car opened fire. Police were still looking for two other suspects and closed streets in the area.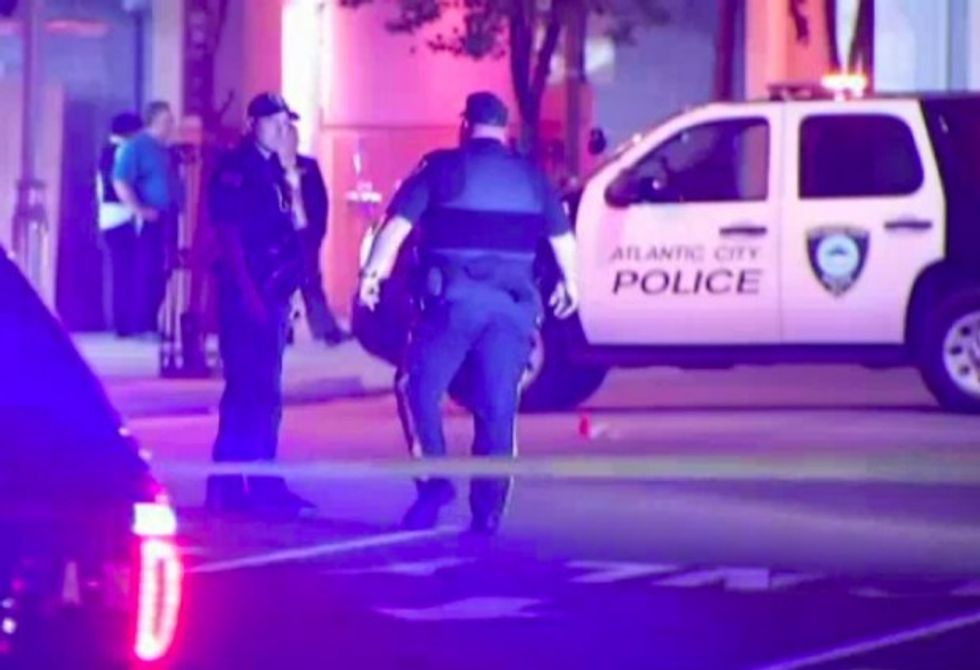 Image source: WCAU-TV
"At this point I don't know what the reason for the initial stop was," White said at an early-morning news conference. "But as the officers were getting out of the car, the males opened fire on our officers, striking one."
The officer, whose name was not released, was taken to AtlantiCare Regional Medical Center a few blocks from the shooting. He underwent surgery Saturday morning.
The New Jersey State Policemen's Benevolent Association offered a $20,000 reward for information on the remaining suspects in the shooting.
"Our hearts are heavy at this hour, but our resolve to capture these suspects remains undeterred," said Patrick Colligan, the association's president. "We ask for prayers for the officer, his family, and the Atlantic City Police Department."
Atlantic City Mayor Don Guardian called the shooting "a sad commentary on society."
The shooting happened during the final big summer weekend for the shore resort and two days after a man fatally shot a store manager and then shot himself at a popular outlet shopping mall near where Saturday morning's shooting occurred.
The shooting also happened as the resort town prepared for the effects of Tropical Storm Hermine, which was expected to start bringing wind and rain later Saturday.