Following news of the Oklahoma earthquake early Saturday, progressives took to Twitter to push their environmental agenda.
The 5.6 magnitude quake was centered near Pawnee, Oklahoma, a small town in the north central part of the Sooner State. The trembler tied the record for the largest earthquake ever recorded in Oklahoma, according to the U.S. Geological Survey.
The epicenter is located in what the U.S. Geological Survey labels a medium-hazard earthquake zone.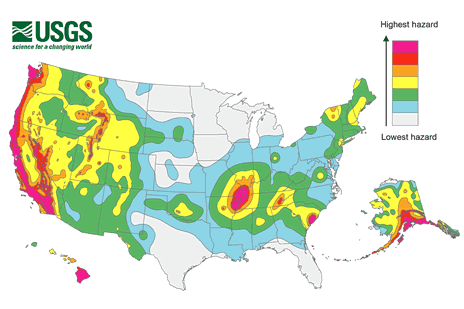 Image source: USGS
But progressives on social media seemingly ignored that part, instead suggesting the quake was the direct result of fracking, an issue the far-left has fought to ban. While states like New York have banned fracking, others like Oklahoma still allow it, although some do impose certain regulations.
Here are a few of the tweets issued just hours after the quake struck:
#Oklahoma's #Fracking Industry Just Caused The Largest Manmade Earthquake in US History https://t.co/QjkUjB3hQc

— Anonymous (@YourAnonNews) September 3, 2016
2015: Scientists predict Oklahoma could soon see a larger, more damaging #earthquake of 5.0 or higher #fracking https://t.co/DSYZw8Y5NA

— Richard Hine (@richardhine) September 3, 2016
How to predict earthquakes:

1. Find a place where fracking is happening.

2. Wait.

— Scott Weinberg (@scottEweinberg) September 3, 2016
Fracking has turned Oklahoma into America's #earthquake capital: https://t.co/Bp54d0MbbC
GOP solution: more fracking https://t.co/Bbw3QKlsmd

— Richard Hine (@richardhine) September 3, 2016
Could fracking be causing Oklahoma's earthquakes? https://t.co/PWMMdava7P

— NYer | Elements (@elements) September 3, 2016
Green Party presidential candidate Jill Stein weighed in also, calling for a "clean" energy grid by 2030 in addition to banning fracking.
Mother Earth doesn't like fracking. Me neither. The #GreenNewDeal transforms our energy system to create clean energy by 2030. #BanFracking

— Dr. Jill Stein (@DrJillStein) September 3, 2016
At least 37 disposal wells, which are used by frackers, were ordered to be shut down Saturday.
Gov. Mary Fallin said in a statement that no one was seriously injured and that damage was "limited."
"Information on the earthquake is still being collected and will be reviewed by my coordinating council on seismic activity chaired by Secretary of Energy and Environment Michael Teague, as we continue to move forward to make our state safe," Fallin said.
The Republican governor has declared a state of emergency for the county affected by the trembler.
I have declared a state of emergency for Pawnee County due to the magnitude 5.6 earthquake that occurred today. . https://t.co/5EnsXuqI8I

— Governor Mary Fallin (@GovMaryFallin) September 3, 2016
—
Follow the author of this story on Twitter and Facebook: