Conservative author and commentator Ann Coulter was invited to take part in the Comedy Central roast of actor Rob Lowe that aired Monday evening. But it was the right-wing pundit who became the target of relentless heckling from the rest of the panel.
"I want to welcome everybody to the Ann Coulter Roast with Rob Lowe," Coulter said as she began her set.
She joked that her appearance at the roast had "nothing to do with the book I just published" and was booed when she cited the title — "In Trump We Trust." Coulter was booed again when she displayed a copy of the book on the podium.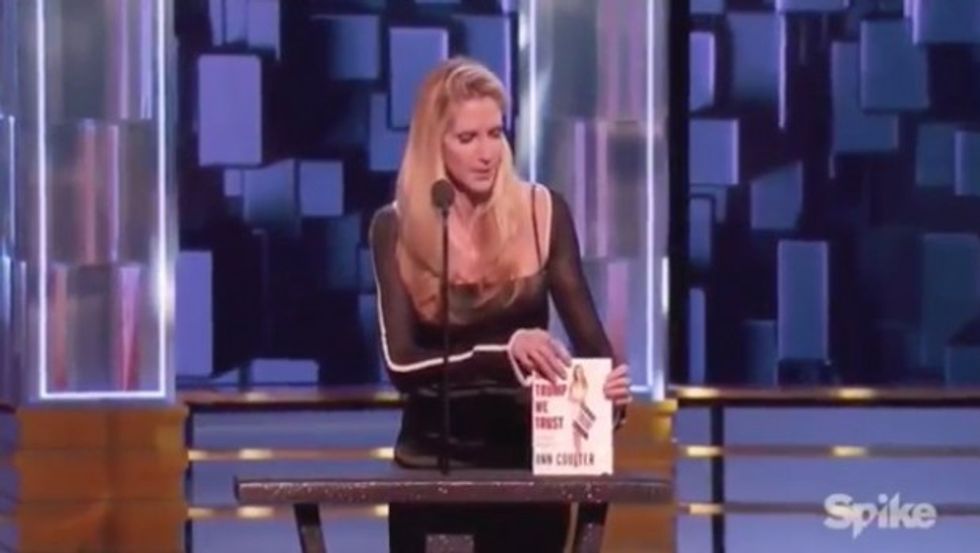 Ann Coulter speaks at the Comedy Central roast of Rob Lowe (Image source: YouTube)
The others participating in the roast got a few swipes in at Coulter before moving on to roast Lowe:
"As a feminist, I can't support everything that's being said up here tonight. But as somebody who hates Ann Coulter, I'm delighted," singer Jewel said, adding, "Ann you do look great though, you're almost as thin as Donald Trump's chance at winning the election."
Comedian Jimmy Carr called Coulter "one of the most repugnant, hateful hatchet bitches alive," adding, "but it's not too late to change, Ann — you could kill yourself."
Comedian Nikki Glaser said, "Ann Coulter has written 11 books — 12 if you count 'Mein Kampf.'"
Lowe, the subject of the roast, got a few jokes in about Coulter as well.
"It's 56 days to Halloween, but I see that Ann Coulter is already in her skeleton costume," Lowe said.
"Ann, after your set tonight, we've all witnessed the first bombing that you can't blame on a Muslim," he added.
Watch Coulter's performance below:
—
Follow the author of this story on Twitter and Facebook: