Officer Gerald, 41, was one of three Baton Rouge law enforcement officers shot dead July 17.
Dechia Gerald said that shortly after her husband died, both of her daughters — 9-year-old Dawclyn and 3-year-old Fynleigh — remarked to her that she might be pregnant.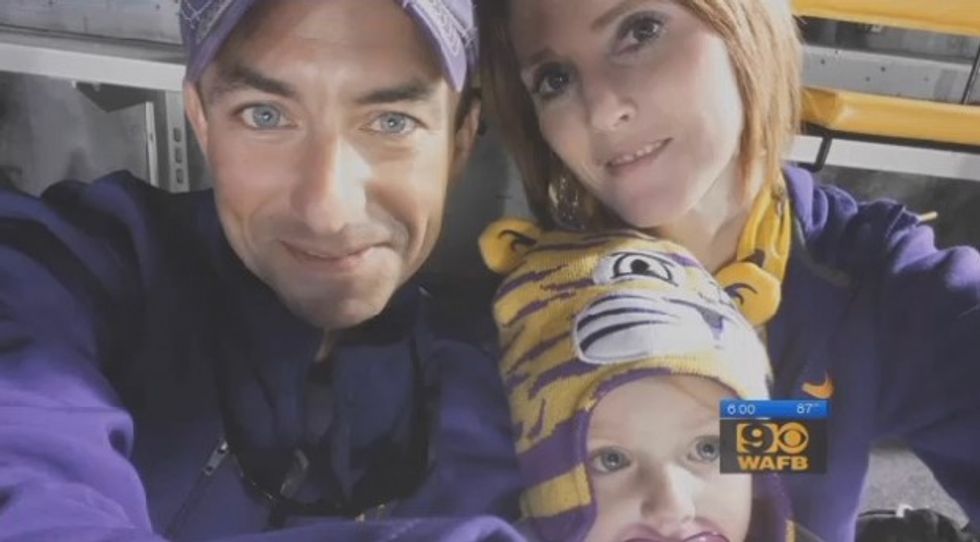 Matt and Dechia Gerald with daughter Fynleigh (Image source: WAFB-TV)
While Gerald was searching for clothes for her husband's funeral, she said Dawclyn told her, "Mommy, I don't know why you're complaining because you're pregnant."
"And I said, 'Girl hush, don't say that kind of stuff,'" Gerald said.
Only a few days later, Gerald said, Fynleigh "told me the same thing."
"However this time, she told me that Jesus told her that there was a baby boy in my tummy," Gerald said.
Soon after her daughters raised the possibility that she was pregnant, Gerald began to suspect that it was true, and she bought a pregnancy test.
"I took it and within a second of that being done, the test read positive," Gerald said. "I wanted to cry but at the same time, it's kind of exciting but then the flood of knowing all of the firsts that he would miss with that one."
Gerald said she promptly told her family, her in-laws and the widows of the officers who died with her husband, as well as her husband's squad.
She said she is both very excited and very scared about becoming a mom again, especially since her husband "was a very hands-on dad."
"For the most part, it's a blessing," Gerald said. "I mean obviously he left us a very special gift behind, but at the same time, all those days that I get overwhelmed, I ask how am I going to do this by myself without him."
Gerald said she heard her wedding song on the radio while she drove to her first ultrasound appointment at four weeks and added that she can see the image of a wedding ring inside her ultrasound picture.
"I felt like when I saw that he was with us," she said.
Gerald said that just prior to her husband's death, they had discussed having another child, but they were concerned about their financial situation.
Nevertheless, she said her husband left her a gift.
"There's no better gift that a husband could leave behind than a baby, a gift from God. There's no better gift than that," Gerald said.
Gerald's due date is April 7.
Watch below:
—
Follow the author of this story on Twitter and Facebook: