Former Secretary of State Colin Powell told Hillary Clinton, while she was getting started as President Barack Obama's first secretary of state, that he used a personal computer to circumvent government servers while he worked at the State Department, according to emails released by Democrats on the House Oversight Committee on Wednesday.
"What I did do was have a personal computer that was hooked up to a private phone line (sounds ancient). So I could communicate with a wide range of friends directly without it going through the State Department on their personal email accounts. I did the same thing on the road in hotels," Powell wrote. "I even used it to do business with some foreign leaders and some of the senior folks in the Department on their personal email accounts."
Clinton's use of a private email server while she was secretary of state has been a contentious issue during the presidential campaign.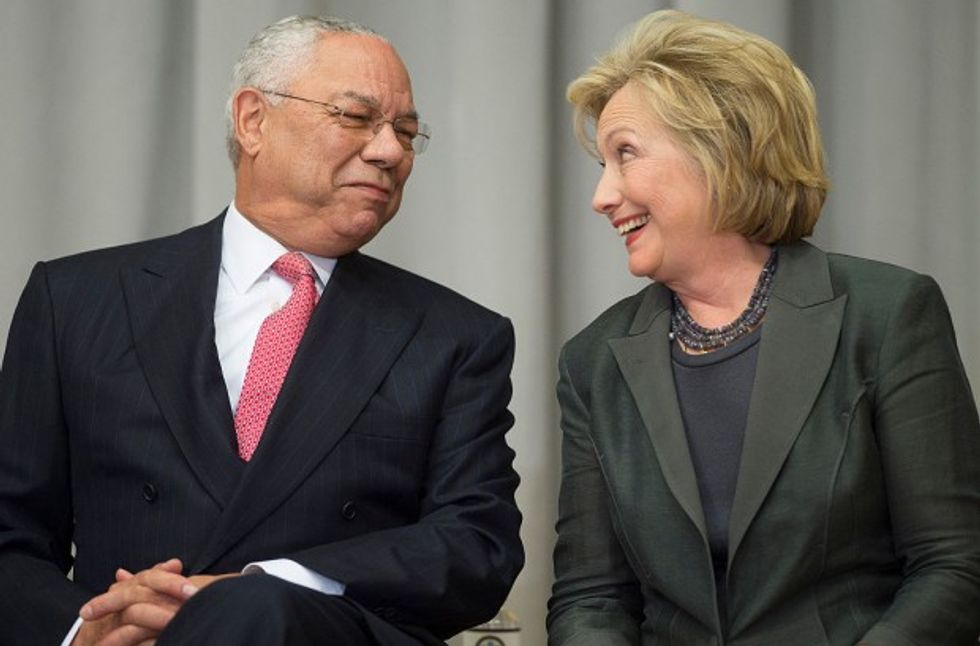 Former Secretaries of State Colin Powell and Hillary Clinton (Jim Watson/AFP/Getty Images)
Powell was responding to a Jan. 23, 2009, message from Clinton in which she asked him, "What were the restrictions on your use of your blackberry?"
"President Obama has struck a blow for berry addicts like us," Clinton wrote. "I just have to figure out how to bring along the State Dept. Any and all advice is welcome."
Powell cautioned Clinton about using a BlackBerry to do government work, telling her that it "may become an official record and subject to the law."
"Be very careful," he wrote. "I got around it all by not saying much and not using systems that captured the data."
Clinton thanked Powell "for all of the advice about berries, security and life on the 7th floor!"
Maryland Rep. Elijah Cummings, the ranking Democrat on the Oversight Committee, said in a statement, "This email exchange shows that Secretary Powell advised Secretary Clinton with a detailed blueprint on how to skirt security rules and bypass requirements to preserve federal records, although Secretary Clinton has made clear that she did not rely on this advice."
Last month, Powell told People that Clinton's supporters were attempting to "pin" the email scandal on him.
Asked why Clinton's aides would seek to blame him, Powell replied, "Why do you think?"
"It doesn't bother me," he said. "But it's OK; I'm free."
—
Follow the author of this story on Twitter and Facebook: