Fox News host Bill O'Reilly told NBC's "Today" Tuesday, "I'm going to keep my big mouth shut," when asked about his former boss, Roger Ailes, during an interview.
Ailes, the former chairman and CEO of Fox News, resigned from his position in July in the wake of allegations that he sexually harassed female employees at the network, allegations first raised by former Fox News host Gretchen Carlson.
O'Reilly previously offered his support to Ailes, telling NBC's Seth Myers in July, "I stand behind Roger 100 percent."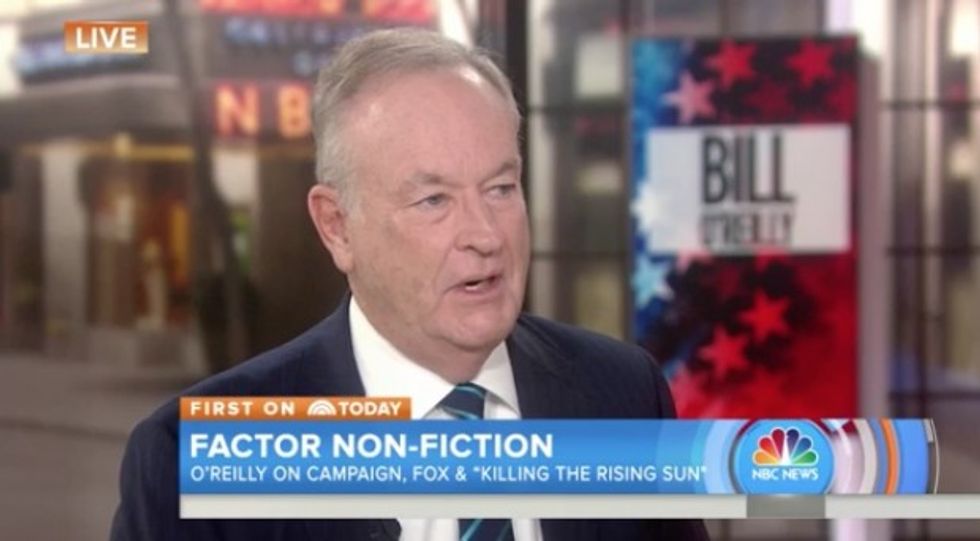 Fox News host Bill O'Reilly on NBC's "Today" Tuesday (Image via Twitter/@todayshow)
"Today" co-anchor Savannah Guthrie asked O'Reilly if he has "learned anything in these last few months" that made him reconsider his initial support of Ailes.
"Well, first of all, my comments were made to Seth Meyers about what kind of a boss Roger Ailes was, not about the case," O'Reilly said. "I don't know anything about the case, OK? Nothing. So he was a good boss, best boss I've ever had. And that's what I said to Seth Meyers. And that's all I've said. And I'm not going to say anything else because I work for this company and I don't really have any insight into anything. So for once in my life, I'm going to keep my big mouth shut."
O'Reilly said that the company has not changed in the wake of Ailes' departure.
"We do the exact same thing," O'Reilly said. "If you watch 'The Factor' every night, there's been no change. We do what we do. I've been doing it 20 years."
Guest co-host Willie Geist asked O'Reilly, "Does it feel different when you walk in the building there?"
"I don't walk in the building a lot," O'Reilly replied. "I do a lot of my work in a separate place. You know, it's a sad situation for everyone involved and that's all I'm going to say."
Guthrie asked him if he will "keep in touch" with Ailes.
"You know, that's — Roger Ailes was very good to me, and I feel very bad for his family, that's it," O'Reilly said.
O'Reilly appeared on "Today" to promote his new book, "Killing the Rising Sun."
Watch below:
"Best boss I've ever had. That's all I've said. I'm not going to say anything else." @oreillyfactor on Roger Ailes https://t.co/B8iuNo0P0F

— TODAY (@TODAYshow) September 13, 2016
—
Follow the author of this story on Twitter and Facebook: