A recent conversation between one Cosmopolitan writer and Ivanka Trump seemed to sour rather quickly when the journalist asked the Trump Organization executive about her father's past comments about women.
Prachi Gupta's interview with Trump comes amid a media blitz pushing her latest initiative for paid maternity leave for all women — a policy proposal her father, Republican presidential nominee Donald Trump, has endorsed.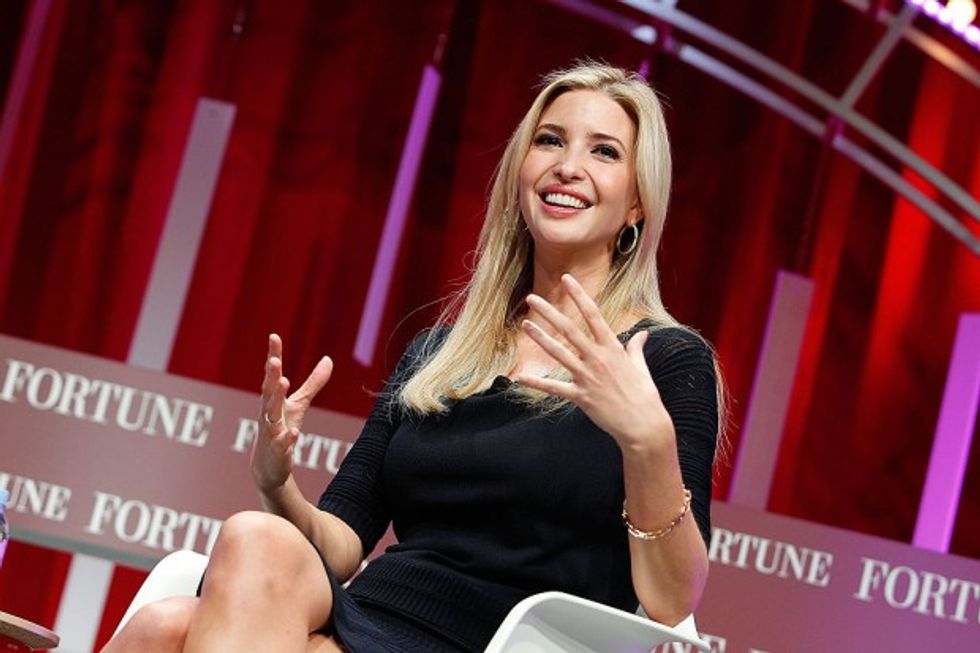 Paul Morigi/Getty Images for Fortune/Time Inc.
At first, Gupta pressed Trump on the details of the policy. In her previous comments, Trump had indicated the initiative was focused on mothers only. So the Cosmopolitan writer asked if it applies to same-sex couples or men:
Gupta: OK, so when it comes to same-sex—

Trump: So it's meant to benefit, whether it's in same-sex marriages as well, to benefit the mother who has given birth to the child if they have legal married status under the tax code.

Gupta: Well, what about gay couples, where both partners are men?

Trump: The policy is fleshed out online, so you can go see all the elements of it. But the original intention of the plan is to help mothers in recovery in the immediate aftermath of childbirth.
Gupta then transitioned into past comments by Trump's father, specifically when the New York real estate mogul said in 2004 that pregnancy is "wonderful," but an "inconvenience" to employers. The question clearly frustrated Trump, who slammed the writer for "negativity" in her questioning.
"So I think that you have a lot of negativity in these questions, and I think my father has put forth a very comprehensive and really revolutionary plan to deal with a lot of issues," Trump told the reporter. "So I don't know how useful it is to spend too much time with you on this if you're going to make a comment like that."
"My father obviously has a track record of decades of employing women at every level of his company, and supporting women, and supporting them in their professional capacity, and enabling them to thrive outside of the office and within," she continued. "To imply otherwise is an unfair characterization of his track record and his support of professional women."
Trump went on to say the policies in place at the Trump Organization "reflect" her father's views on women, adding that he has been a "great advocate" for working women.
Gupta apologized for Trump's perception that the questions were "negative," but asserted they are "relevant" given the topic of their discussion.
"Well, you said he made those comments," Trump replied. "I don't know that he said those comments."
The writer then attempted to pivot toward how the proposal will be paid for, should Trump's father become president. The 34-year-old businesswoman assured Gupta the policy is paid for and will be explained Thursday, when her dad shares his tax reform plan.
After that, Trump abruptly ended the conversation, telling Gupta she needs to "jump off."
"I have to run," she said. "I apologize."
(H/T: Mediaite)
—
Follow the author of this story on Twitter: