When the suspect behind the New York and New Jersey bombings was apprehended, a New York congressman had a message for San Fransisco 49ers quarterback Colin Kaepernick.
"Suspect in custody. You are welcome Colin Kaepernick," Rep. Lee Zeldin (R) tweeted Monday.
Suspect in custody. You are welcome Colin Kaepernick.

— Lee Zeldin (@leezeldin) September 19, 2016
In an interview with TheBlaze Monday evening, Zeldin slammed Kaepernick's "insulting and disgusting" protest of kneeling during the National Anthem, especially during a game on the weekend of the 15th anniversary of 9/11.
"It's an insult to so many men and women who have sacrificed so much to protect the flag and for their families who have sacrificed so much as well in service to our country," Zeldin said. 
Kaepernick, despite not being a starter for the team, has drawn intense media attention and scrutiny for his protest. He has said that he is doing so in protest of the "oppression" of minorities, especially black people, in the U.S.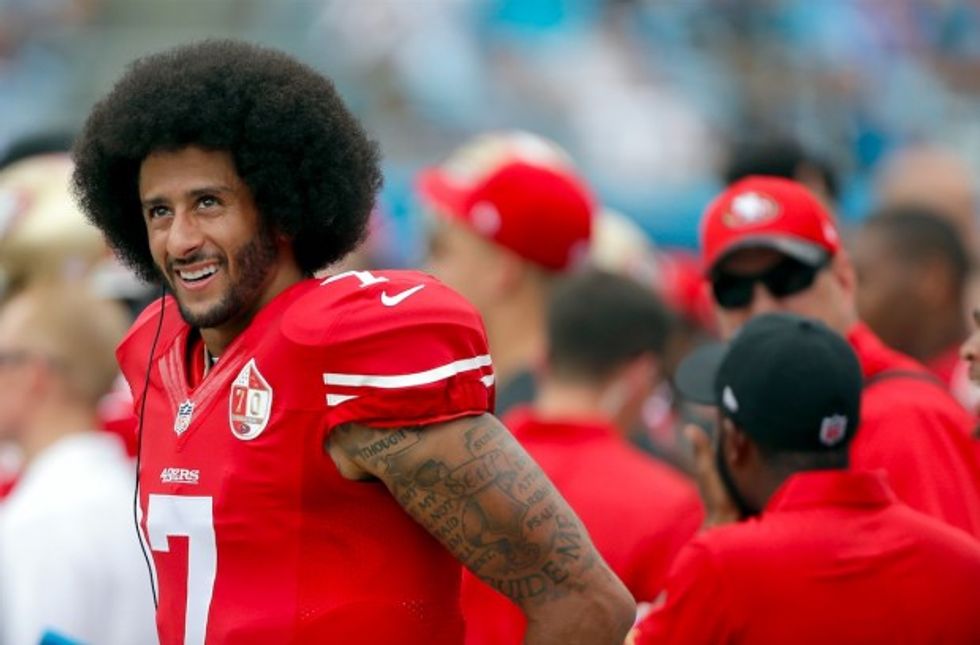 San Francisco 49ers' Colin Kaepernick stands on the sidelines during the first half of a game against the Carolina Panthers. (AP Photo/Bob Leverone)
"For some rich NFL player who is arguably second- or third-string at best on the team, he doesn't live amongst the men and women he claims to be championing, and he's sending such a horrible message to those first responders and those military veterans," Zeldin continued.
The congressman, who has been in office since 2015, argued that the 49ers player "owes a deep, well-thought-out and genuine apology" to first responders, military veterans and anyone else who he has offended by his protest this season.
"Kids look up to professional sports players, and there's always going to be something important to fight for in this country," he said. "We need to be bringing people together rather than tearing them apart."
Zeldin, a New York Giants fan, continued:
I don't think Colin Kaepernick protesting our flag and protesting our National Anthem is making our country stronger. What makes our country stronger is, if there's a cause you want to champion, you would open up a really healthy and productive dialogue with people across the spectrum of race, gender, socioeconomic status. Show a desire to bring everyone together to solve challenges. That's leadership. Leadership isn't taking a knee; leadership is standing up.

Colin Kaepernick has his First Amendment right to protest the National Anthem, but I have my First Amendment right to share my thoughts of how disgusting and insulting I and so many others find it. He has his First Amendment rights; we have ours.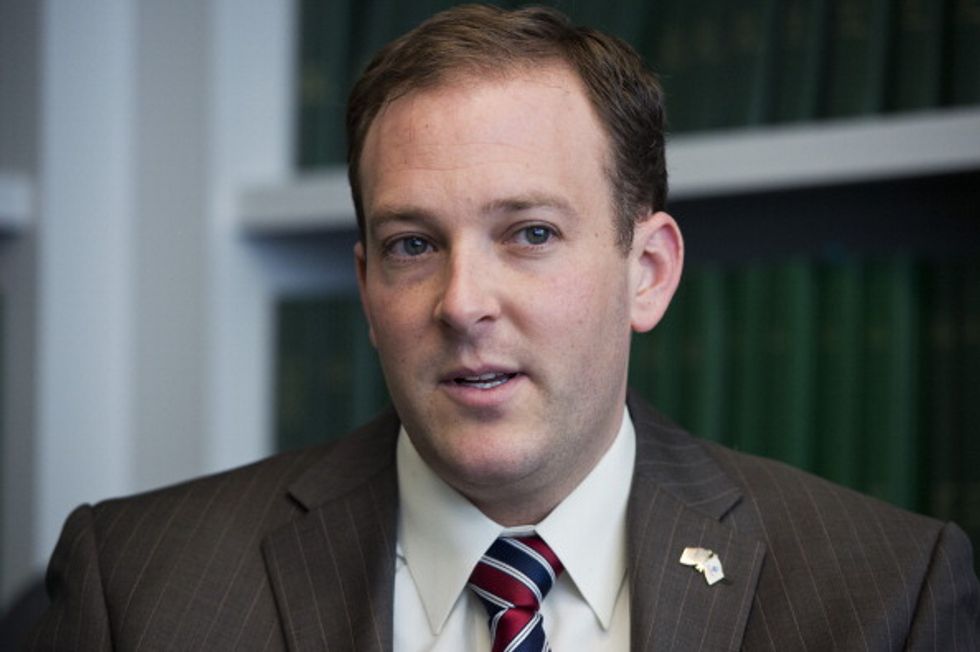 Rep. Lee Zeldin, a Republican representing New York's 1st Congressional District (Getty Images/Tom Williams)
Zeldin also criticized Democratic presidential nominee Hillary Clinton in the wake of the weekend's attacks. The former secretary of state touted her own experience with national security issues as she sought to paint herself as a better candidate to handle terrorist attacks than Republican presidential nominee Donald Trump.
"I don't believe that Secretary Clinton should be bragging about her experiences on national security and foreign policy," Zeldin told TheBlaze. "Now, she has experiences, but they aren't the type of experiences that make up the type of record she should be bragging about."
"She has not indicated any way that her foreign policies are going to be any better or more effective than this president's," Zeldin continued, adding that Clinton would allow for more refugees into the country than the Obama administration.
Many Republicans, including Trump, have proposed a variety of ideas to deal with potential terrorist attacks, ranging from a moratorium on visa applicants from countries with heavy terror cells such as Iraq to banning Syrian refugees from entering the U.S.
Ahmad Khan Rahami, the suspect taken into custody in the wake of the bombings in New York and New Jersey over the weekend, is a U.S. citizen who was born in Afghanistan. His father reportedly cautioned the FBI that he was a terrorist in 2014 but later recanted the warning.
—
Follow Kaitlyn Schallhorn (@K_Schallhorn) on Twitter