While legislators are running to get new laws on the books, protesters are preparing more picket signs and pundits are busy talking the issue away on national television, one Charlotte pastor says it's the church that is the "healing agent" the U.S. needs to solve the country's widening racial divide.
"I believe that the church can be a healing agent, that the church can be a classroom to teach the world what unity and love looks like because of the gospel of Jesus Christ," Derwin L. Gray, pastor of Transformation Church, told TheBlaze on the heels of the police-involved shooting of Keith Lamont Scott.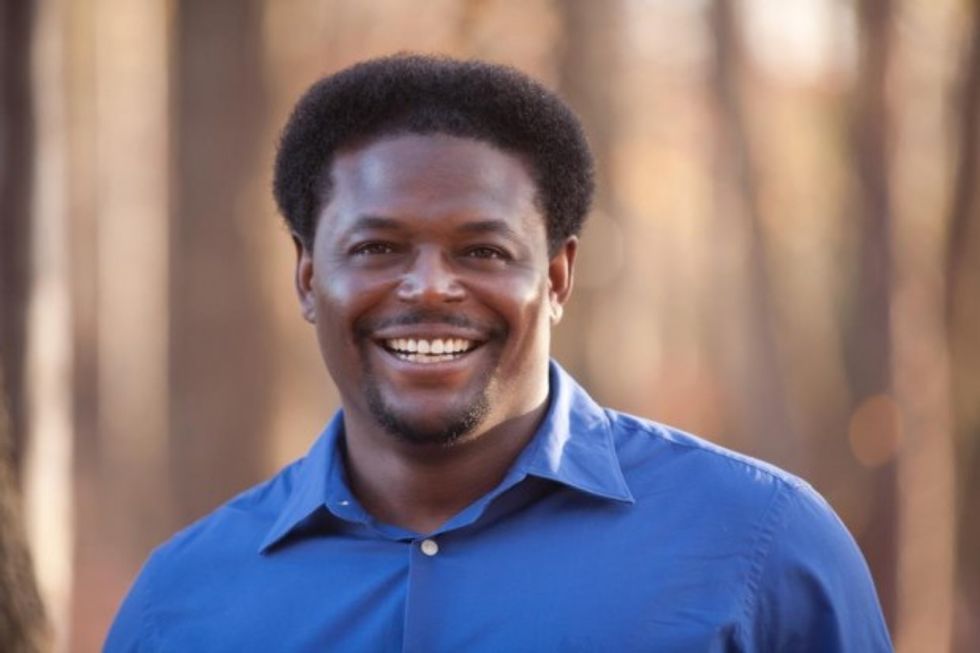 Derwin L. Gray (Facebook)
However, Gray argued that, before Christians can make the case for a unified nation, the church needs to come to grips with the reality that "the most segregated institution in America is the church of Jesus Christ." And the data backs up his assertion. According to a 2015 study, 86 percent of church congregations consist of mainly one racial group.
For the past two years, Gray and his 3,500-member church have been in a partnership with the Charlotte-Mecklenburg Police Department and Police Chief Kerr Putney as well as the Lancaster Police Department in South Carolina.
"We support our men and women in blue and we believe that the overwhelming majority of them are doing a phenomenal job and we champion them, we encourage them and we help them in any way we can," Gray said, while also adding, "We have to recognize that there have been cases of police brutality."
And Gray has been putting his words into action. Over the summer, Putney helped preach a sermon at Transformation Church on the topic of race in America.
The chief, who is black, acknowledged that policing in the U.S. has a "racist and bigoted history," but noted that he is trying to reach out to minority communities "because it's hard to hate up close."
"We [black Charlotteans] need to get our house in order, too," he said at the time. "We have to take some of the responsibility for some of our actions, knowing that the decisions we make will have consequences. I'm not saying … police officers are perfect. We're not. Guess where we recruit from? The public. All of us come from regular people."
But the problem of race in the U.S. cannot be solved moving forward, Gray said, without taking into account the country's checkered past, too. He asserted that the "scales of justice have not been equally levied toward black men in this nation," citing slavery, segregation and Jim Crow laws.
"It's not something that you just get over in a generation. That would be like telling Jewish people to get over the Holocaust," Gray, who is a former NFL player, said, later adding that he remembers growing up in urban San Antonio, Texas, where the relationship between the police and minority communities "was adversarial."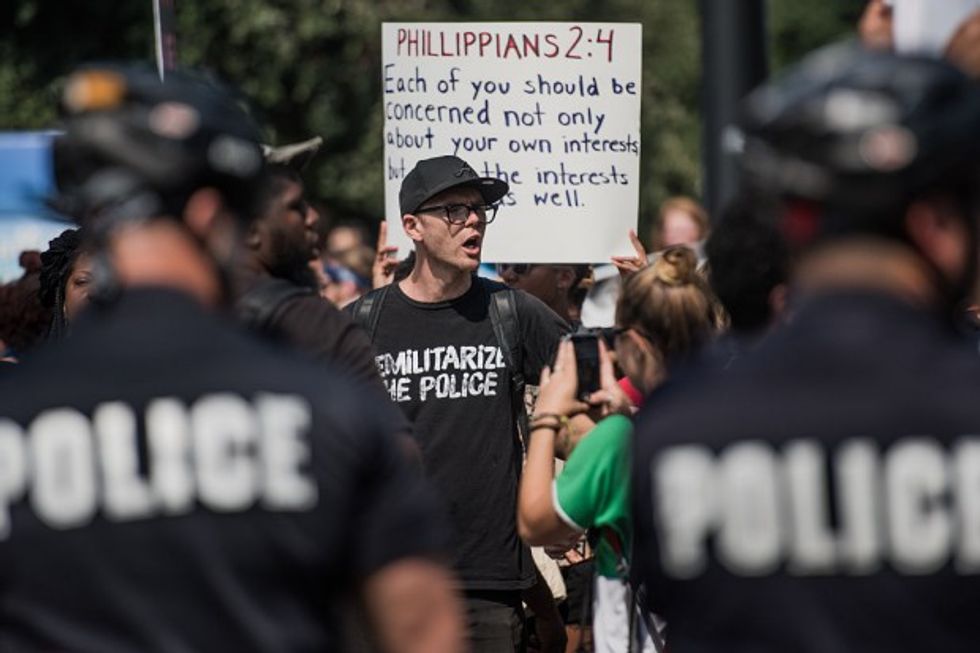 Demonstrators protest outside of Bank of America Stadium before an NFL football game between the Charlotte Panthers and the Minnesota Vikings Sept. 25, 2016 in Charlotte, N.C. (Sean Rayford/Getty Images)
But rather than the pundits and the presidential candidates, neither of which Gray is interested in, the minister called on his fellow Christian leaders to step up to the plate and work to make a difference, saying pastors who live in diverse areas should ensure their churches mirror the demographic of the communities they serve because the church is intended to be a "multicolor, beautiful reality."
"But so often we allow our ethnic skin tone and culture to trump our identity in Christ," he lamented. "Our identity in Christ must be primary — that's what must drive us toward loving each other."
Gray also noted that "of course" all lives matter, but said it's a "dismissal of justice" to push back against the assertion that "black lives matter" because the phrase is meant to emphasize that there are "some lives that seem not to matter as much, and there's verifiable evidence to prove that."
"It's more empathetic and compassionate to say, 'You know what, yeah, you're right,'" Gray said. "And so as a pastor, I teach our people at Transformation Church not to be colorblind, but to be 'color blessed,'" a principle he said is found in Revelation 5:9, which asserts that the Christian faith is for "every tribe and language and people and nation."
At the end of the day, Christians shouldn't be picking sides, but celebrating diversity, the pastor said. Christians should be "on Jesus' side, not police's side, not — tragically — the victims' side, but Jesus' side."
"God didn't make mistakes by making people with different cultures, different skin tones," Gray said. "Together, we are stronger."
Gray is the author of "The High Definition Leader," which makes the case for "building multiethnic churches in a multiethnic world."
—
Follow the author of this story on Twitter: