Libertarian presidential nominee Gary Johnson, former two-term Republican governor of New Mexico, was stumped Wednesday night when MSNBC host Chris Matthews asked him to name his "favorite foreign leader."
In response, Johnson appeared to just stare blankly at the anchor, struggling to come up with an answer.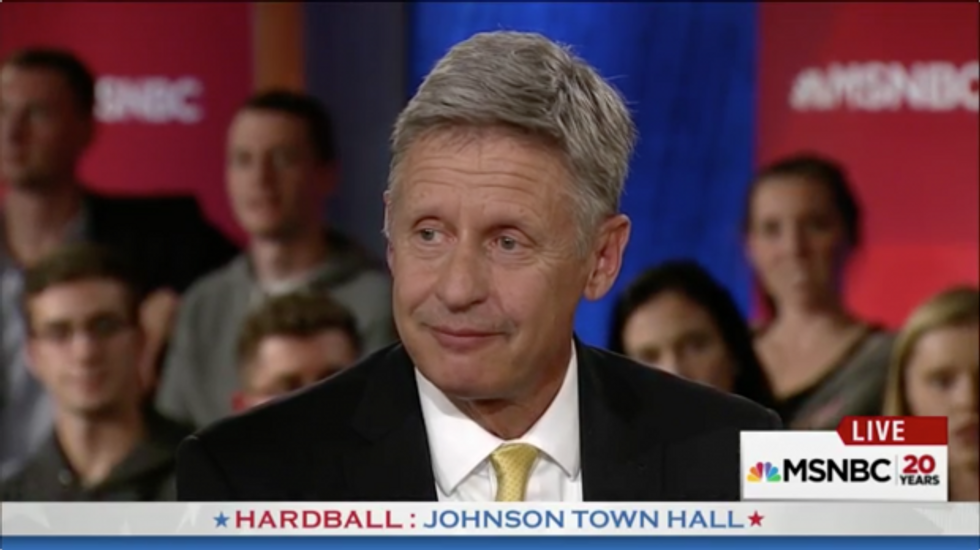 MSNBC
"In any of one of the continents in any country, name one foreign leader that you respect, that you look up to," Matthews said. "[Y]ou gotta do this. Anywhere, any continent. Canada, Mexico, Europe over there, Asia, South America, Africa — name a foreign leader that you respect."
Even with the slight assist, Johnson seemed uncertain.
"I guess I'm having an Aleppo moment in the [name of] former president of Mexico," Johnson said.
At that point, Matthews pressed the libertarian candidate to specify which Mexican president he admired, but Johnson couldn't come up with a name. The libertarian vice presidential candidate, former Massachusetts Gov. Bill Weld (R), jumped in to help, which ultimately led Johnson to say he likes former Mexican President Vicente Fox.
Weld first told Matthews he likes former Israeli President Shimon Peres, who died Tuesday, and later added that he admires German Chancellor Angela Merkel.
Watch the exchange below:
Oh goodness: Johnson has another "Aleppo moment" during MSNBC town hall https://t.co/wp3ErVHBL5

— Tré Goins-Phillips (@tregp) September 29, 2016
—
Follow the author of this story on Twitter: